20 Biggest Branding Fails of 2012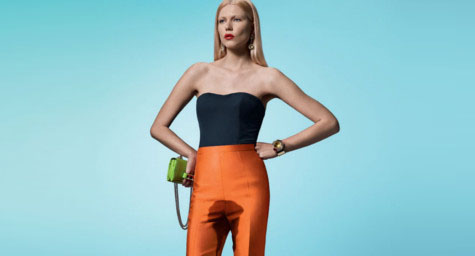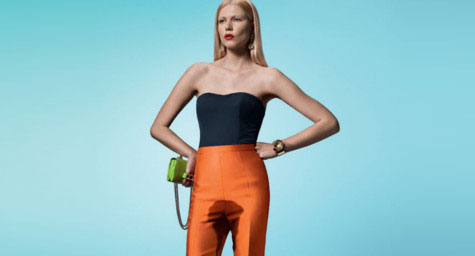 Even marketers can make mistakes, as shown in this gallery of the biggest marketing blunders of 2012. Adweek.com just posted some of the most disgraceful and distasteful ads created last year. From Huggies' depiction of dads as bad babysitters to the risqué billboard for Spy sunglasses, and the highly offensive Facebook ad for Belvedere vodka, these marketing mishaps showed that branding demands constant attention to detail and plain old common sense. Twitter trip-ups were common, while some ads quickly crossed the line from good idea to bad taste. For a look at the year's crudest, rudest, and lewdest branding blunders, check out the following gallery of gaffes.
20. (Above) Harvey Nichols – "Try to contain your excitement," said these ads for British fashion brand Harvey Nichols, which showed the models peeing themselves. Some people took offense, but the company said it was merely making "a visual representation of a well-known phrase."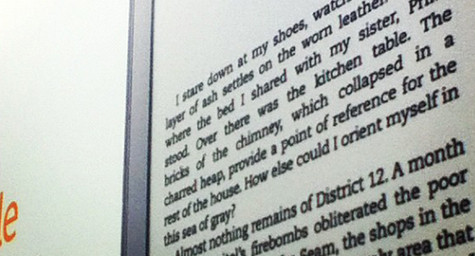 19. Amazon – Amazon took heat in April for a Kindle billboard in Washington, D.C., that showed the first page of Mockingjay, the final book (released in 2010) in Suzanne Collins's Hunger Games trilogy. Problem is, the page revealed key plot points of the previous two books, spoiling them for potential readers.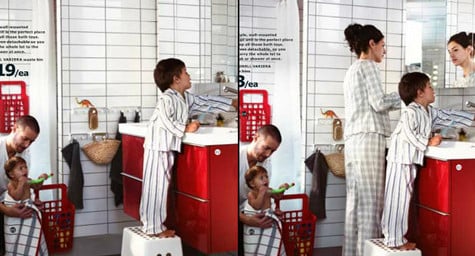 18. Ikea – The furniture retailer took some heat in September after Ikea Saudi Arabia decided to use Photoshop to remove all the women from its catalog. Ikea later apologized, saying, "We should have reacted and realized that excluding women from the Saudi Arabian version of the catalog is in conflict with the Ikea Group values."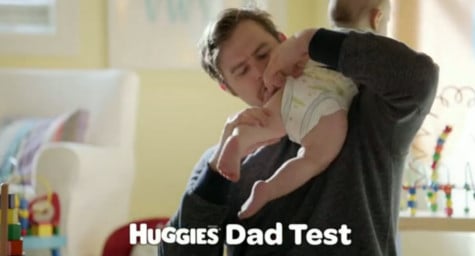 17. Huggies – The diaper brand quickly changed its "Dad Test" campaign in March after the launch spot showed fathers as deficient and indifferent caregivers—and suggested the kids might not survive when Mom is away. A revised spot showed the dads as loving and careful and no threat whatsoever to their offspring.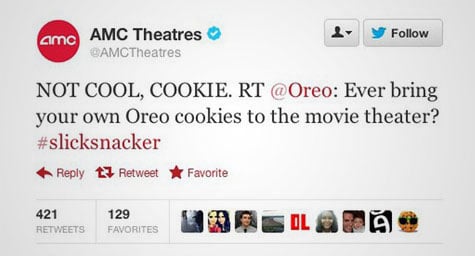 16. Oreo – Oreo was the victim of the year's best Twitter takedown, when AMC Theatres chided the brand in September for asking fans if they ever sneak cookies into the movies.

15. Bic – In August, it was Bic's turn to get savaged by sarcastic Amazon reviewers, as commenters ridiculed the brand's Bic for Her pens, "designed to fit comfortably in a woman's hand" with an "attractive barrel design available in pink and purple." Wrote one reviewer: "I tried these on a whim, and I have to say I wasn't very impressed. The applicator mechanism is far too fiddly, and the plastic tampon inside far too thin … They also stained my knickers blue for some reason. I really wanted to like these, but it's back to pads for me."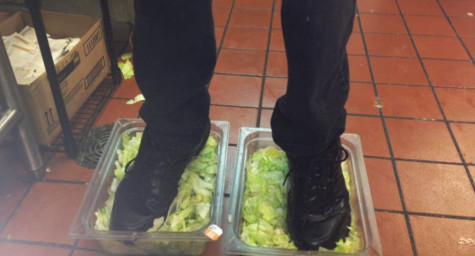 14. Burger King – The burger chain had to scramble in July after a photo of a rogue employee standing in some lettuce was uploaded to 4Chan (caption: "This is the lettuce you eat at Burger King") and subsequently spread across the web. Sleuths looked at the geo-location tags and determined that the photo was taken at a BK in Mayfield Heights, Ohio. Three employees were later fired.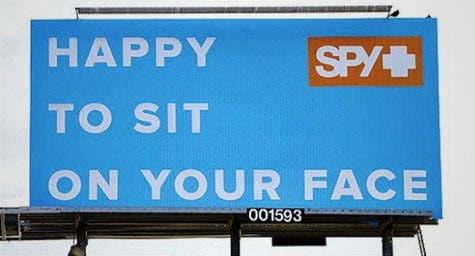 13. Spy Sunglasses – This "Happy to sit on your face" billboard, for Spy sunglasses, was supposed to stay up in its Encinitas, Calif., location for five weeks. It was taken down in September after just one week due to complaints.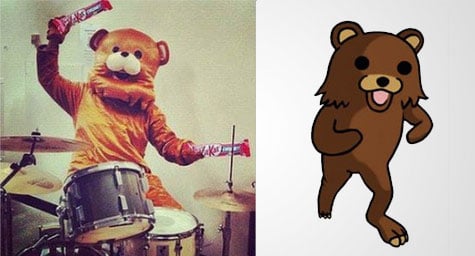 12. Nestlé – Nestlé's first official Instagram photo, posted in July, didn't goover so well. It featured a bear who bore an uncanny resemblance to Pedobear, everyone's favorite unofficial pedophilia mascot. "The picture is not Pedobear," a Nestlé rep was forced to explain. "We had never heard of Pedobear. But when the possibility of its similarity to the so-called 'Pedobear' was raised with us, we immediately removed it."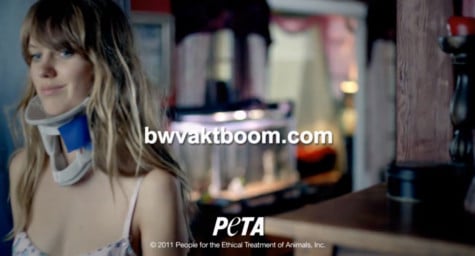 11. PETA – This PETA spot, timed to Valentine's Day, suggested that guys who embrace a vegan diet suddenly have energy for endless sex—leaving their women bruised and battered in the process. Domestic-violence activists hated it. So did almost everyone else.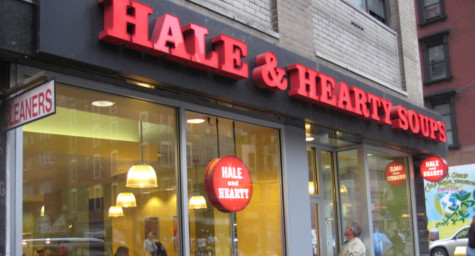 10. Hale and Hearty – In a bizarre email in October, soup chain Hale and Heartyannounced the 2008 opening of a "new" location, then shared this saucy detail: "As an added bonus: Mary- you know the cunt from 47th street- will serve you personally in any manner you choose. so cum one and all to our new location at 464 West Mount Pleasant Avenue, Livingston, NJ." Apparently someone had hacked the chain's email account, modified an old message to make it obscene and sent it to one store's email subscriber list. The chain promised it wouldn't happen again.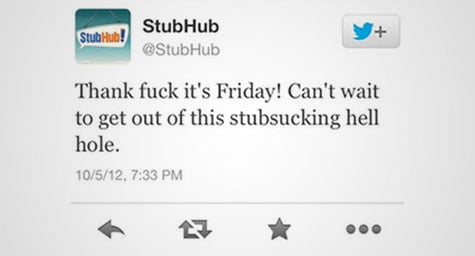 9. StubHub – Here's a doozy of an accidental tweet. On Oct. 5, someone who thought they were logged into their personal Twitter posted an obscene TGIF message to the StubHub account. It led to much red-faced apologizing from the brand.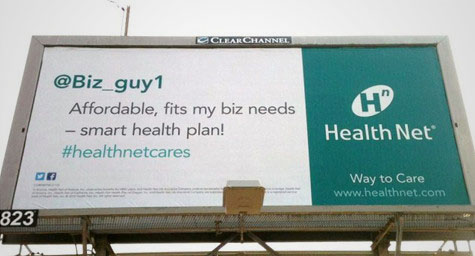 8. HealthNet – In September, HealthNet got caught putting fake tweets on its outdoor ads. Those people gushing about HealthNet's health plans? Yeah, they don't exist.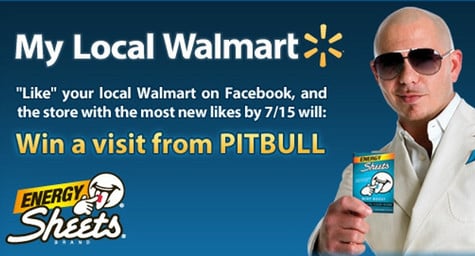 7. Walmart – A Facebook promotion designed to send Pitbull to the most-liked Walmart on Facebook was hijacked by pranksters and used for an #ExilePitbull campaign that eventually forced the rapper to visit Kodiak, Alaska. Pitbull put a brave face on his predicament. "I said, OK, great, this sounds really good," he said in a video after learning his fate. "What you gotta understand is that I will go anywhere in the world for my fans."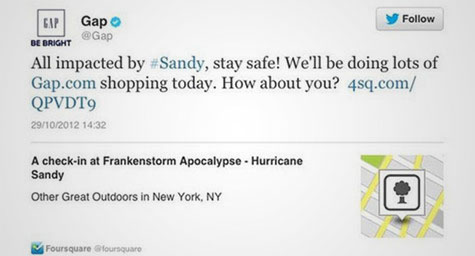 6. Gap – On Oct. 30, Gap exhorted people—within a single tweet—to stay safe during the Hurricane Sandy and maybe also, you know, do a little shopping at Gap.com. The retailer semi-apologized in a follow-up tweet.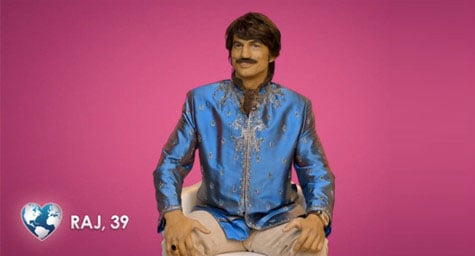 5. Popchips  – Ashton Kutcher didn't impress anyone with his brownface makeup and heavy Indian accent, as Popchips quickly pulled this ad amid complaints of racism.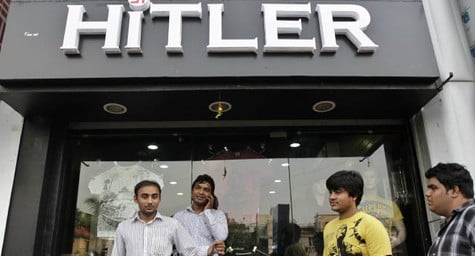 4. Hitler Store – Don't name your store Hitler. This one in India did, and quickly had to change it after a global outcry.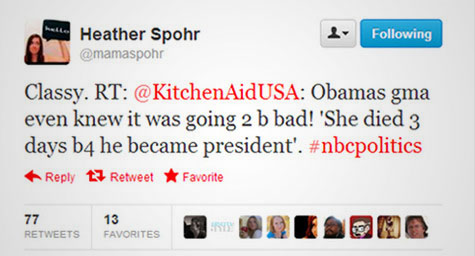 3. KitchenAid – During the presidential debate on Oct. 3, KitchenAid posted a nasty and poorly spelled comment on its Twitter feed about President Obama's grandmother, who died shortly before he took office. As usual, it was posted by someone who thought they were logged into their personal account. The brand apologized, telling AdFreak that the "tasteless joke in no way represents our values at KitchenAid. This person will no longer be tweeting for us and appropriate actions are being taken."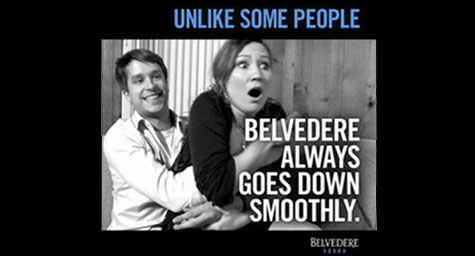 2. Belvedere – The vodka brand was deluged with angry comments after posting this rapey ad on Facebook in March. Belvedere president Charles Gibb made this statement in response to the incident at the time:
"My name is Charles Gibb and I am the President of Belvedere Vodka. Iwould like to personally apologize for the offensive post that recently appeared on our Facebook page.
It should never have happened. I am currently investigating the matter to determine how this happened and to be sure it never does so again. The content is contrary to our values and we deeply regret this lapse.
As an expression of our regret over this matter we have made a donation to RAINN (America's largest anti-sexual violence organization)."

1. La Redoute – French fashion chain La Redoute committed the most bizarre of advertising fails by featuring a photo on its website and in its catalog of four happy children frolicking on a beach—with a creepy naked dude wading in the water behind them. Run, kids, run!
For a creative marketing strategy for your brand, contact MDG.
At MDG, a full-service advertising firm and one of Florida's top integrated marketing agencies, our 360° approach uses just the right mix of traditional and online media to reach your digital marketing goals. While some industries may fare better in print and others online, we strive to create a balanced approach where traditional and digital advertising efforts support each other and your brand's marketing message is tailored to the medium. To learn more about today's top trends in marketing and advertising, contact MDG.
Read more at Adweek.com.