10 Inbound Marketing Tactics That Work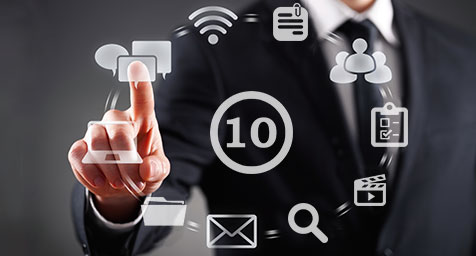 Inbound marketing—the strategy of reaching consumers organically by providing useful content—has finally gone mainstream. According to HubSpot's State of Inbound Marketing Report, half (60%) of marketers used inbound marketing tactics in 2013, and that number is set to grow even larger in the coming years.
The reason why is simple enough: inbound marketing often produces a larger number of high-quality leads at a much lower cost than traditional outbound marketing.
However, while the approach overall is proving successful, marketers are still struggling to figure out which inbound marketing strategies work best. Moreover, 19% are unsure whether some of their current efforts count as inbound or outbound.
The confusion is understandable: some tactics—such as search engine marketing—span both inbound and outbound, while others are relatively new and untested.
To help sort through it all, here are our picks for 10 inbound marketing strategies that have proven effective in the past in producing a quality audience at an affordable cost:
1. Blogging – Blogging may be the granddaddy of content marketing, but it remains highly effective. HubSpot found 43% of marketers generated a customer via their blogs in 2013, even though the blogs required just 9% of marketers' total full-time staff dedications and only 7% of their total budgets.
2. Opt-In Email Marketing – Buying email addresses and bulk mailing that list does not count as inbound marketing, nor is it especially effective. However, carefully collecting emails through proactive sign-ups (i.e., opt-in marketing/permission marketing) is both an inbound tactic and extremely powerful. A good opt-in email strategy lets you build meaningful relationships with consumers and target content specifically to their needs.
3. Search Engine Optimization – SEO is another old-school inbound tactic, and still an extremely important one. Ultimately, you can produce the greatest content in the world, but if no one finds it then the undertaking serves no purpose. Beyond its effectiveness, search engine optimization also has the huge advantage of measurability.
4. Social Media – Social media has become one of the cornerstones of inbound marketing (88% of content marketers use it), with hundreds of tactics now available to help reach consumers on the various networks. A social media strategy is now essential for any business, since the channels provide both a breadth of reach and a depth of personal information. Moreover, over the past year the networks have evolved to allow for even better targeting, as well as more sophisticated tools to help with conversion.
5. Surveys/Research – Yes, blog posts covering already existing content are easy to create, but they only go so far. With 67% of content marketers now blogging, it is increasingly essential to provide original insights and information to consumers. Often this means longer-form content, such as e-books or white papers that are based on unique data. While not cheap to produce, these pieces can help to establish you as a thought leader.
6. Webinars – Webinars are one of the most effective inbound marketing tactics because they allow you to create a direct connection with your audience. If you do a good job of informing and educating them, you'll be instantly viewed as credible. Moreover, webinars allow for numerous easy opportunities to convert viewers into leads.
7. Video – Nearly three-quarters (72%) of content marketers used video as a tactic in 2013. Why? Because increasingly that's how audiences consume content. By no means is text dead, but it is being supplemented (or even supplanted) by video more and more.
8. Landing Pages – A highly optimized landing page is essential for almost every inbound marketer. This is because if a visitor consumes your content but does not convert into a lead, they are a massive missed opportunity.
9. Case Studies – Case studies used to be a mainstay of inbound marketing, but have lost favor recently because too often they are unreliable and self-serving. That said, a well-written case study—one that is clear, detailed, data-driven, and transparent—can still be highly compelling.
10. Press Releases – As with case studies, press releases used to be a huge part of inbound marketing. This was in large part because they had great SEO value. That's changed significantly since Google tweaked its algorithm in 2013. Still, the tactic remains useful because of its original intent: notifying the media and other businesses about your major developments.
Ultimately, not all of these tactics will work well for you, since audiences vary widely by what platforms they use and how they consume content. Still, a savvy analysis of your consumers, combined with some of these strategies should deliver high-quality leads for your organization very cost-effectively.
Discover the inbound marketing tactics that will work for your brand. Contact MDG today at 561-338-7797, or visit www.mdgsolutions.com.
MDG, a full-service advertising agency with offices in Boca Raton and New York, NY, is one of Florida's top branding firms. MDG's capabilities include print advertising, direct mail marketing, branding, logo design, creative, digital marketing, media buying and planning, radio and TV advertising, Web design and development, online video advertising, infographic development, email marketing, content marketing, inbound marketing, lead generation, social media marketing, and SEO. For the latest trends in advertising and branding, contact MDG today at 561-338-7797 or visit www.mdgsolutions.com.