13 Spook-tacular Halloween Social Posts from Brands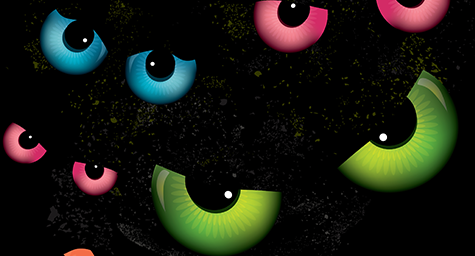 It's that that boo-tiful week of the year when social media marketers spring their most spine-chilling Halloween posts—and ghastly wordplays—on unsuspecting consumers.
Which companies and organizations are finding ghoulishly great ways to engage their audiences on social media this year? Here are 13 recent posts that are both on-brand and fang-tastic:
1. Amazon
Amazon has a wealth of spooky products for sale, and it's doing an excellent job of showcasing many of them in creative ways on social media. For example, this creeptacular T-shirt truly shines in a Vine video.
2. Starbucks
To advertise its special Halloween Frappuccino, the coffee chain has been running a clever—and surprisingly cute—animation across Snapchat Stories, featuring a thirsty vampire.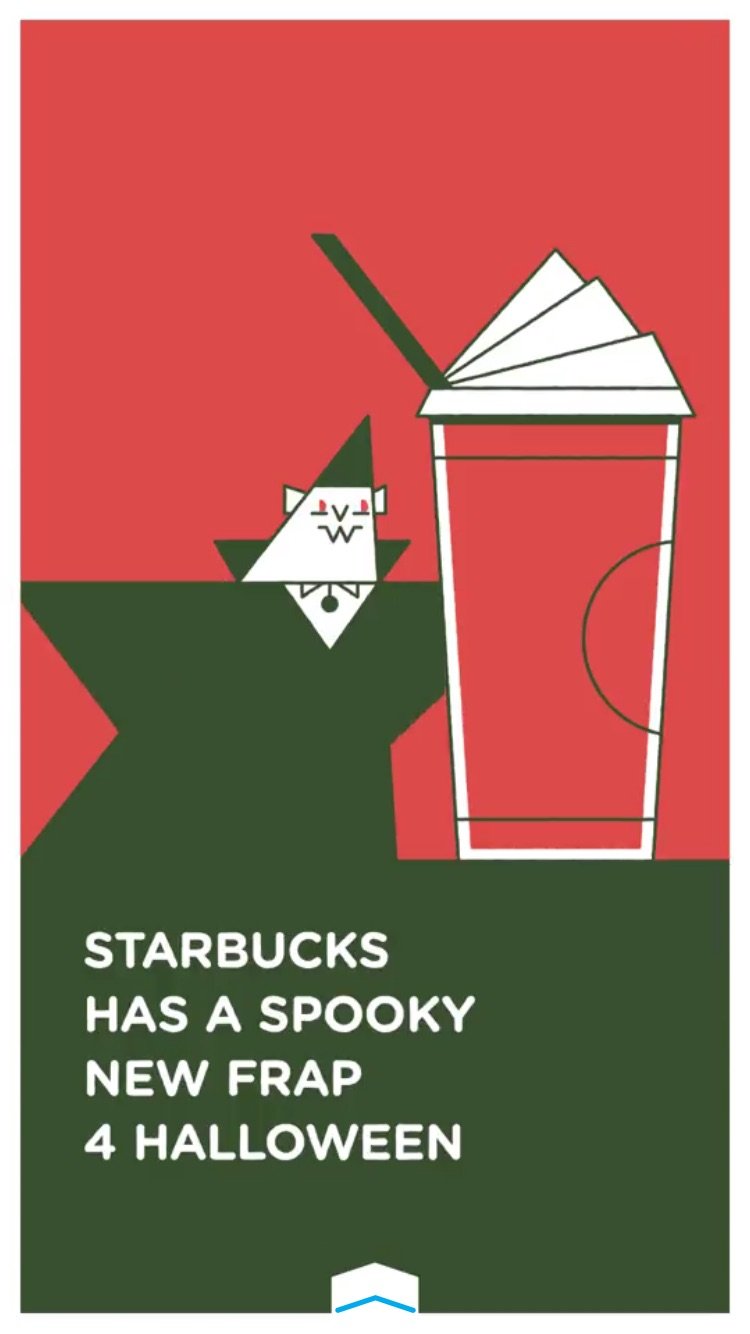 3. Disney/Lucasfilm
Star Wars characters are set to be a big hit this Halloween, and probably for many years to come. Still, Disney/Lucasfilm isn't resting on its laurels; the brand is flooding social media with costume tips that smartly double as movie teasers.
We've foreseen many #StarWars: #TheForceAwakens #Halloween costumes this year. Here's some tips to get you started! pic.twitter.com/yGmQXZsdT3

— Star Wars (@starwars) October 27, 2015
4. The Mayo Clinic
Instead of showcasing fake gore, the Mayo Clinic has taken a novel approach to Halloween: it's trying to prevent real-life accidents. The hospital's experts have been streaming on Periscope to highlight common mishaps—and how to avoid them.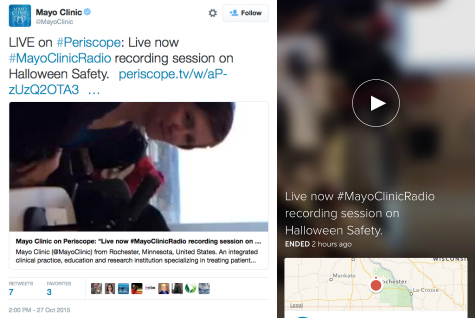 5. Healthline
Why should you paint your Halloween pumpkin teal this year? Healthline has a surprisingly good answer.
Why you should paint your pumpkin teal this Halloween. #tealpumpkin #allergies https://t.co/04pvgBrCqk pic.twitter.com/K3OdIgUZHk

— Healthline (@Healthline) October 26, 2015
6. Home Depot
Home Depot gathered a group of style bloggers and let them have their way decorating their homes with products from the stores. The resulting Style Challenge posts, which can be found on Pinterest and other networks, are truly terror-ific.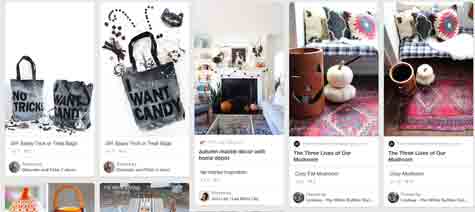 7. The Tower of London
The Tower of London has a couple of great things going for it on Halloween: a historical landmark with lots of haunting history and talented guides who know how to tell a good story. Its recent Periscope livestream, which featured a yeoman clerk narrating a ghost story tour, brought these two together brilliantly.
8. NOAA
The most haunting post you may see this Halloween comes from a very unexpected source: The National Oceanic and Atmospheric Administration.
#Halloween alien invader? Nah, just a stunning sea cuke swimming against deep-sea backdrop: https://t.co/zoW4ZXDefl pic.twitter.com/98O69xJC9h

— NOAA Ocean Explorer (@oceanexplorer) October 27, 2015
9. Coca-Cola
Does Seattle have a haunted soda machine? Judge for yourself after checking out this spooky little story from Coca-Cola.
Is this Seattle vending machine haunted? You be the judge: https://t.co/nRByUAURek #Halloween pic.twitter.com/YDp0KiSYBp

— The Coca-Cola Co. (@CocaColaCo) October 27, 2015
10. New York Public Library
What's scarier than a fake skull? A real skull! The New York Public Library gets in the spirit of things with a haunting image of Percy Shelley's bone fragments.
Creepy #Halloween Digital Collection find: fragments of Percy Shelley's skull. https://t.co/F5Rmkw0shI pic.twitter.com/4hSfODMhzv

— NY Public Library (@nypl) October 27, 2015
11. The National Zoo
Who says Halloween can't be educational? The National Zoo is using it as an opportunity to inform people about all sorts of animals, including this hornbill who's searching for a treat inside a pumpkin.
Hornbills use their beaks to pick fruit off trees. At #Halloween, their faves are hidden in #ZooEnrichment pumpkins pic.twitter.com/GzDqrlRMem

— National Zoo (@NationalZoo) October 27, 2015
12. Cap'n Crunch
According to Cap'n Crunch, three out of four monsters say the cereal is delicious. The polling methods are a bit dubious, but the posts are perfect.
#HalloweenCrunch 3 out of 4 monsters agree, it's tasty. #GetLostBones pic.twitter.com/Vt55pXCuVZ

— Cap'n Crunch (@RealCapnCrunch) October 23, 2015
13. American Eagle
Finally, a reminder that Halloween posts don't always have to be gory or shocking to connect with audiences; sometimes it's perfectly fine to just be in the spirit of the season. This Instagram post from American Eagle has 10,000+ likes already, despite there being nary a drop of blood.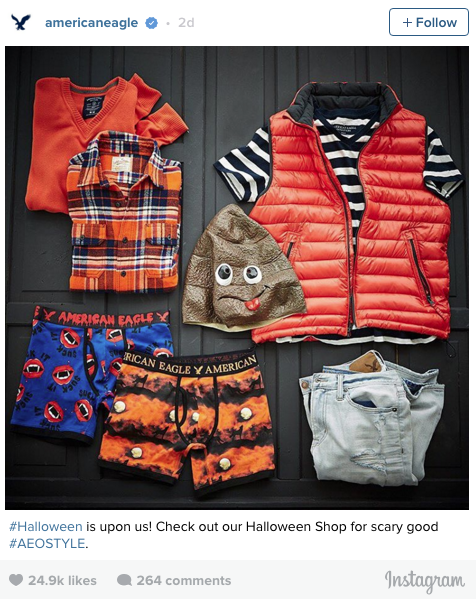 See how social media marketing can engage consumers. Contact MDG today at 561-338-7797 or visit www.mdgsolutions.com.
MDG, a full-service advertising agency with offices in Boca Raton and New York, NY, is one of Florida's top branding firms. MDG's capabilities include print advertising, direct mail marketing, branding, logo design, creative, media buying and planning, radio and TV advertising, outdoor, newspaper, digital marketing, website design and development, online video advertising, infographic development, email marketing, video marketing, mobile marketing, content marketing, social media marketing, paid search marketing, and SEO. To learn about the latest trends in advertising and branding, contact MDG today at 561-338-7797 or visit www.mdgsolutions.com.