3 E-Commerce Marketing Lessons We Can Learn from China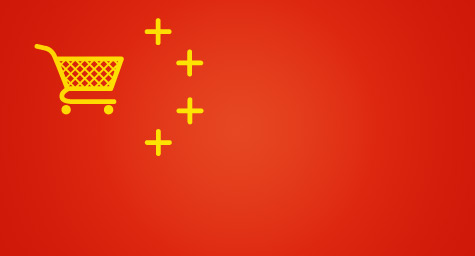 The recent holiday season was big for e-commerce retailers in the United States, but compared with China's online shopping extravaganza—Singles' Day—it was actually relatively small.
Singles' Day, which takes place on November 11 and is a sort of an anti-Valentine's holiday, is absolutely massive. During the 2014 celebration, Alibaba, China's biggest e-commerce site, did $9.3 billion in online sales. As Bain & Company noted, the volume translated to more people logging on to the site than the entire population of Brazil—all in a 24-hour period.
While this level of activity is exceptional, the day-to-day scale of e-commerce engagement in China is also tremendous. As a recent KPMG report put it, "By 2015, e-commerce transactions in China are projected to hit $540 billion, or approximately 10% of total retail transactions, and by 2020, China's e-commerce market is forecasted to be larger than those of the U.S., Britain, Japan, Germany, and France combined."
In fact, China's e-commerce transaction volume is already larger than that of the United States, the previous leader, and the gap between the two countries is expected to grow wider in the coming years.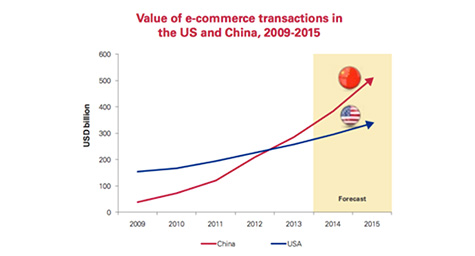 Understanding this scale is important because it highlights a key fact: as much as we in the United States tend to focus on domestic e-commerce trends, China is actually the leading market.
Part of this, of course, is due to population size. With 1.4 billion people, China has a huge base of consumers to sell to. However, the rapid expansion of the e-commerce market is also largely due to very smart moves by local digital retailers.
As one analyst told Ad Age: "China is a global laboratory for [e-commerce] experiments, and it's leapfrogging a lot of other countries."
In particular, Chinese companies are succeeding by leading in these three key areas:
1. Embracing Mobile From Start to Finish
Mobile shopping is huge globally, and most e-commerce sites in the United States have worked hard over the past few years to make sure their offerings display well across all sorts of devices.
However, our embrace of mobile has only gone so far. Often, U.S. businesses cater to mobile consumers with product pages and pricing information, but the assumption is still that most purchases happen on desktop computers.
This is not the case in China. The country's e-commerce giants have gone all-in on mobile, as have consumers. This means that the entire shopping experience—from browse to buy—is optimized for smartphones, and to a lesser degree for tablets.
KPMG estimates that only 19% of Internet users in the U.S. have made a mobile payment, compared with 55% of Chinese Internet users. Why? Because the process is now actually easier on mobile in China. According to data from Taobao, a major Chinese e-commerce retailer, purchases made on its site via phones are completed 67 seconds faster than purchases via personal computers. That's what it means to be mobile first.
2. Providing E-commerce Offerings for Everyone
As in the United States, e-commerce retailers in China tend to do very well in certain categories. For example, it's estimated that 40% of all e-commerce transactions in China are for fashion and accessories, purchased by younger, white-collar, urban female shoppers.
That said, the range for the other 60% of transactions is mind-boggling. Chinese e-commerce platforms offer everything from toothpaste to luxury cars to roller coasters—and consumers purchase these products consistently.
In fact, Chinese shoppers have become so used to purchasing pretty much anything with their computers/phones/tablets that some foreign retailers looking to break into the market are skipping brick-and-mortar stores and going straight online.
Moreover, data shows that this openness to e-commerce in China spans most demographic groups including income, gender, and age.
For e-commerce companies in the United States, the lesson is an important one: once they become used to the idea, there is almost no limit to what consumers will buy online.
3. Focusing on More Than Just Price
Finally, the biggest e-commerce lesson to come out of China may be the paradox of price.
Not surprisingly, 25% of Chinese consumers say low prices are a motivation to shop online, but that's actually the second-most popular reason after the ability to shop anytime (28%). Other key motivations are convenience (18%) and easy comparison shopping (7%).
In other words, price is important but it's not necessarily the be-all, end-all. Online commerce is hugely popular in China not only because it is cheaper, but because it's easier.
A key factor in this is social integration. Social networks and e-commerce sites in China are deeply intertwined, so consumers often ask for buying advice from friends, post product feedback, and seek information from opinion leaders. In fact, according to one study, Chinese consumers are nearly twice as likely as U.S. consumers to read and post online reviews.
Ultimately, by going mobile-first, offering a wide range of products, and focusing on more than just price, the China's online retailers are starting to both dominate existing markets and create new ones. The country's online retailers are succeeding not only because they're bigger and cheaper, but also because they're forward thinking and innovative—an important lesson for all of us.
Keep up with the trends in e-commerce and mobile marketing. Contact MDG today at 561-338-7797 or visit www.mdgsolutions.com.
MDG, a full-service advertising agency with offices in Boca Raton and New York, NY, is one of Florida's top branding firms. MDG's capabilities include print advertising, direct mail marketing, branding, logo design, creative, digital advertising, media buying and planning, radio and TV advertising, Web design and development, online video advertising, infographic development, email marketing, mobile marketing, content marketing, social media marketing, and SEO. To learn about the latest trends in advertising and branding, contact MDG today at 561-338-7797 or visit www.mdgsolutions.com.