3 Proven Tactics for Getting More Online Reviews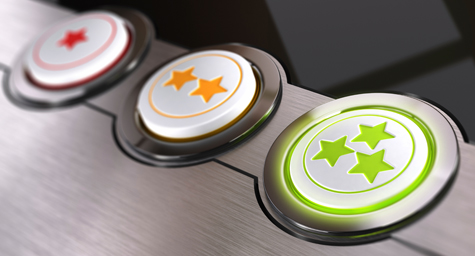 Online Reviews Are the Key to Local Business Marketing Success
For years, digital marketers and SEO specialists have considered content to be a critical marketing priority. This is especially true for local companies dependent on Google organic search to drive area residents to their businesses. "Long form" content, which is typically more useful and engaging than a standard blog post, is now the reigning standard for small businesses to accommodate. Still, despite the best efforts to produce compelling, engaging, and generally entertaining media, it's often not enough to build visibility in competitive markets.
Recent updates to Google search resulted in the removal of all location information from business pages on Google Plus. In addition, the SERP-level loss of the famous 7-pack has left business owners worried about what may happen next. Now, all of these major changes have made the quality of the content as important as the quantity. To rank highly on Google and increase your chance of being found by consumers, the content you post must be thoroughly "engaging" and speak to the consumer's need for honest, reliable, credible information.
What's one of the best sources of this powerful type of content? Online reviews.
Today, online reviews have become one of the most trusted, engaging, and effective ways to convey information about a business, especially for local companies with a limited advertising budget, because online reviews are essentially free advertising. While online reviews have become increasingly popular and powerful in consumer purchase decisions, they're now more vital than ever to local businesses looking for the most practical and cost-effective way to connect with consumers online.
But why have online reviews suddenly soared to the height of importance?
Reasons a Local Business Needs Online Reviews
There are a variety of reasons why online reviews should be a top priority today:
Online peer reviews are increasingly important to consumers' buying decisions, with 92% of consumers reading online reviews for local businesses.
73% of consumers form opinions about businesses, products, and services by reading between one and six reviews.
The ever-changing ecosystem of local search recently resulted in the removal of all location information from business pages on Google, which can affect a company's presence in maps and local listings.
Online reviews increase website traffic and clicks, which has an impact on CTR from organic SERPs.
Increasing competition from heavily reviewed rivals has made it harder to build visibility in search results and attract new users.
High-quality and positive reviews improve the perception of a business. Online reviews are considered to be personal, reliable, and honest credibility scores that make consumers more confident about a business.
The bottom line is that reviews are now critical to local business marketing success, but earning them consistently can often prove to be difficult
The Challenge of Earning Online Reviews
Acquiring online reviews is not as simple as buying an ad. Reviews aggregate as a result of customers' personal experiences with a business. Customers who write reviews are typically motivated by emotion and perception. Providing a positive customer experience that affects these factors is the first step in earning quality online reviews, but it's still only the first step. Your business can't afford to simply sit back and wait for reviews. You need to be proactive and pursue online reviews from your customers.
Complicating matters even further, the location of these reviews can have an impact on their value. There are many platforms that allow consumers to leave reviews today, but the one that has the greatest affect on a company's organic search visibility and overall success is its Google business page. Surprisingly, many people don't know that they can (or don't know how to) leave a review of a business on a company's Google business page.
So how can you drive, guide, and encourage customers to leave a review on Google?
Use these three tested-and-trusted tactics to get more online reviews on your company's Google business page.
3 Links to More Online Reviews on Google
Make It Easy for Consumers to Leave Reviews
Realize that only a small group of your customers are likely to be familiar with using Google to write a review, which means that the majority of your customers aren't comfortable, or even accustomed to, leaving reviews on Google. Additionally, a customer's happiness with a business is often fleeting, so you have a very narrow window to leverage their satisfaction into an online review. These are just two of the reasons why you must make it very simple and straightforward for them to leave a review on your Google business page. The easier it is to write reviews, the greater the chance you'll get them.
Try these tips for easing the online review process:
First and foremost, the way to get a positive online review is to provide an outstanding customer experience. Remember, a review is the result of a customer's perception, so strive to make their experience and their impression of your business as positive as possible.
Provide a direct link to leaving an online review on your Google business page.
Capture a customer's email during their purchase and then follow up by sending them a link and very basic instructions on how to leave a review on Google including:
Simple instructions on how to set up a Google account.
Very clear directions on exactly where to find your company's Google business page.
Step-by-step instructions on how to post a review on your Google business page.
Create an in-store handout for customers on how to leave a review on your Google business page that includes the same step-by-step directions above.
Offer Incentives to Motivate Customers to Leave Reviews
Rewards are powerful and effective routes to reviews. Offering consumers a worthwhile incentive can provide the motivation they need to leave a review on Google.
The best ways to incentivize customers to post a Google review include:
Express how important it is for your business to earn reviews on your Google business page by posting in-store signs, creating customer handouts, and developing marketing materials with this message.
Make a general request for an online review, rather than telling people what you want them to say, in order to give customers a sense of control and empowerment.
While you don't want to dissuade consumers from leaving online reviews on numerous platforms, emphasize that Google business page reviews are what your business really wants and needs.
Host regular giveaways where special prizes are awarded to random reviewers for their Google reviews. Be sure to advertise these giveaways to motivate customers to leave a review for a chance to win.
Directly Ask Customers to Leave Reviews
Simply asking consumers to post online reviews on your Google business page is the easiest and often most effective way to secure more online reviews. Believe it or not, simply asking for a review with courtesy and humility can be extremely effective and result in many more online reviews.
Of course, there are certain ways to go about this politely and professionally, such as:
Start by asking your most loyal and long-term customers to leave a review. Either ask them in-person, via telephone, or send an email requesting a review with a direct link and clear instructions on leaving a review on your Google business page.
Teach employees to politely ask for Google business page reviews by integrating a request for reviews into the sales process. This is especially important for service-oriented businesses where customers have direct interaction with employees because it demonstrates your quality of service and allows for specific examples of a positive experience.
Follow up with customers that regularly visit or have personally expressed a positive experience with your business.
When customers have personally contacted your business with positive feedback, encourage them to share their sentiments with other shoppers by posting a review on Google.
If a customer personally refers others to your business, contact that customer and ask them to share their referral in the form of a Google business page
Contact the people who are most positively active on your social media pages and ask them to leave their thoughts on your Google business page.
Add a request for a Google review onto all of your customer billing statements, in-store collateral, marketing materials, and customer communications. Be sure to include a direct link and clear instructions on how to post a review on your Google business page.
How to Start Getting More Google Reviews NOW
Congratulations, now you know the three proven ways to earn more Google business page reviews. So what are you waiting for? You have the answers, so there's no reason not to take action and start getting more Google business page reviews right away. Follow these simple steps to start on your path to more Google reviews, higher search rankings, more customers, and much more overall success:
Make it a top priority to earn more Google business page reviews.
Continue to ask for reviews politely and professionally to avoid being perceived as pushy or presumptuous.
Develop a general guide of steps and goals for attaining Google reviews to serve employees as a helpful manual, a source of motivation, and an ongoing reminder to pursue more customer reviews.
Start engaging more customers to provide a better experience, as well as offer an easy opportunity to ask for a review. Customers will appreciate the personal service while you'll have a chance to casually solicit their online reviews.
Create a template for a follow-up email to send to customers that features a direct link your Google business page and short, simple instructions on leaving a review of your business.
Expect and accept that all of your Google reviews won't be positive.
If you earn a negative review, make sure to directly and publicly address it on your Google business page to resolve the issue and show that your business cares about customer satisfaction.
Consider advertising your high customer ratings on Google to encourage others to leave their own positive reviews.
Now that you're armed with the knowledge and insight to earn more Google reviews, you're ready to take action. Just realize that it may take some time to start getting online reviews, so be patient yet persistent. The more you do to gain reviews, the greater your chance of receiving them, the higher your Google search rankings, and the better your business will do.
Discover the links to getting more online reviews. Contact MDG.
MDG, a full-service advertising agency with offices in Boca Raton and New York, NY, is one of Florida's top branding firms. MDG's capabilities include print advertising, direct mail marketing, branding, logo design, creative, media buying and planning, radio and TV advertising, outdoor, newspaper, digital marketing, website design and development, online video advertising, infographic development, email marketing, video marketing, mobile marketing, content marketing, social media marketing, paid search marketing, and SEO. To learn about the latest trends in advertising and branding, contact MDG.