3 Ways to Engage and Entice Millennials on Mobile Apps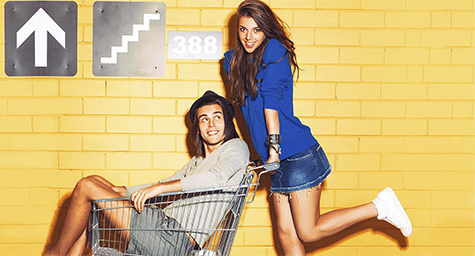 Millennials love their mobile devices because they let them access anything, at any time, and from anywhere. Today, there are more than 83 million Millennials in the United States alone. And they're worth $1.3 trillion in consumer spending this year. To engage mobile-minded Millennials, brands need to develop mobile apps that speak to their needs and pique their interest. Yet providing an app experience that engages Millennials regularly can be rather challenging, especially with so many apps vying for their attention. To help you design a mobile app that appeals to this young generation and engages them continually, MediaPost.com offered these three app approaches.
1. Hand Out a Valuable, Suitable, Enjoyable Experience
With more than one million app options, you need to make your mobile app stand out and be in tune with the Millennial market. Remember, user engagement must be earned. The way to win over Millennials is with an app that meets their needs and provides them with some kind of value. Give Millennials relevant reasons to choose and use your app, whether for entertainment, value, or personally important content. If your app offers a common service, find a way to make it unique to make your app more appealing. For instance, one app that offers savings on shopping stood out in that crowded category by adding trivia games as a way to earn additional deals and discounts. With a little creativity and a concept that targets Millennial interests, your app will click with this young generation.
2. Tap Into In-App Messaging
When it comes to engaging Millennials, many marketers don't realize the importance of in-app messaging. See, Millennials want more than just another app to add to their devices. They want to be part of a community that lets them connect and converse with fellow users, as well as directly with a brand.
This makes Millennials feel that their views are valued, while encouraging them to give their feedback. In-app messaging is a savvy way to engage users in mobile apps and make their experience more enjoyable.
3. Share New Content Constantly
Just as you need to give Millennials reasons to opt for your app over others, you need to motivate them to continually use it and recommend it to their friends. The way to keep users returning and referring is by continually adding fresh content. With many apps vying for their attention, consistently offering new and novel content will engage choosy Millennials on a regular basis. This content can be anything that reflects your business and buyer, from the latest relevant articles, new product announcements, limited-time deals, new games, and more. By consistently posting fresh content, you'll drive Millennials to your app and make them regularly return.
Realize that in order to gauge engagement, you need to first figure out how your brand plans to measure it. This will largely depend on your mobile marketing strategy and your overall business objectives, but it is essential to determine at an early stage so you can set your app up for success.
Discover new methods for mobile marketing. Contact MDG today at 561-338-7797 or visit www.mdgsolutions.com.
MDG, a full-service advertising agency with offices in Boca Raton and New York, NY, is one of Florida's top branding firms. MDG's capabilities include print advertising, direct mail marketing, branding, logo design, creative, digital marketing, media buying and planning, radio and TV advertising, website design and development, online video advertising, email marketing, content marketing, social media marketing, and SEO. To learn about the latest trends in advertising and branding, contact MDG today at 561-338-7797 or visit www.mdgsolutions.com.