3 Ways to Make Color Names Bring in the Greenbacks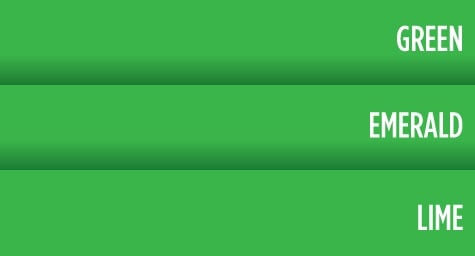 Colors are an art, but color naming is a science. Psychologists have long been aware that colors evoke strong emotions and memories, while painting our beliefs and behaviors. Color names can have many shades of meaning, which means picking the perfect name can help brands in terms of sales and success. And since research has shown that a small detail like a color's name can make a big impact on revenue, product marketing experts must get serious when selecting the names they choose for their hues. Since so many brands are in the dark about how names color a product's performance, Stitch.com drew on in-depth data to highlight how to name colors to keep a business in the black.
1. Capitalize on a Classic Palette
Data revealed that ordinary shade names delivered extraordinary results. For instance, brands generated up to 28% higher revenue by choosing to use standard names for red color families rather than creative ones, such as cherry or strawberry. By giving classic names to conventional colors, marketers can earn more revenue and spend less time coming up with out-of-the-blue options.
2. Cash In on Creativity
But sometimes, a stroke of creativity is worth its weight in gold. The data also showed that colors in the purple family generated up to 31% higher revenue when given a creative name. Since creative names for purple delivered high returns, brands may benefit from more colorful names for shades in purple families.
3. Know that Some Color Names Aren't Worth a Red Cent
When it comes to naming colors, basic may be best or creative could be key. Yet other times, the name makes no difference at all. Research showed that a spectrum of names for brown, yellow, and pink products showed little increase in revenue. This simply shows that selecting names for colors is not a "color-by-number" practice. It takes testing, time, and tenacity to come up with the names that will bring in a profit.
But since names can color perceptions and purchase, it's important to leverage the latest technology, along with old-fashioned trial and error, to stay on top of how color names affects a brand's bottom line.
Keep up with what's new in product marketing. Contact MDG today at 561-338-7797 or visit www.mdgsolutions.com.
MDG is a full-service advertising agency and one of Florida's top branding firms. With offices in Boca Raton and New York City, MDG's core capabilities include branding, logo design, print advertising, digital marketing, mobile advertising, email marketing, media planning and buying, TV and radio, outdoor advertising, newspaper advertising, video marketing, retail marketing, Web design and development, content marketing, social media marketing, and SEO. To discover the latest trends in advertising and branding, contact MDG today at 561-338-7797.