4 Guest Experience Trends for Staying Ahead of Hotel Competitors in 2016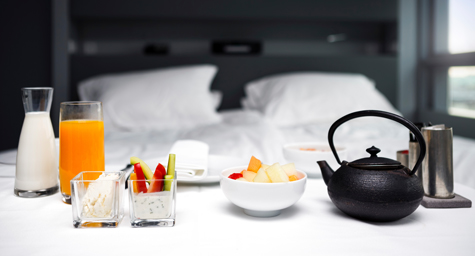 With a new year come new trends and predictions for hotel brand success. As a result, there are numerous reports of what will be big for bookings and business that year. But looking beyond the basic trends, what are some surprises that hotels should anticipate? There's no doubt that the guest experience will be first and foremost in 2016, so HotelNewsNow.com shared some unexpected trends for providing the ultimate guest experience.
1. Treat Luxury Guests to the Luxury of Customized Care
Today's luxury resort guest desires custom-designed experiences and extremely personalized service more than ever before. While they want control over their stays, they also want to be pleasantly surprised by a hotel's unique experiences and one-of-a-kind services. Rather than formal surroundings, luxury travelers want relaxed settings with intuitive service and creative cuisine.
2. Tap into Technology to Give Guests What They Want
Major advances in technology have redefined how consumers live, learn, and look for products and services. As a result, consumers have come to expect completely customized experiences from brands. This technology has also empowered consumers to gain control over their interactions and experiences with companies. In 2016, hotels need to leverage technology properly to ensure a consistent, customized guest experience based on personal needs.
3. Keep Your Eye on Design
Art, sculpture, and historical artifacts have become key features in hotel design because they enhance the guest experience, provide a sense of authenticity, and give a taste of the local culture. In addition, these architectural elements provide a glimpse of a hotel's personality, which leads to a stronger connection with the brand.
4. Feed the Need for Local and Global Exploration Through Food and Drink
The rise in travel has helped travelers develop a more global palate, along with a desire for local ingredients. In 2016, hotels need to get creative and incorporate these elements into their dining and drinking experiences. Follow these tips to serve guests a more memorable food and beverage experience:
Include more healthy dishes, sustainable elements, and locally sourced ingredients in all food and beverage offerings.
Feature ethnic dishes with distinctive flavors like sashimi, ceviche, and crudo.
Use global flavors in small and sharable dishes to help diners explore more of a menu.
Give guests the familiarity of comfort foods like fried chicken and hearty stews.
Explore aromatic spices, sauce blends, and fresh garnishes in cocktails, mocktails, and snacks.
Offer more unique mocktails and house-made sodas.
Feature global coffee creations.
Watch for gin to become the new bourbon, even though bourbon will maintain its popularity.
Expect wine to gain the strong following of craft beer, with a renewed emphasis on white wines.
5. Modernize to Meet Mobile and Millennial Mindsets
The rise of mobile usage has made mobile access a must for guests today. While mobile offers guests limitless convenience and communication, it also provides hotels with ways to:
Accommodate requests immediately.
Optimize guest experiences.
Engage with guests in more personal and meaningful ways.
Gain an advantage over competitors.
Just as important as mobile is the Millennial market, which is making up more and more hotel bookings. To cater to this rapidly growing segment of guests, hotels need to understand what these young guests want from their hotel experience. Mobile access is one of their leading requests because it caters to their on-the-go lifestyles.
By using these trends as a guide for growth, hotel brands can welcome more success in 2016.
Stay on top of the latest in hotel marketing. Contact MDG.
MDG, a full-service advertising agency with offices in Boca Raton and New York, NY, is one of Florida's top hospitality marketing companies and branding firms. MDG's core capabilities include advertising, branding, logo design, creative, infographic development, digital marketing, creative media planning and buying, radio and TV advertising, website design and development, email marketing, mobile marketing, content marketing, social media marketing, and SEO. To stay on top of the latest trends in travel marketing and advertising, contact MDG.