4 Proven Ways for Healthcare to Do Well with Social Media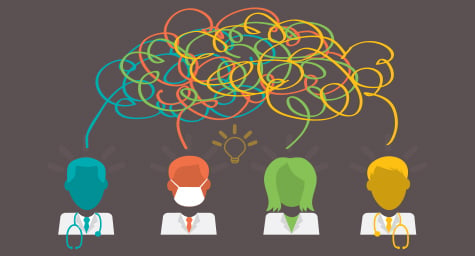 Even though social media has proven its power for industries of all kinds, very few healthcare organizations have developed a healthy social presence. That's why now is the time to take advantage of social media platforms. You'll gain a strong advantage over your healthcare competitors and increase your exposure to the ever-growing number of patients seeking healthcare support and information via social media. To make the most of your social opportunities, Hubspot.com dispensed four tips to get better social outcomes.
1. Prescribe a Personal Voice
Many healthcare companies come across as cold and formal, which doesn't match the friendly and casual tone of social media. You should focus on showing the human side of your healthcare organization by letting your personality shine and interacting with people online. To increase consumer engagement, respond to feedback in a timely manner and ask consumers questions to understand what they want and need.
2. Treat Consumers to Education and Information
Social media is an outstanding way to raise awareness and provide information about public health issues. To help your audience via social media, come up with ways for your organization to use social media to positively impact patients and the public, such as creating unique campaigns to raise awareness of an issue, sharing reliable information to clear up health misconceptions, and providing a source of support for patients in need.
3. Improve Your Outcomes with Social Media Advertising
Online advertising is a worthwhile way to reach your audience. With few healthcare organizations advertising online, the cost of ads is lower than for other industries and you'll have an online advantage over your competitors. By advertising on social media, you'll have greater exposure and direct reach to the growing number of patients seeking healthcare information on social platforms. In addition, social media ads can raise brand awareness for your organization, as well as drive leads directly to premium content that allows you to convert them into patients. Remember, the most effective social media ads are well written, relevant, and include images that capture attention.
4. Dispense Unique Content
With so much content constantly directed toward consumers, make your organization stand out from the crowd by creating compelling content that consumers won't find anywhere else. First, monitor other healthcare organizations on social media for a few weeks to see the kind of content they post. This will allow you to develop your own social voice, as well as discover what you can add to the social conversation and gain the confidence to start engaging with your social media audience. Next, start developing creative content like video product demos, interactive surveys, and infographics that display information in an engaging and educational way. By providing unique content, it's more likely to be shared and liked, which will boost your exposure and the reputation of your organization.
Use these four social media tips to help your healthcare organization thrive.
Discover how social media advertising can help healthcare organizations. Contact MDG.
MDG, a full-service advertising agency with offices in Boca Raton and New York, NY, is one of Florida's top healthcare marketing companies and branding firms, whose healthcare clients include Dental Care Alliance, MDVIP, Max Planck Florida Institute, HCA East Florida, Primary Pharmaceuticals, and MD Now. MDG's core capabilities include branding, logo design, print advertising, digital marketing, mobile marketing, email marketing, media planning and buying, radio and TV advertising, outdoor, newspaper, video marketing, infographic development, website design and development, content marketing, social media marketing, and SEO. To learn more about the latest trends in healthcare marketing, contact MDG.