4 Ways For Brands to Catch Up and Keep Up on Social Media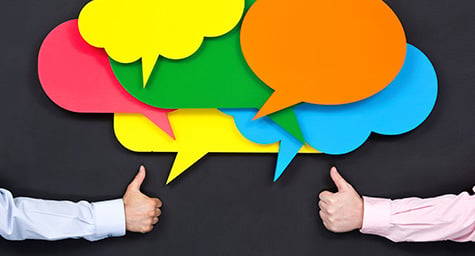 Today, it seems like every brand and business is thriving on social media. But if your business is new to the channel or only now considering joining, it can be tough to get noticed and start building up a following. But with a little creativity and smart social media marketing strategies, you can generate the sales and awareness your business is seeking on social. To give you a helpful head start, Entrepreneur.com shared some social media tips.
1. Share with SlideShare
While every one else vies for views on the popular social platforms, seek out secret gems like SlideShare. Small businesses can stand out from the crowd and really make an impression on SlideShare. The platform lets brands upload presentations that express their business and message. To start leveraging this site, develop a standalone presentation that tells an interesting story. Then, upload your work to SlideShare to let others discover your brand.
2. Build Off Others' Followings
When you're new on social media, it can be difficult to find followers. To avoid this social struggle, try to leverage the strong relationships of social media influencers. Social media influencers have legions of fans and followers. So if you can gain attention for your brand on their social pages, you may also gain their followers.
3. Beat the Tweet's 140-Character Limit
Rather than be restricted by the limits of Twitter, use pictures to say a thousand words. Simply take a screenshot of text or a quote, regardless of its length, and then tweet that photo instead. It will be an eye-catching change of pace that could bring your brand more attention. Video is another option for getting around Twitter's character limit.
4. Pursue Product Placement
Many businesses have used product placement on more traditional channels, but this tactic has now expanded to social media pages. It involves having social media influencers endorse a brand's products to followers. This tactic has gained such traction that it's led to social marketplaces that help brands connect to the right social media leaders.
Connect with the latest in social media marketing. Contact MDG today at 561-338-7797, or visit www.mdgsolutions.com.
MDG, a full-service advertising agency with offices in Boca Raton and New York, NY, is one of Florida's top branding firms. MDG's capabilities include print advertising, direct mail marketing, branding, logo design, creative, digital marketing, media buying and planning, radio and TV advertising, Web design and development, online video advertising, infographic development, email marketing, content marketing, inbound marketing, lead generation, social media marketing, and SEO. For the latest trends in advertising and branding, contact MDG today at 561-338-7797 or visit www.mdgsolutions.com.