4 Ways to Use Brand Storytelling in Your Content Marketing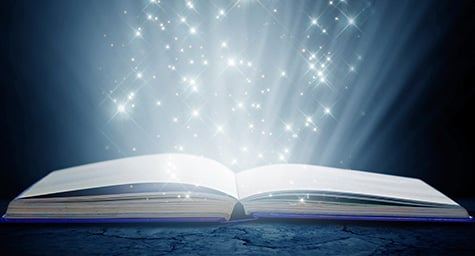 What's the story with brand storytelling? It's a concept that mixes content marketing, brand journalism, and article writing to capture consumer interest and generate engagement. Brand storytelling lets a brand express its personality, convey its values, display its products and services, build relationships with customers, boost brand awareness, and explain how it cares for consumers. The approach is working well for many major brands, and is also helping small businesses connect with more customers. The brands successfully using this concept rely on visual imaging and content messaging across many platforms and media. This ensures market coverage and maximum exposure. To learn how brand storytelling can work content marketing magic for your business, SmallBizTrends.com featured four telling tips.
1. Stay Simple and Straightforward
Keep your message clear and concise to reach the widest audience. You want people to understand your brand and connect with your message, whether they're longtime fans or just finding your business. A prime example is Dove, whose "Real Beauty Sketches" campaign addressed the universal problem of women not feeling beautiful. They connected their brand to the idea that women are too self-critical and that every woman has something special that makes her truly beautiful. Their message resonated worldwide and positioned Dove as a brand that empowers women to feel their best.
2. Relay Relevant and Relatable Information
Make your business and message resonate by making your content relevant to the people you're trying to reach. Post content that's touching, inspiring, entertaining, and genuine people to help consumers relate to your business. When content is truly moving, people are likely to share it with others, which will maximize your reach.
3. Exhibit Emotion
Post stories and images that both convey and create emotion to connect on a personal level. Show your brand's personality. Include interesting characters. Share humor, joy, and pain. And display that your company cares. The most effective ways to share this are through articles, blogs, video, and webinars.
 4. Reveal Real Experiences and Examples
To create personal bonds with consumers, a brand needs to get personal. Describe your daily activities, share stories of people you know, and describe recent experiences that your business has withstood. And offer very detailed examples of how your business helps others to show that your brand's about more than business.
By using brand storytelling, you'll be taking a page from savvy brands that are maximizing their content marketing.
Discover strategies for effective content marketing. Contact MDG today at 561-338-7797, or visit www.mdgsolutions.com.
MDG, a full-service advertising agency with offices in Boca Raton and New York, NY, is one of Florida's top branding firms. MDG's capabilities include print advertising, direct mail marketing, branding, logo design, creative, digital marketing, media buying and planning, radio and TV advertising, Web design and development, online video advertising, infographic development, email marketing, content marketing, inbound marketing, lead generation, social media marketing, and SEO. For the latest trends in advertising and branding, contact MDG today at 561-338-7797 or visit www.mdgsolutions.com.