5 Crowdfunding Tips to Help Non-Profits Earn a Crowd of Support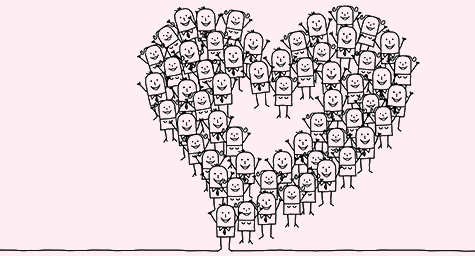 Crowdfunding has raised its image as a valuable way to raise non-profit funds. The strategy strives to fund a project through social media and digital efforts to get small donations from a large group of people. It gives non-profits powerful platforms to engage existing donors and acquire new supporters. And these small efforts get big results, making crowdfunding a growing trend. To help your funding efforts truly stand out from the crowd, Adlibbing.com offered this friendly support.
Personalize Your Plea – Stories inspire more than statistics, which is why personal stories make for compelling campaigns. These stories strike an emotional chord and speak to the heart, as well as the head. And one of the most powerful ways to share a story is via a personal video. Research shows that campaigns that incorporate personal videos raise more than 105% more than those that do not. They give a cause a voice and a view, which moves viewers and moves them to give.
Be Realistic About Results – Set a goal that's feasible and reasonable. Consider the size of your support network and the power of your partners to determine your ultimate aim. Explain the difference in donation levels when pitching prospective supporters to explain how giving more will make more of an impact.
Limit Its Length – Create a sense of urgency by keeping campaigns to fewer than 40 days. People often procrastinate, but this shows that your cause can't afford to wait. Momentum is a motivator, so reach out for donations before launching a program to let prospects know that others support it.
Identify Influencers – Since crowdfunding is a community effort and the community tends to follow its leaders, leverage the leaders who believe in your cause to inspire similar support from their followers. The fact that these leaders favor your cause will work to your advantage with their admirers.
Promote Your Progress – Donors like to feel that they're making an impact, so it's important to thank them and share your progress. Send an email, mail a letter, or write regular blog posts. This lets people know that their good deeds are indeed making a difference.
Profit from the experience of marketing experts. Contact MDG.
MDG is a full-service advertising agency and one of Florida's top branding firms. With offices in Boca Raton and New York City, MDG's core capabilities include branding, logo design, print advertising, digital marketing, mobile marketing, email marketing, media planning and buying, TV and radio, outdoor advertising, newspaper, video marketing, website design and development, content marketing, mobile marketing, social media marketing, and SEO. To discover the latest trends in branding and advertising, contact MDG.