Make Room for These 5 Hospitality Trends Redefining the Industry [Infographic]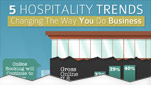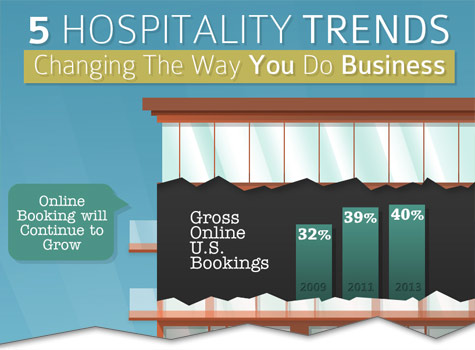 After a few rough years, the hospitality industry is back in business and finally thriving instead of just surviving. Technology has been a driving force in this welcome recovery, with social media, online bookings, and mobile payments standing out as top trends. To highlight these trends transforming the industry, NBRI created this infographic revealing the top five trends in hospitality today.
The infographic first cites the trend of online booking's ongoing growth. It breaks down the growth of gross online bookings over the past few years, which have steadily risen and are expected to reach 40% in 2013.
Next, it mentions the move toward more mobile payments. It shows how nearly one-third of travelers use mobile phones to make payments, with 38% of those payments made in restaurants, almost 30% used for ground travel, and 21% made for airfare.
The third trend highlights how social media is transforming conversations with travelers. In addition to showing how 20% of businesses book travel through social media, the graphic notes how Hyatt Hotels was the first hospitality brand to launch a round-the-clock Twitter concierge service, which now gets used by more than 66,000 customers each day.
The graphic then names industry growth as the fourth hospitality trend. Using RevPAR metrics to track revenue over the past few years, it shows how hotels have steadily increased their RevPAR each year to achieve a $68.63 RevPAR in 2013.
Its fifth and final trend is how employees and customers are driving financial performance. The graphic shows how the root causes of employee engagement, customer satisfaction, and customer behavior all comprise financial performance.
For the bigger picture on what's hot in hospitality, check out the infographic.



Leverage the latest online trends in hospitality marketing for your hotel brand. Contact MDG today at 561-338-7797 or visit www.mdgsolutions.com.
MDG, a full-service advertising agency with offices in Boca Raton and New York, NY, is one of Florida's top hospitality marketing companies. Our core capabilities include print advertising, branding, logo design, creative, digital marketing, creative media planning and buying, radio and TV advertising, Web design and development, infographic development, email marketing, social media marketing, and SEO. To stay on top of the latest trends in hospitality marketing and advertising, contact MDG today at 561-338-7797. To learn more about establishing a strong online marketing message for maximum impact, see "Making the Most of a New Media Budget in Hospitality Marketing."