5 Pioneering Health Apps for the Apple Watch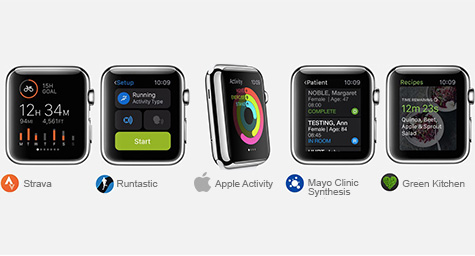 When Apple CEO Tim Cook unveiled the Apple Watch at an event in September 2014, he was clear from the start that improving health and fitness was one of the core missions of the device.
As Cook put it, "This is yet another way to begin to build a comprehensive view of your life, which should empower you to take care of yourself over time, and when you need help, it empowers you to take certain data to your doctor to get help from them."
This vision was borne out in the hardware, which incorporates technology—such as a built-in heart rate sensor and accelerometer—that provides valuable information to health apps.
Now it's time for developers to create the apps that can make use of all that information. While many brands are still taking a wait-and-see approach to the device, a few have already jumped in, creating offerings for the watch intended to enhance exercise routines, eating habits, and medical access.
In particular, these five pioneering apps show how the Apple Watch is already being used to improve health and well-being.
Apple Activity
The most sophisticated health app for the Apple Watch so far comes, not surprisingly, from Apple itself.
The Activity software measures a watch owner's movements throughout the day and then presents the information in an easy-to-understand way.
Every active movement—whether running on a treadmill or simply chasing down a child—is tracked and counted, allowing users to see how many minutes of activity they've completed and calories they've burned.
 Strava
Strava is similar to Apple's Activity in that it measures distance traveled. However, it's more focused on exercise.
The app shows real-time stats like elevation gain, average speed, distance, and heart rate during a ride or run. Regular updates give users details of their current workout to keep them motivated, including trophies when personal records are set.
Runtastic

Runtastic is another activity monitor, though it is solely intended for (you guessed it) runners.
The app displays all the information needed (speed, distance, duration, pace, even calories burned) with regular visual updates, allowing the runner to keep moving without having to slow down to check stats.
Mayo Clinic Synthesis

Mayo Clinic's Synthesis is an excellent example of how health systems can use the Apple Watch to improve care.
The app gives busy doctors the tools needed to help manage time. It displays the schedule for the day and sends alerts when a patient arrives to an exam room, or is done with an appointment. It also displays basic patient information like age, sex, and weight.
Green Kitchen

Finally, health, of course, is just as much about things like diet as it is about exercise.
Green Kitchen showcases how the Apple Watch can help improve people's eating habits. The app features dozens of healthy, organic recipes, and helps users cook them perfectly. It even allows various cooking steps to be timed separately with a quick tap and then sends alerts when each element is ready.
Watch what's happening in healthcare marketing and technology. Contact MDG today at 561-338-7797 or visit www.mdgsolutions.com.
MDG, a full-service advertising agency with offices in Boca Raton and New York City, is one of Florida's top healthcare marketing companies and branding firms, whose healthcare clients include Dental Care Alliance, MDVIP, Max Planck Florida Institute, HCA East Florida, Primary Pharmaceuticals, and MD Now. MDG's core capabilities include branding, logo design, print advertising, digital marketing, mobile marketing, email marketing, media planning and buying, radio and TV advertising, outdoor, newspaper, video marketing, infographic development, website design and development, content marketing, social media marketing, and SEO. To learn more about the latest trends in healthcare marketing, contact MDG today at 561-338-7797.