5 Reasons Why Call Tracking is Essential to Digital Marketing Success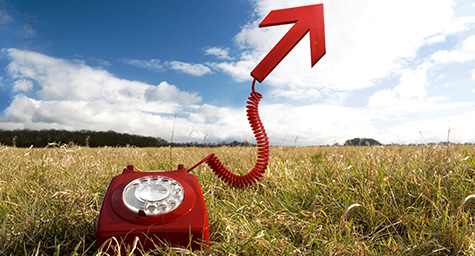 Have you integrated call tracking into your company's digital marketing efforts? If you haven't, you're likely missing out on an important opportunity to improve measurement, increase customer engagement, and boost ROI.
What exactly is call tracking? The basic concept will be familiar to anyone who has engaged in direct response marketing (or who has ever watched a late-night infomercial): different contact phone numbers for a business are presented to consumers based on different channels/incentives.
While this approach has always had benefits, its impact was limited in the past by two factors: 1) brands could only realistically create so many versions of traditional content/ads; 2) marketers didn't have tools sophisticated enough to measure call actions in-depth.
The rise of digital has solved both of these problems. Online channels can have nearly unlimited variations, which means many more phone numbers can be assigned to many more ad/content pieces.
Moreover, all of these actions can be integrated into powerful platforms, so every aspect of a call can be measured, including which source it originated from, how it was handled, and whether it resulted in a conversion.
Here's an example of modern call tracking in action: A visitor arrives on a page on your website and a unique local phone number is generated based on their location; the consumer dials the number and a cloud-based tracking software platform directs the call, records it, and measures key data points; the call is completed and the platform then shares relevant data with your online analytics/CRM software (Google Analytics, Salesforce, etc.).
This same general approach can be taken with other digital channels—such as forwarding numbers on Google AdWords and Facebook's "Call Now" News Feed button—which means that call tracking can be applied to almost every aspect of your marketing spend.
So, how does all this help marketers? Here are five of the key benefits for brands:
1. Enhanced effectiveness of a powerful channel
The rise of smartphones has led to an unexpected shift in consumer behavior: the integration of phone numbers into digital ads/sites has resulted in Americans making many more phone calls to businesses. It's estimated that mobile search alone will drive 73 billion calls per year by 2018.
As consumers become increasingly mobile-first Web users, they're also becoming more likely to call—which is why tracking becomes vital; it boosts the impact of an already well-liked, and growing, engagement channel.
2. Efficient routing of calls to in-house resources
One of the key benefits that's sometimes overlooked with call tracking is how it can help companies optimize workflows and resources.
With a good call tracking software solution and highly specific phone numbers attached to each of your offerings, you can more efficiently direct each customer to the right in-house expert. For example, you can route based on originating channel, geographic location, or even an individual product page on your website.
Moreover, the wealth of data on call times and volume can give you valuable insights into when to schedule staff to be available. Most software suites also provide the option to record each call, which can then be used for evaluating and training of employees.
3. Ability to measure every aspect of a phone call
Beyond allocating staff, call-tracking data provides countless additional valuable insights for brands.
Until the recent evolutions, phone calls were often the black hole of the customer journey; brands could track every element up until the moment of dialing, then lose any sense of where the person had originated from, what they were seeking, and what had initiated interaction.
Now it's possible to understand every aspect of the process, from which prompt sparked engagement, to the length of wait time, call duration, and post-call behavior.
4. Improved SEO, SEM, and website performance
Of course, all this data is only valuable if you can use it. Luckily, a huge advance in recent years has been in how call insights are presented.
Most call tracking software suites have their own dashboards which surface information easily—both about specific calls and in aggregate—and the integrations with platforms like Google Analytics and Salesforce allow you to link these insights to your wider metrics.
Through consistent monitoring and testing, call tracking data can help you optimize your product/services landing pages, click-to-call Google/social ads, and overall search presence.
5. Better ROI on your digital marketing spend
Finally, the biggest benefit to call tracking may be the insights it provides into the effectiveness of your marketing spend.
Because of the specificity of each number, you can clearly see which pages, ads, and pieces of content are driving leads and conversions. Over time, this data can be aggregated to understand channel-wide performance.
The key is that these insights apply to both offline and online channels. Because all interactions are routed through phone calls, you have a clear way to compare disparate platforms such as print ads, search ads, website content, email newsletters, and direct mail.
Ultimately, call tracking can be much more than a supplementary tactic. If implemented correctly, it can be used as a unifying tool to understand all of your marketing efforts, and to make them better.
Integrate call tracking into your brand's digital marketing efforts. Contact MDG today at 561-338-7797 or visit www.mdgsolutions.com.
MDG, a full-service advertising agency with offices in Boca Raton and New York, NY, is one of Florida's top branding firms. MDG's capabilities include print advertising, direct mail marketing, branding, logo design, creative, media buying and planning, radio and TV advertising, outdoor, newspaper, digital marketing, website design and development, online video advertising, infographic development, email marketing, video marketing, mobile marketing, content marketing, social media marketing, paid search marketing, and SEO. To learn about the latest trends in advertising and branding, contact MDG today at 561-338-7797 or visit www.mdgsolutions.com.