5 Things Every Marketer Should Be Thankful for This Year [Infographic]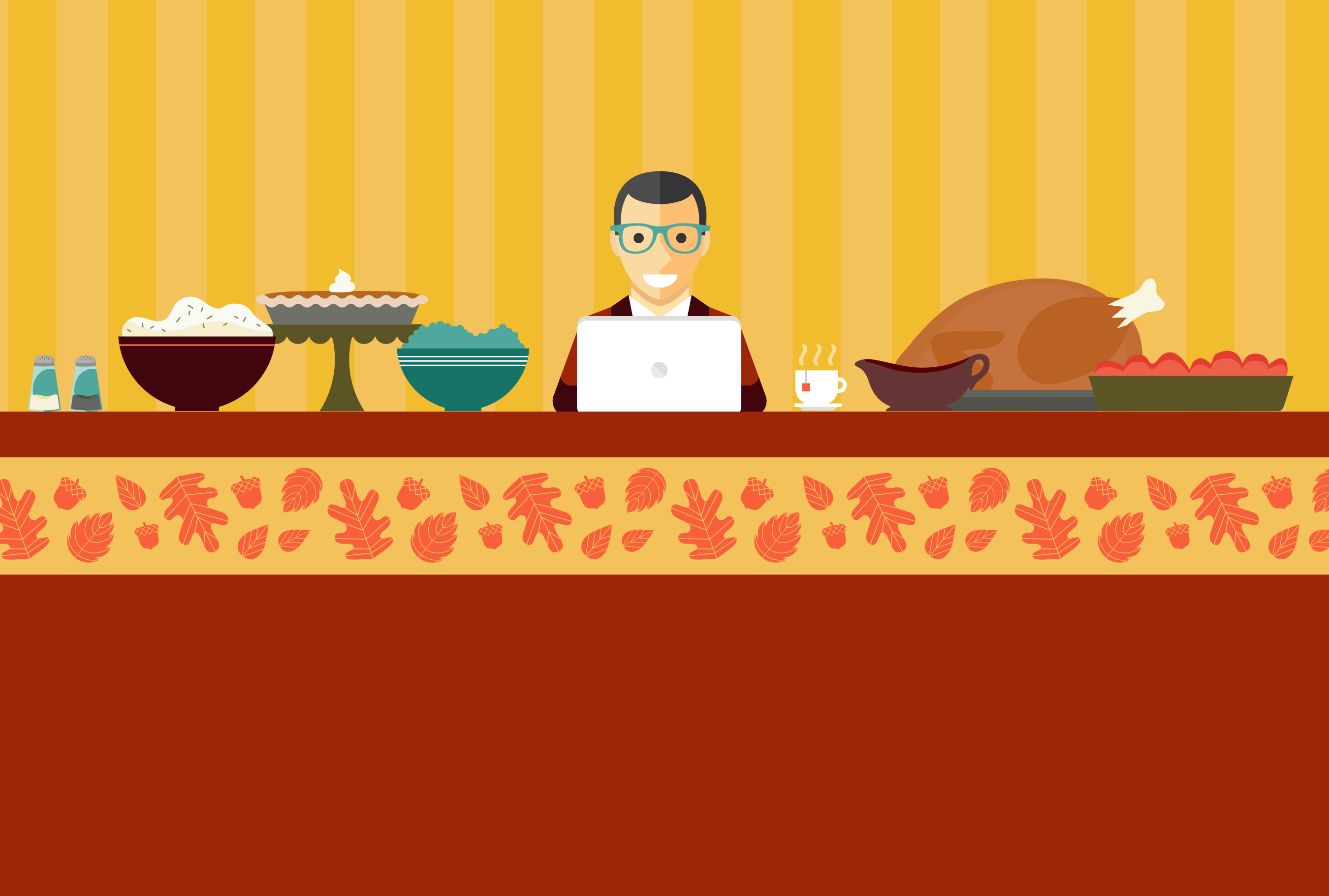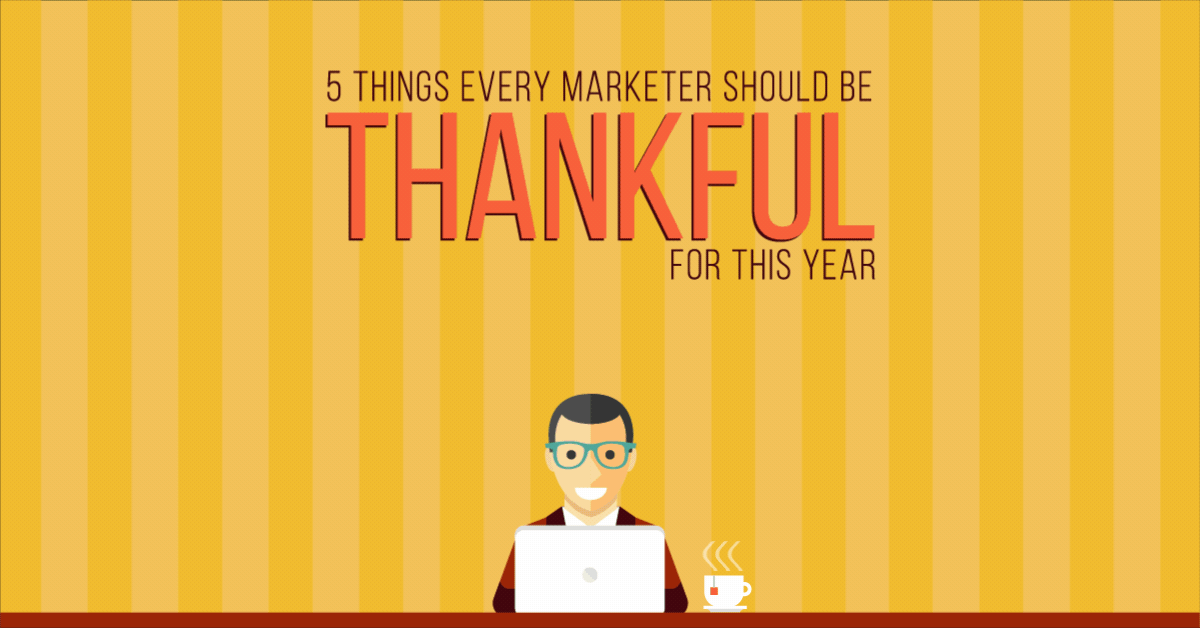 Being a marketer today can be challenging. Keeping up with the latest trends on top of handling day-to-day tasks often feels overwhelming and nearly impossible.
[jump]
Yet, there is also so much to be grateful for. The rapid changes brought about by digital and demographics may feel jarring, but they've ushered in a host of exciting changes and opportunities.
Marketers can now do things that were unimaginable just a few years ago. With new tools and approaches, it's possible to engage audiences more deeply, and at a lower cost, than ever before.
So, what are some of these transformative shifts that should be celebrated? To find out, take a look at the overview below, as well as MDG's new infographic, 5 Things Every Marketer Should Be Thankful for This Year.
1. The Rewards of Content Quality
Not too long ago content marketing was about volume. Brands were encouraged to produce a torrent of short, keyword-heavy pieces as quickly as possible.
Thankfully, that's changing: quality is increasingly rewarded over quantity.
This evolution can be seen most clearly in what search engines have come to value.
Google's Algorithm Now Prioritizes High-Quality Content That Is:
Comprehensive: Covers the topic in depth
Relevant: Directly related to the subject matter
Clear: Uses easy-to-understand language
Rich: Includes media such as images and videos
Engaging: Keeps the audience's attention
All of this is driven by a simple fact: good content is valuable to consumers.
That's why, as marketers have refocused on quality over quantity, effectiveness has increased:
85% of B2B marketers and 77% of B2C marketers say their efforts were more successful this year because of improved content quality and efficiency
The shift from quantity to quality is a win-win for everyone: consumers get better, more useful, content and marketers can concentrate resources on creating fewer, more-effective pieces.
2. The Popularity of Smartphones
It's hard to believe that the first iPhone was released barely over a decade ago. In that short amount of time, these powerful little devices have become nearly ubiquitous with consumers.
Smartphone Ownership in the United States
77% of American adults own a smartphone
92% of adults age 18–29 own a smartphone
89% of college graduates own a smartphone
Why is this popularity something marketers should be thankful for? Because the smartphone is a dream device for marketing to consumers.
Key Capabilities of the Typical Smartphone
Always-on Internet access
GPS location services
Camera and visual recognition
NFC and Bluetooth
Payment and wallet integrations
Ability to run third-party apps
The rise of the smartphone has already sparked a host of new marketing channels/tactics, including geofenced campaigns, chatbots, branded apps, QR codes, and MMS engagement.
And that's just the beginning. As smartphones evolve and as marketers become more familiar with the technology in the future, even more powerful approaches are sure to emerge.
3. The Rivalry Between Google and Facebook
While there are countless digital advertising platforms out there, there are two that now stand head and shoulders above the rest: Google and Facebook.
The influence of these firms is so strong that the market has become in many ways a duopoly.
How Facebook and Google Dominate Digital Advertising
63% of all US digital ad spend goes to Google and Facebook
Google receives 42% of all spend
Facebook receives 21% of all spend
This concentrated power has downsides, but there's also a big upside: the fierce competition between Google and Facebook has led to the creation of powerful tools for advertisers.
Over the past few years, the two companies have developed and enhanced a wide range of ad formats/capabilities that significantly help marketers reach consumers effectively.
Some Areas Where Google and Facebook Are Competing
Display Advertising
E-Commerce Advertising
Geo-targeted Advertising
Video Advertising
Audience Targeting
Retargeted Advertising
Analytics & Measurement
These are just a few of the many areas in which the two firms are battling. And this is just the start: as approaches like AI evolve and more ad dollars migrate online, the arms race is sure to ramp up. That's great news for marketers looking to make the most of their spend.
4. The Capabilities of Marketing Tech
In many ways the outcome of a marketing effort is determined by the tools powering it. The more sophisticated the platforms used, the more likely it is that a campaign will be successful.
Luckily for marketers, in recent years there has been a dramatic increase in the number—and quality—of marketing technologies available.
There are now than 5,000 companies creating marketing technologies
This rapid expansion has led to brands quickly adopting more and more tools. In fact, most firms now utilize six or more different marketing-related software programs.
Number of Marketing Technologies Used
0–5: 29% of firms
6–10: 38%
10–20: 24%
21–50: 6%
51–99: 1%
Don't know: 2%
What are markers using these tools for? A wide range of different tasks, including measurement, social media management, and email campaign management.
Most-Used Marketing Technologies
Analytics: 75% of marketing departments utilize
CRM: 62%
Social Management: 59%
Content Management: 55%
Email Campaigns: 53%
What's interesting is that many of the most powerful tools are still not utilized by the majority of marketers. For example, only 40% of marketers use automation platforms.
In other words, MarTech is already improving marketers' lives, but there is potential for these tools to help even more.
5. The Desire for Purpose-Driven Marketing
In the past, one of the difficulties firms faced with purpose-driven marketing was that the spend was hard to justify. Supporting causes was often seen as being at odds with boosting revenue.
That is changing quickly. Why? Because consumers—especially younger ones—expect brands to be socially responsible and forces for good.
74% of Millennials say businesses can and should have a positive social impact
86% believe business success should be measured by more than financial performance
This belief is directly tied to consumers' spend behavior.
91% of Millennials say they would switch to a brand associated with a good cause
There is a wide range of areas in which consumers want companies to engage.
The Types of Causes Consumers Most Want Brands to Support
Hunger, homelessness, and medical relief
Education
Environmental and wildlife
Animal rights
What's important to note is that consumers judge social responsibility not just by how a brand supports causes, but also how it behaves more broadly.
Top Ways Consumers Judge Corporate Social Responsibility
How it treats its employees
Whether it behaves ethically
How it treats its customers
Put simply: consumers increasingly expect brands to engage in causes, as well as treat their employees, customers, and community with respect.
This is a huge opportunity for brands. It opens the door to making both the firm and society better through powerful storytelling and smart partnerships. Ultimately, it gives marketers a chance to both do good for their business and to do good for the world.
To find out more, check out MDG's full infographic, 5 Things Every Marketer Should Be Thankful for This Year.

MDG, a full-service advertising agency with offices in Boca Raton and New York, NY, is one of Florida's top branding firms. MDG's capabilities include print advertising, direct mail marketing, branding, logo design, creative, media buying and planning, radio and TV advertising, outdoor, newspaper, digital marketing, website design and development, online video advertising, infographic development, email marketing, video marketing, mobile marketing, content marketing, social media marketing, paid search marketing, and SEO. To learn about the latest trends in advertising and branding, contact MDG today at 561-338-7797 or visit www.mdgsolutions.com.