5 Things Local Businesses Need to Know About Google Reviews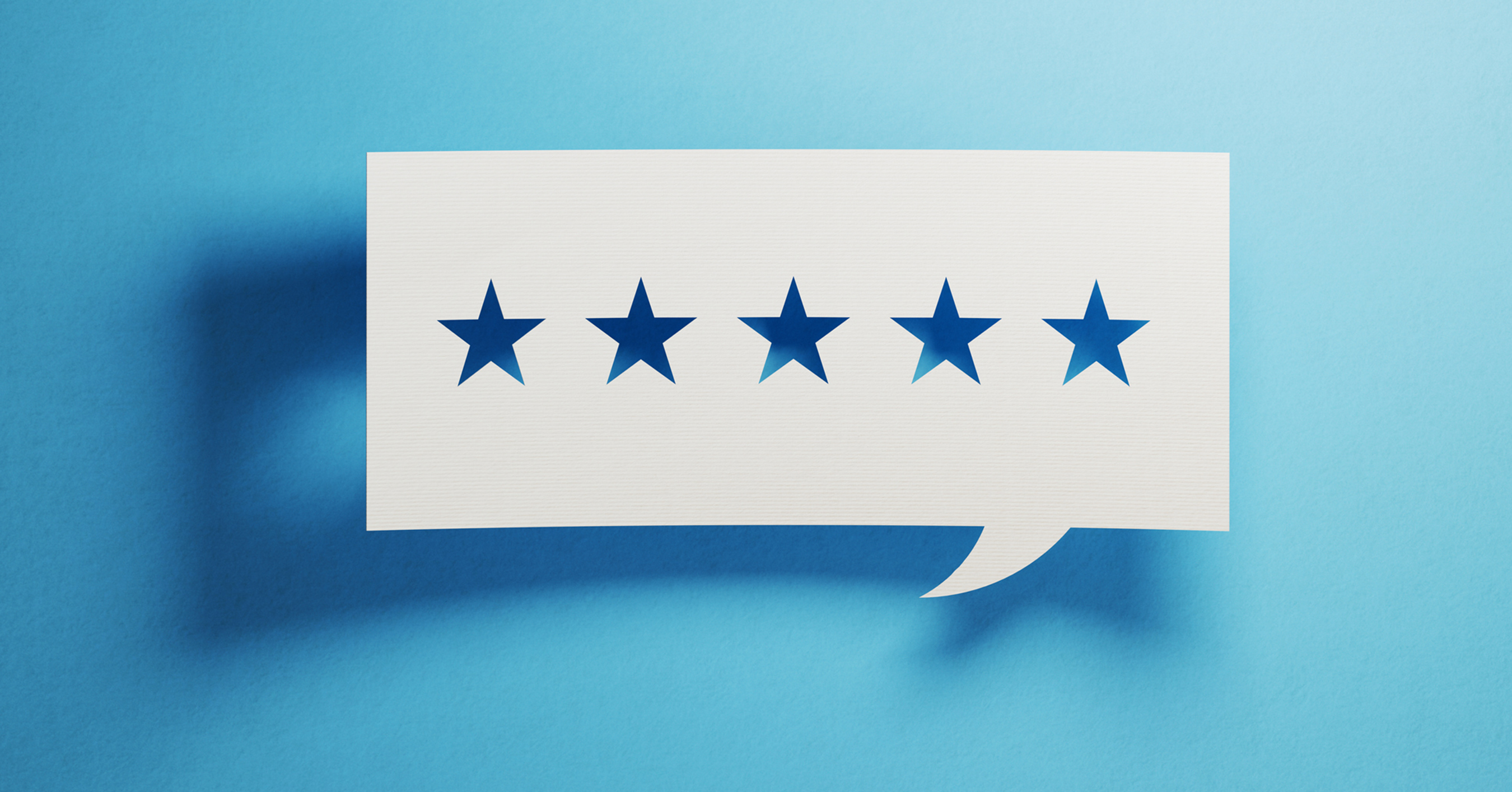 It's no secret that reviews and ratings on Google are important for local businesses: for a while now they've been prominently featured across desktop and mobile search results, as well as on other Google products, such as Maps.
But exactly how important is this feedback from consumers? Do people turn to ratings and reviews left directly on Google over ratings and reviews left on other online platforms? Which demographics rely most heavily on this type of information? How do Google reviews and ratings impact search rankings?
To find out, MDG's social media team took a close look at a number of recent industry surveys and analyst reports. Here are five key findings from the research that every marketer should be aware of:
1. Most Consumers Now Turn to Google Reviews When Researching
How popular are Google ratings and reviews with consumers? The answer appears to be that they're very, very popular.
According to a survey of 1,000 US consumers conducted by Uberall, some 51% of shoppers say they turn to Google reviews when researching brick-and-mortar stores; Yelp is the second-most utilized source for reviews (36% of shoppers turn to it), followed by Facebook (35%), the Better Business Bureau (22%), and TripAdvisor (15%).
In other words, the majority of consumers in the United States now turn to Google reviews and ratings when researching local businesses.
2. Younger Consumers Are Especially Reliant on Online Reviews
While online reviews and ratings are increasingly utilized by all consumers, younger demographics have become especially reliant on these as a source of information about local businesses.
A survey of 1,000 US adults conducted by BrightLocal found that 86% of consumers overall say they check reviews and ratings of local businesses. However, there are stark differences among age groups: most (54%) consumers age 55+ say they only check the reviews and ratings of local businesses occasionally, whereas 50% of consumers ages 18­–34 say they always check reviews and ratings.
Put simply: it's very likely that the first thing younger consumers will do to research your firm is to check its online ratings and reviews.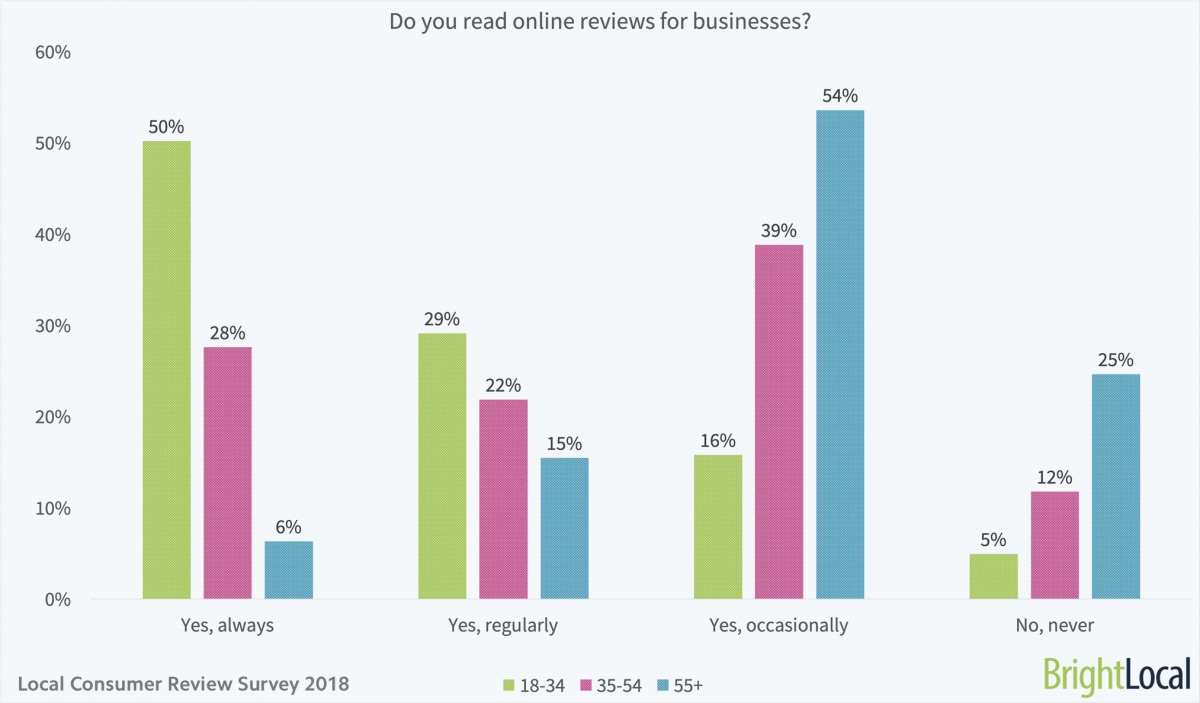 3. Google Reviews Are Vital for Search Engine Optimization
Given that Google's core product is its search engine, it's no surprise that there appears to be a strong connection between reviews/ratings and rankings.
A BrightLocal study found that local businesses with a substantial number of Google reviews and with a high average Google star rating are more likely to rank among the top search results in Google search. Specifically, the researchers found that the top three local business results on Google have 47 reviews, on average, and a 4.47 star rating, on average, both of which are significantly higher than lower-ranked businesses.
Moreover, it's not just the quantity of reviews that has an impact; it's also the content itself. Because Google crawls all of the text, reviews that include specific keywords—for example, "Invisalign" in comments about a dentist—can be surfaced in the results for those terms.
This means that having a sophisticated strategy to encourage more positive, in-depth Google ratings and reviews is a double win: it serves the needs of consumers and also helps with search engine optimization.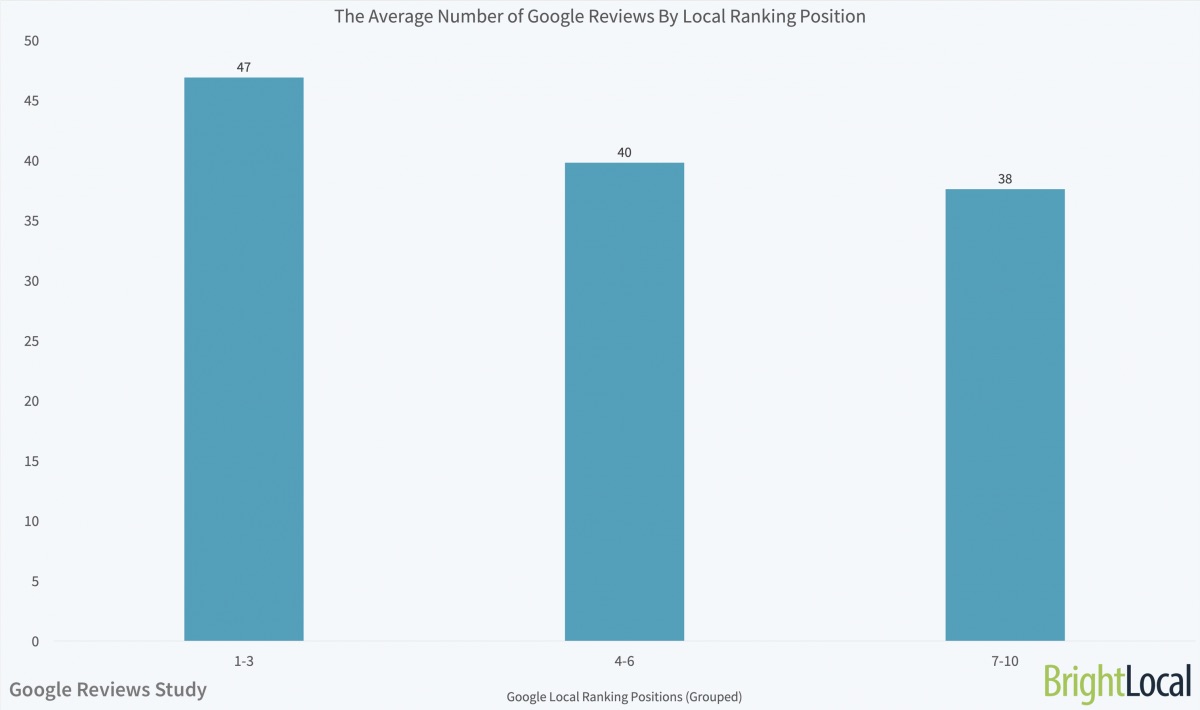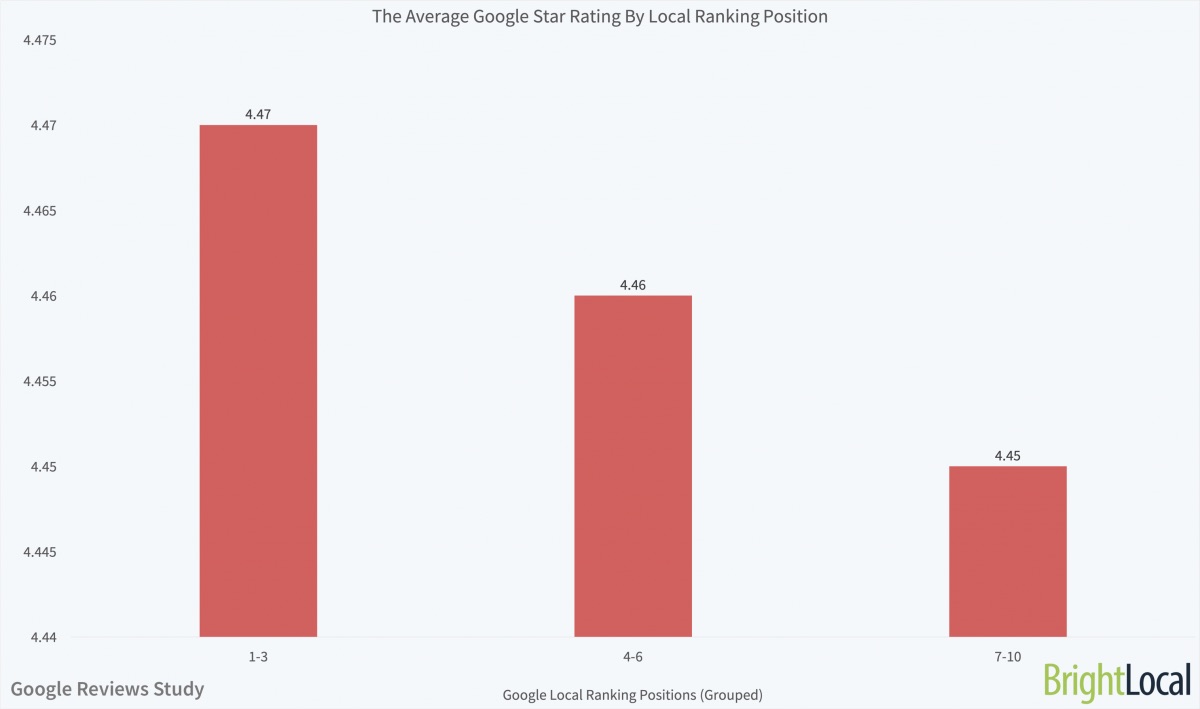 4. Google Review Strategies Need to Be Tailored
Just as not all local businesses are the same, the optimal Google ratings and reviews strategies for local businesses aren't the same.
The BrightLocal report found wide variations in the number of average reviews among different types of businesses, as well as the average star rating. For example, hotels have 309 Google reviews, on average, whereas dentists only have 32, on average. And photographers have a Google star rating of 4.84, on average, whereas car dealerships have a rating of 4.11, on average.
The key, then, is to develop a strategy that's tailored for your business type and market. So, while a hotel in a big city may need a large number of Google reviews to rank well on search and impress consumers, a lawyer in a small town may need far fewer.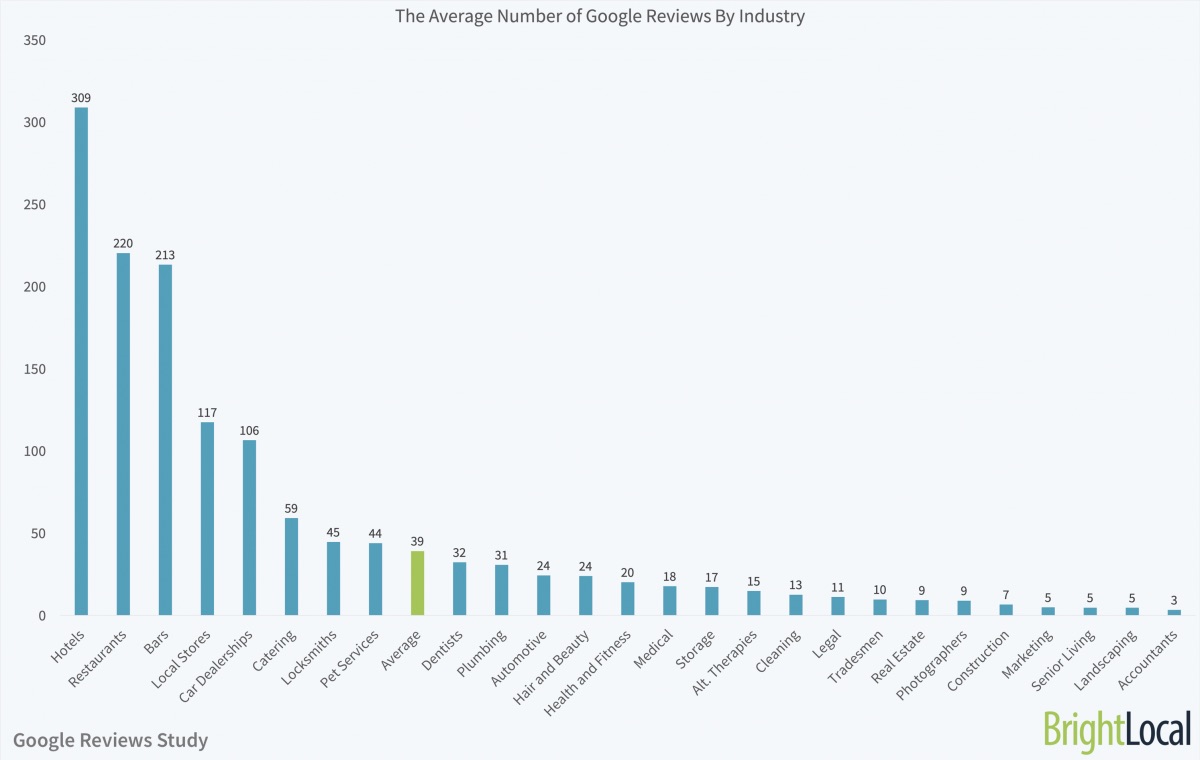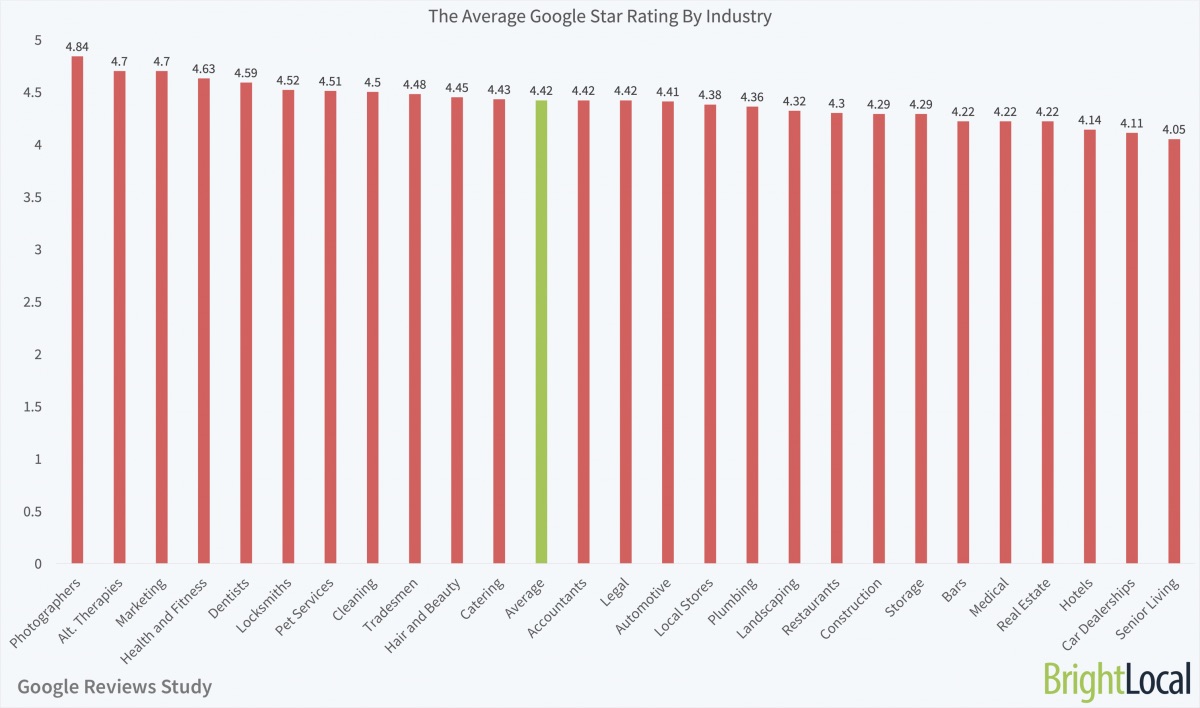 5. Google Reviews Are Evolving Rapidly
Finally, it's important for local businesses to realize that Google reviews and ratings are not static: the product is evolving rapidly and the company is constantly adding (and subtracting) features.
For example, late last year Google introduced an enhancement to its Maps platform that enabled users to add hashtags in their reviews. So, someone giving feedback on a restaurant could include #datenight in their review to make it more visible for others looking for a romantic spot.
The direction that Google ratings and reviews will take next is anybody's guess. With so many different products—from search and Maps, to Android, YouTube, and IoT devices—Google could morph reviews and ratings in any number of ways and spread them across a multitude of different areas. What's certain is that their ever-increasing popularity with consumers indicates that they're here to stay and likely to become even more important to local businesses in the future.
Learn more about the importance of Google reviews on local businesses. Contact MDG today at 561-338-7797 or visit www.mdgsolutions.com.
MDG, a full-service advertising agency with offices in Boca Raton and Brooklyn, NY, is one of Florida's top branding firms. MDG's capabilities include branding, logo design, creative, print advertising, direct mail marketing, media buying and planning, radio and TV advertising, outdoor, newspaper, digital marketing, website design and development, online video advertising, infographic development, email marketing, video marketing, mobile marketing, content marketing, social media marketing, paid search marketing, and SEO. To learn about the latest trends in advertising and branding, contact MDG today at 561-338-7797 or visit www.mdgsolutions.com.