5 Things Travel Brands Should Do to Optimize Their Mobile Presence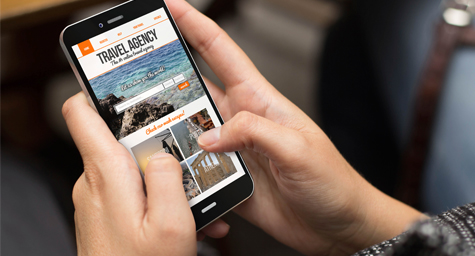 When it comes to digital travel content and tools, we're now firmly in the mobile age.
According to Google data, mobile's share of traffic to travel brands grew by 48% in 2015, mobile web conversion rates for travel sites were up 88%, and mobile search queries related to the travel category jumped by more than 50%.
Despite this clear and growing shift, many travel brands are struggling to reach mobile consumers. In part this is because of time and budget constraints, but it's also due to confusion about what to focus on. Which of the many mobile strategies should travel brands be pursuing? What are the key things to dedicate resources toward?
While the importance of specific tactics will vary from situation to situation, we believe these five core areas are essential for every brand to tackle in order to achieve mobile success:
1. Optimize display and performance for mobile
The foundation of mobile success begins with your website displaying well and loading quickly on mobile devices.
That statement may sound obvious, but it's amazing how many businesses still don't have mobile-optimized presences; in fact, barely half (52%) of Fortune 500 companies and small businesses (56%) have mobile-friendly sites. Moreover, it's estimated that 76% of the travel industry's top 100 sites are slow to load on mobile.
Having a mobile optimized website—one that's fast, legible, and easy to navigate—is key to a good customer experience: some 48% of consumers say they've been frustrated with a business because its website didn't work well on their phone or tablet. It's also essential for search success: in 2015, Google started including mobile friendliness as one of the factors that influences which listings rank highest.
2. Focus on the specific needs of mobile consumers
Here's a key fact that travel brands often overlook: consumers using mobile devices don't always behave like consumers using desktop computers.
In part this has to do with the actions taken; mobile consumers often begin by browsing on a smartphone/tablet and then move to a computer to purchase. However, it also includes how people interact with content and tools. The UI elements of a phone—a small touchscreen that's scroll based—are far different than those of a laptop with a dedicated keyboard and trackpad.
Given that, don't just simply mobile optimize your desktop website. Instead, take a step back and examine what specific things mobile travelers want from your brand and how you can best deliver those experiences.
3. Integrate mobile tools and capabilities into your offerings
Smartphones have become so ubiquitous that it's easy to forget how amazing they are. These little handheld gadgets are powerful computers, GPS devices, cameras, activity monitors, compasses, and much more.
For travel brands, these capabilities present an incredible opportunity. Don't just keep your digital offerings one-dimensional; take the time to make the most of mobile devices' hardware and software options.
For example, rather than simply including a customer service phone number, offer an icon to call immediately; rather than listing an address, present it on an interactive map; rather than making someone type in their credit card number to book, integrate digital payment systems such as Apple Pay and Google Wallet. Each of these options will make consumers' lives easier and build loyalty for your brand.
4. Optimize everything, including apps, for mobile search
The relationship between mobile devices and search is complicated. On one hand, people are less likely to use a search engine like Google when immersed in an app; on the other hand, they're more likely to use their phone while on the go to find information.
What's clear is that people use search engines on mobile a lot. in fact, Google says that the majority of searches now originate on devices other than desktops.
What does this mean for travel brands? First, check that all your basic search optimizations—metadata, fast load times, a crawlable structure—carry over to your mobile site. Beyond that, it's increasingly important to ensure that your mobile app content is indexed, as well; the method for doing this is relatively simple, yet the vast majority of businesses say they haven't done it. That's a huge missed opportunity.
5. Prepare for rapidly changing mobile behavior
Finally, as you develop sites, apps, and other offerings for mobile devices, keep in mind that the space is changing rapidly. The iPhone has only been around for nine years, Android for eight years, Snapchat for five years, and Uber for four years.
Why does this matter? Because it's important to approach your mobile strategy with change in mind. Your optimized site may not look great on the next generation of phones and your app may not make the most of newly released hardware capabilities.
Practically speaking, this means that your mobile strategy should emphasize flexibility. Choose platforms that allow for quick updating and that don't impose too many constraints. Also, ensure that you budget properly each year for updates, even if you're not planning to fully revamp your offerings. This will set your travel brand up for mobile success today, as well as in the future.
Connect with the latest in mobile marketing for travel brands. Contact MDG today at 561-338-7797 or visit www.mdgsolutions.com.
MDG, a full-service advertising agency with offices in Boca Raton and New York, NY, is one of Florida's top hospitality marketing companies and branding firms. MDG's core capabilities include advertising, branding, logo design, creative, infographic development, digital marketing, creative media planning and buying, radio and TV advertising, website design and development, email marketing, mobile marketing, content marketing, social media marketing, and SEO. To stay on top of the latest trends in hospitality marketing and advertising, contact MDG today at 561-338-7797.