5 Ways Millennials Get First-Class Travel Treatment Today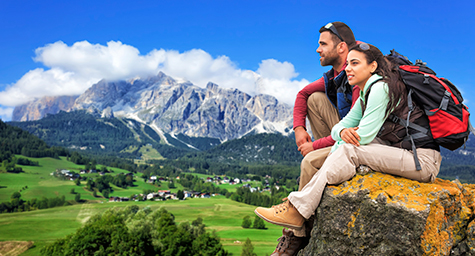 Travel has come of age—the digital age, that is—to make traveling more enjoyable for the Millennial market. This younger group of travelers wants digital convenience and meaningful experiences, so travel brands are striving to meet these modern needs. For five ways that Millennials are getting more from travel, HotelMarketing.com shared a look at their travel upgrades.
1. Hotels Accommodate Younger Guests
Hotels know that Millennials are their next generation of guests, so they're creating new features and formats to meet their younger needs in the hope of securing their long-term loyalty. Traditional, global brands like Marriott, Hilton, and Hyatt are developing new sub-brands with Millennial-friendly features. They're attracting younger travelers with fast and free Wi-Fi, high-tech accommodations, stylish design, and social media elements.
2. More Ways to Stay
While hotels remain the first choice for Millennials, today's focus on a sharing economy and need for efficient travel has led to alternative lodging options. Millennials appreciate their value, authenticity, and the unique experiences they offer. Airbnb is a leader in the concept, known for helping travelers find uncommon accommodations. And Airbnb's success has inspired similar services designed for people looking for luxury, savings, or family-friendly lodgings.
3. High-Flying Airline Perks
Air travel has taken a Millennial direction to satisfy this market's need for comfort and convenience. Today, airlines offer premium perks like Wi-Fi, in-seat charging outlets, and special plane privileges that meet Millennials' needs. Of course, all of these perks come at a cost, but Millennials think they're worth it because they enhance their travel experience.
4. Apps Make Travel a Snap
Millennials have a countless array of smartphone apps to help them explore new places. From local maps and language translation, to travel booking and activity planning, apps put a world of travel ease directly at their fingertips.
5. Social Links to the Latest Local Recommendations
Rather than rely on dated guidebooks, Millennials can get advice on travel attractions and activities directly on social media. They can get real-time recommendations from locals and previous visitors, which they tend to trust more than any other sources. For fresh travel ideas, they can scroll through travel photos and stories posted on social media, as well as share their own adventures with friends and fellow travelers.
Learn how hospitality marketing experts are staying in tune with Millennials. Contact MDG.
MDG, a full-service advertising agency with offices in Boca Raton and New York, NY, is one of Florida's top hospitality marketing companies and branding firms. MDG's core capabilities include advertising, branding, logo design, creative, infographic development, digital marketing, creative media planning and buying, radio and TV advertising, website design and development, email marketing, mobile marketing, content marketing, social media marketing, and SEO. To stay on top of the latest trends in travel and hospitality marketing, contact MDG.