5 Ways to Welcome More Travel Bookings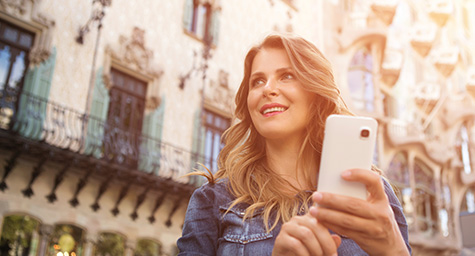 This year, expect more travelers to embark on more travel. With today's strong U.S. dollar and lower unemployment rate, people have more money to spend and many plan to spend it on travel. According to eMarketer, U.S. travel sales are predicted to exceed $153 billion dollars in 2015, which is a 6% increase from 2014. The Bing Ads team recently released some important research findings to help hotel marketers get ready for this major bookings boom. And HotelMarketing.com featured five of their hospitality marketing musts.
1. Go with a Strong Mobile Search Strategy
Many travel marketers assume that most conversions occur on desktops, but mobile is a major factor in both the travel planning process and the on-trip spending decisions. According to research, there has been a 43% year-over-year leap in the number of smartphone searches related to travel, with this number expected to grow in the coming years. To get the most mileage out of your mobile sites, rush to make the following optimizations:
Regularly test your mobile site to ensure that it's working well. If it's problematic, run call-only campaigns.
Make sure that you're running mobile preferred ads that relate to busy mobile travelers.
Use all ad extensions to give mobile searchers the specifics they need.
If you have an app, use the app extensions to attract downloads.
2. Stay Aggressive When Bidding for Brand Terms
You need to bid very aggressively on brand terms to reach full impression share at the top of the SERPs. Research has shown that bidding on your own brand terms generates many more clicks. It has also led to incredibly high click-through rates for all preferred online travel aggregator (OTA) sites like Hotels.com and Expedia. It's best for smaller travel advertisers to bid on the top ad spot for maximum exposure.
3. Have No Reservations About Being Bold in Summer and Winter
In the summer, people want to escape the office and in winter they wish to escape the cold. As a result, these are the times when people are most likely to plan and book travel. To take advantage of this travel trend, focus on June through August for summer bookings and December and January for winter reservations. Make the most of these peak times by allocating higher budgets and using seasonal language to generate more conversions.
4. Go Along On the Travel Journey
Since 58% of travel spending takes place on the actual trip, it's wise to be available to travelers throughout their journeys. In addition, more than 50% of searches on hotel mobile websites occur within a week of a traveler's booking window. Try to capture these last-minute planners with enticing offers. And when their trips come to an end, present worthwhile offers to extend their stays.
5. Plan to Optimize for Cross-Device Usage
We've become a cross-device culture. eMarketer reported that 60% of leisure travelers use multiple devices to search, plan, research, and book their trips. That's why it's vital for travelers to be able to properly view and use all of your digital properties on all of their devices. To see the value of each conversion and optimize accordingly, it's important to measure and report on your cross-device conversions.
Follow these savvy hospitality marketing tips to make the most of the upcoming travel surge.
Stay up-to-date in hospitality marketing. Contact MDG.
MDG, a full-service advertising agency with offices in Boca Raton and New York, NY, is one of Florida's top hospitality marketing companies and branding firms. MDG's core capabilities include advertising, branding, logo design, creative, infographic development, digital marketing, creative media planning and buying, radio and TV advertising, website design and development, email marketing, mobile marketing, content marketing, social media marketing, and SEO. To stay on top of the latest trends in hospitality marketing and advertising, contact MDG.