7 Consumer Trends Ringing In & Ringing Up Holiday Purchases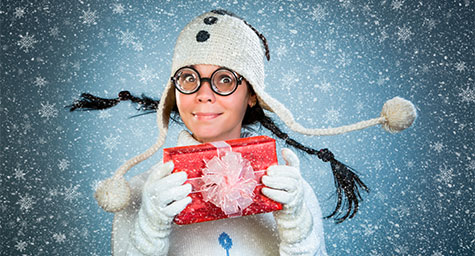 The season's weather may be cooling down, but its shopping is just heating up as the official holiday shopping season is about to begin. Since almost every brand and business will try to tie their products to the season, marketers need to know how to package their brand for holiday shoppers and make their experience joyful. As a gift to marketers everywhere, MediaPost.com wrapped up today's most timely tips on what holiday shoppers want this season and how brands can make them happy.
1.    The Mobile Presence for Presents – There's no denying the popularity of mobile for holiday shopping. In 2013, 52% of online smartphone shoppers used their phones for their seasonal shopping and that number is expected to soar even higher this year. Since mobile has become a must for holiday shopping, marketers should consider these mobile moves:
Make your site's mobile shopping experience as user friendly and stress free as possible by removing any barriers and optimizing viewing for all devices.
Prominently place your best holiday deals or messages right in front of viewers.
Have a full staff to monitor your social media channels since busy shopping days are likely to bring more visitors sharing their buys and asking for advice.
2.    You'd Better Watch Out for Bigger Screens – While smaller screens were once the biggest thing, the tide has turned and now bigger is better when it comes to mobile screen size. Their larger layouts provide much better viewing experiences when watching videos, writing emails, and shopping online. Yet these larger screens mean larger demands for marketers, including:
Optimize all of your websites and online promotions to display well on mobile screens of all sizes.
Fix the sizes of critical call-to-action buttons to suit bigger screen sizes.
Make sure that your online content is extremely visually appealing since it will make a much greater impact.
3.    The Gift of Reviews – Consumers are using online reviews for everything today, from travel to dining and especially shopping. Last year, shoppers referenced a whopping 12 sources of information before buying, which is more than twice as many as did in 2010. And this trend toward using reviews to advise their buys will only grow greater each year. As a result, marketers should implement the following review rules:
Spotlight positive reviews on your website.
Ask loyalty program members or frequent site users to contribute a review.
Seek out PR opportunities to collect additional third-party endorsements.
4.    'Tis the Season for Freebies – Free shipping is no longer enough. Shoppers want more, which has led to a freebie free-for-all. A newly popular freebie is a gift card, but each brand needs to find the freebie that will bring in their unique audience and help them stand out from the competition. Feel free to try these strategies:
Offer a special gift or experience that is redeemable after the holidays to increase engagement and build loyalty in 2015.
Partner with a brand that shares your audience and offer freebies for the other's products.
Ask loyal customers for their opinions and requests on desirable freebies.
5.    Shopping In-Store is Naughty, But Online is Nice – Black Friday may be a big shopping day for stores, but it's also a big headache for consumers who have to fight crazy crowds, long lines, and mall madness to take part in the in-store spending spree. That's why more and more shoppers who love the sales but hate the stress are opting to shop online. As a result, many are spending more time and money shopping online that they would have spent in-store. To make the most out of this online exodus:
Carefully review your website's features and functionality to ensure that your online shopping experience exceeds customers' expectations.
Send emails promoting online holiday specials with direct calls to action for future engagement.
Target customers who still prefer the in-store experience with emails featuring online-only deals to entice them to try shopping online.
6.    Spreading the Joy of Shopping Longer – The holiday shopping season seems to extend closer to the real holidays each year, and this year brings them closer than ever. Customers want to start early on Thanksgiving Day and shop until the very last minute on Christmas Eve. Yet each brand must decide how to handle their holiday schedules to both accommodate shoppers' wants and respect employees' needs. Consider these factors when selecting shopping hours:
Discuss the advantages and disadvantages of allowing shopping on Thanksgiving Day and late on Christmas Eve.
Make sure there is plenty of support staff to provide the necessary customer support during all of the shopping days.
Prepare promotional materials and blog posts to announce extended store hours, as well as defend openings during controversial times.
7.    Apple Pay is Coming To Town – Many major retailers already accept Apple Pay and that number will rapidly rise as the holidays hit. Shoppers are embracing Apple Pay because it makes in-store shopping much faster and easier. Since Apple Pay could eliminate in-store hassles and bring shoppers back into stores, it's important to consider these factors before sinking your teeth into Apple Pay:
Decide whether there is time to implement Apple Pay before the holidays begin.
Make sure that in-store staff are well trained in explaining Apple Pay to both employees and customers unfamiliar with the feature.
Ask if employees have a complete understanding of refunds with Apple Pay.
Try these seven holiday marketing trends to present your brand with a season of sales.
Get started today on creating an effective holiday marketing strategy. Contact MDG.
MDG is a full-service advertising agency and one of Florida's top branding firms. With offices in Boca Raton and New York City, MDG's core capabilities include branding, logo design, print advertising, digital marketing, mobile marketing, email marketing, media planning and buying, TV and radio, outdoor advertising, newspaper, video marketing, Web design and development, content marketing, mobile marketing, social media marketing, and SEO. To discover the latest trends in branding and advertising, contact MDG.