7 Mobile Marketing Trends to Watch in 2020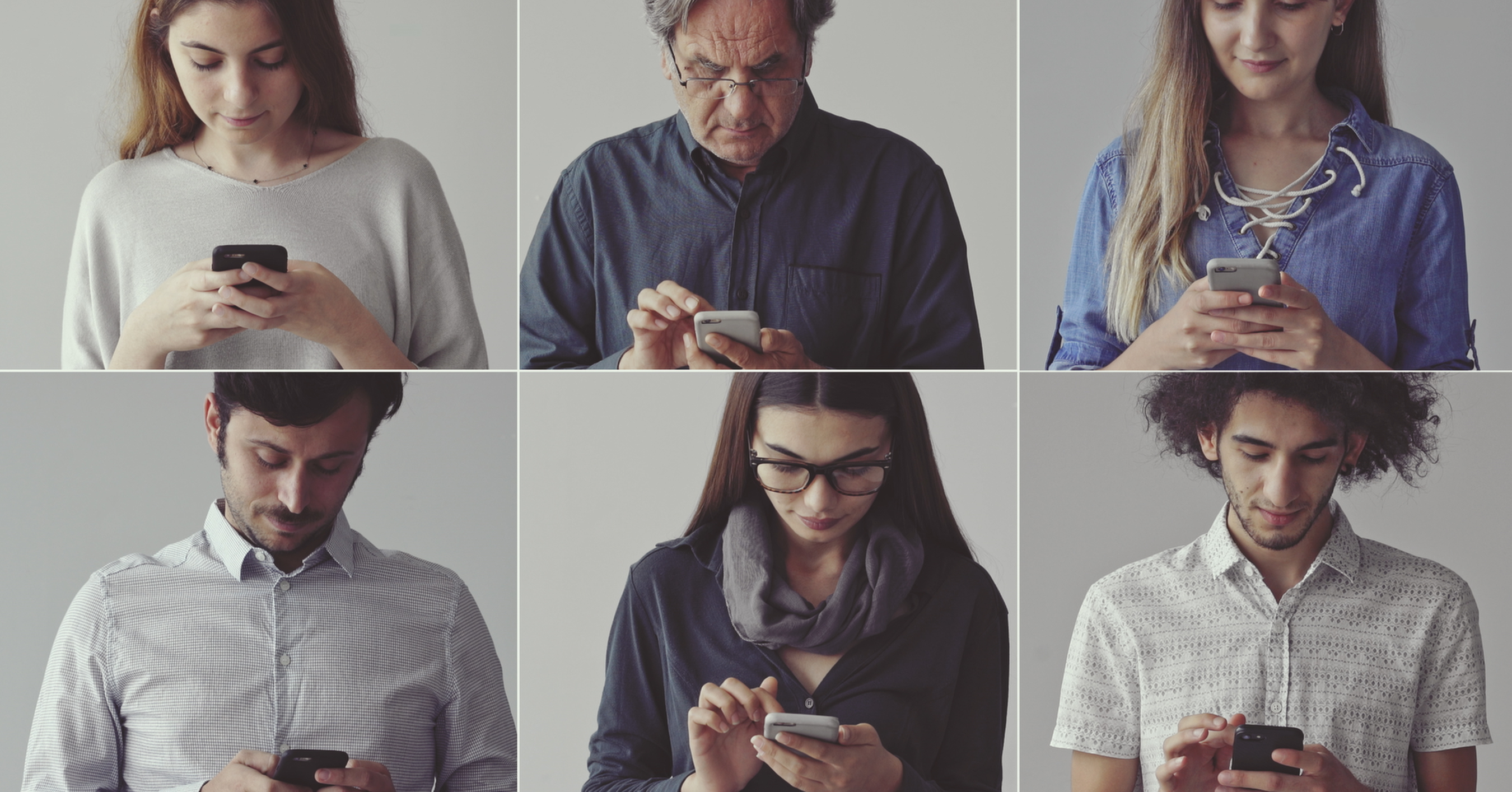 Which mobile trends are likely to have a major impact on marketing in the year ahead?
That question is particularly challenging to answer in 2020 because we're in a period of transition: current mobile technologies are still transforming consumer and business behaviors in crucial ways, but the effects of the next big thing—5G wireless—likely won't be felt this year.
As Forrester Research put it in a recent report: "Yes, [5G] will matter for industrial players, but to consumers, 5G in 2020 will feel like 3G in 2004 or 4G in 2010."
In other words, 5G is something you should definitely be thinking about, but unless your firm is part of the wireless industry, the technology probably won't affect your marketing efforts until 2021.
So what will matter this year? MDG's mobile experts dove into the research and identified these seven key mobile trends that marketers should keep a close eye on in 2020:
1. The rapid growth of m-commerce
M-commerce isn't new: people have been using their mobile devices to make purchases for quite a few years now.
What is new is the scale of m-commerce. Thanks to evolutions such as increasingly sophisticated shopping apps and fresh social media commerce integrations, more people than ever are expected to turn to their phones or tablets to make purchases in 2020.
Just how big will m-commerce get this year? Mobile-driven sales are projected to reach $284 billion in 2020—some 45% of the total US e-commerce market.
2. The ever-shifting nature of social media content
A few years ago, social media was relatively set: Facebook dominated the landscape with its News Feed, which was comprised primarily of text and photos.
Times have changed. While Facebook remains immensely popular—it's used by 69% of US adults—it now faces stiff competition from other networks. Specifically, younger audiences are embracing platforms such as YouTube, Instagram (which is owned by Facebook), Snapchat, Twitter, Twitch, and TikTok.
These changes are due largely to mobile: smartphones have sparked the adoption of new apps and—even more importantly for marketers—new types of content. On social networks, text and photos are now complemented by a host of mobile-first formats, such as stories and short-form, vertically oriented videos. In 2020, expect the nature of social media content to keep shifting as the various platforms continue to innovate offerings for mobile audiences.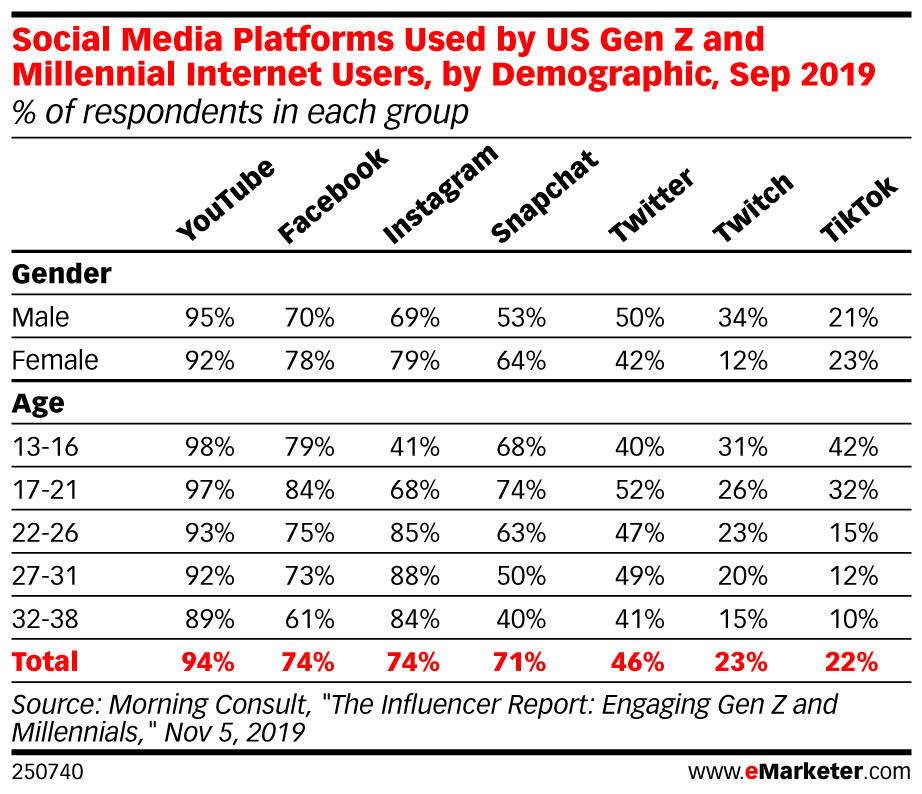 3. The tremendous growth of mobile gaming
It's hard to overstate how big mobile gaming has become. Just a few years ago, in 2017, most gaming revenue was driven by sales of console and PC titles. Now mobile games account for 57% of all industry revenue.
This tremendous growth is not just being driven by hard-core gamers: in 2020, some 213 million Americans are expected to play games on their smartphones and tablets. In other words, mobile gaming is being embraced by everyone.
Last year, Netflix stated that it sees Fortnite as being a bigger competitor than HBO. That may sound odd, but it makes a lot of sense—thanks to mobile, gaming is becoming an essential media channel.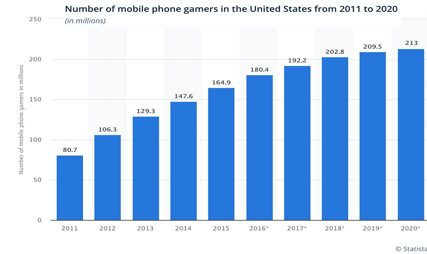 4. The much-improved quality of in-app advertising
Despite being well aware of the popularity of mobile apps, many marketers have struggled to utilize the channel effectively for advertising. That's largely because the experience has been difficult: bot fraud has been rampant and it's been challenging to run complex campaigns. 
Those issues are finally being resolved. Fraud is on the decline due to a concerted effort by major industry players, and ad platforms are making it much easier to create sophisitcated in-app campaigns.
Thanks to these changes, spend is expected to jump in 2020 and beyond, with advertisers increasingly embracing a wide range of different formats, including in-app banner ads, interstitial ads, rich media ads, video ads, and native ads.
5. The incredible effectiveness of location-targeted mobile ads
Smartphones have delivered the holy grail to marketers: the ability to serve location-targeted ads while consumers are on the go.
Not surprisingly, this combination of the right place and the right time has proven to be incredibly effective. That's why brands of all sorts—from local dentists to global retailers—have been increasingly devoting advertising spend to the format.
Expect this trend to continue: spend on location-targeted mobile ads is expected to jump to $31.1 billion this year from $26.5 billion in 2019.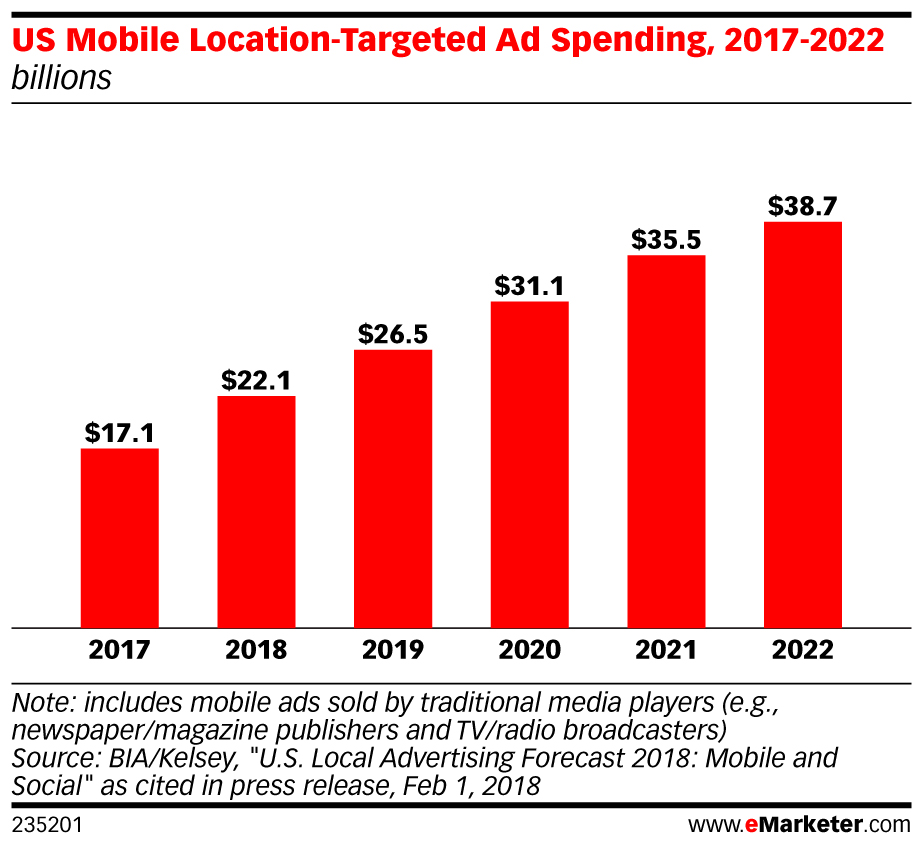 6. The continued rise of mobile audio marketing
Because smartphones and tablets provide so many visual opportunities for brands, marketers sometimes overlook the audio opportunities they offer. That's a mistake, because listening to content—from Spotify playlists to Headspace meditations—is a key behavior of mobile audiences.
One area in particular that's booming is podcasting: some 51% of Americans say they now listen to podcasts, with most saying they engage while out of the house (i.e., while in a car or using a mobile device on the go).
Podcasts are especially important to brands because they're an easy channel for delivering engaging audio ads to a wide range of audiences. That capability, combined with the increasing popularity of the content type, is why podcast advertising spend is set to rapidly rise—it's projected to reach $863 million this year and top $1 billion in 2021.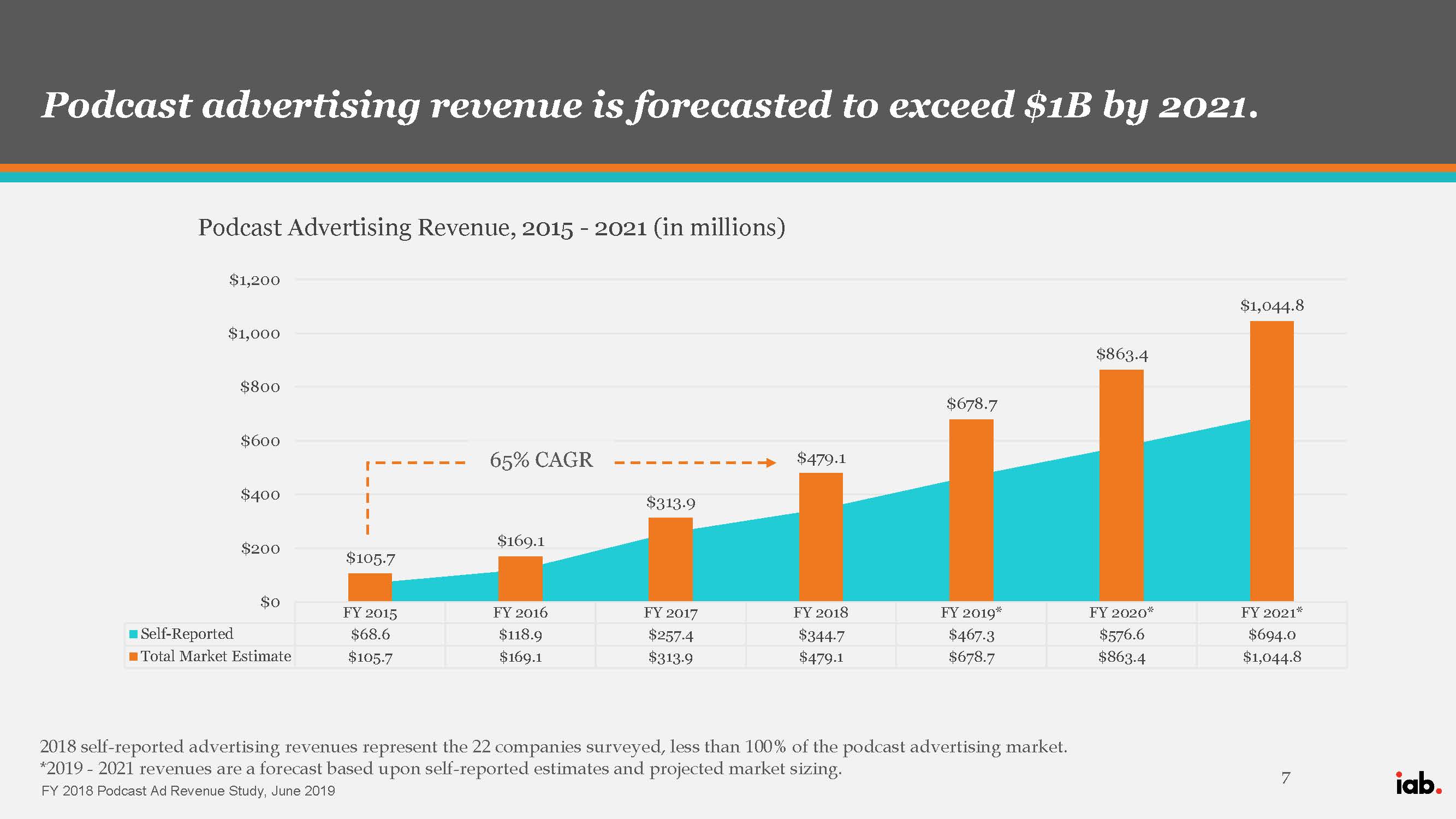 7. The powerful benefits of programmatic mobile ad buys
Finally, here's some excellent news for marketers: mobile advertising is becoming increasingly powerful. That's largely because the big ad platforms are making their programmatic and real-time bidding (RTB) tools much more sophisticated by adopting technologies such as AI and machine learning.
Whereas in the past, mobile ad buys often involved lots of manual tinkering and guesswork, marketers can now simply define a few parameters and let the ad platform find the best placements.
Programmatic buying is becoming the norm across formats. For example, 69% of global display inventory is expected to be bought programmatically this year—which means advertisers should see ever-increasing efficiencies. That should set brands up well for mobile marketing both in 2020 and far beyond.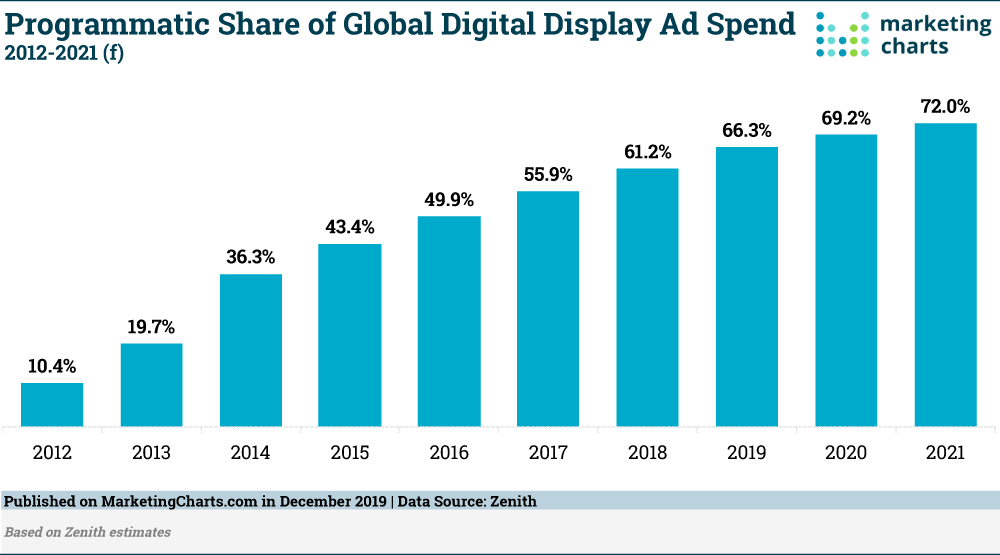 Learn more about the latest trends in mobile marketing. Contact MDG today at 561-338-7797 or visit www.mdgsolutions.com.
MDG, a full-service advertising agency with offices in Boca Raton and Brooklyn, NY, is one of Florida's top branding and multilocation marketing firms. MDG's capabilities include branding, logo design, creative, print advertising, direct mail marketing, media buying and planning, radio and TV advertising, outdoor, newspaper, digital marketing, website design and development, online video advertising, infographic development, email marketing, video marketing, mobile marketing, content marketing, social media marketing, paid search marketing, and SEO. To learn about the latest trends in advertising and branding, contact MDG today at 561-338-7797 or visit www.mdgsolutions.com.