7 Reasons Why Emoticons Make Brands Smile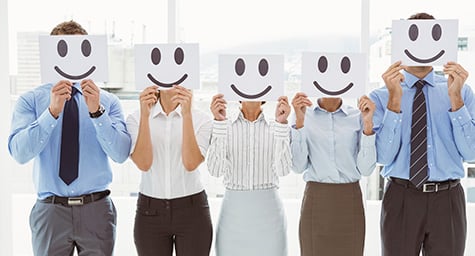 It's time to face the fact that emoticons are much more than simple smiley symbols. With the explosion of social media and the ubiquitous use of digital devices, emoticons are a major part of our daily communication. Once only used for personal expression, emoticons are now proving their value in many professional settings. To show how using emoticons can boost a brand's image, SearchEngineJournal.com offered scientific proof of the power of a smile.
1. They Perk Up Social Popularity and Power
Positive emoticons can have positive effects on a brand's social status. According to an examination of more than 31 million tweets and half a million Facebook posts, the use of emoticons helped brands to attain greater power and popularity on social media. In fact, the most influential social media personas used positive emoticons most often.
2. They Offer a Real Face-to-Face Connection
Research shows that emoticons actually activate the same parts of the brain as an actual human face. As a result, they virtually replace the value of a face-to-face interaction. Just be aware that this only works in the left-to-right layout, which is :-).
3. They Work in the Workplace
Despite their initial impression as more playful than professional, emoticons are now being employed in business communication. In a study, researchers tested the professional perception of these symbols and found that people who used emoticons were perceived as friendlier and more likeable.
4. They Present a More Approachable and Capable Image
Emoticons let people and brands put their best face forward. According to a study, people who used emoticons in their messages were viewed as more approachable and more competent, and their messages were much more memorable.
5. They Put a Friendly Face on a Critique
Emoticons give a positive spin to negative feedback. Studies show that using positive emoticons when expressing negative workplace comments made the recipient feel better and more likely to make the requested improvements. Not surprisingly, using negative emoticons had the opposite effect.
6. They Make the Workplace a Positive Place
Research shows that the use of positive emoticons reduced the negative perception of general business-related email messages. They added a positive tone to these messages, which often were perceived as more negative than intended.
7. They Help People Put on a Happier Face
Emoticons make the people who use them happy. Researchers found that people who used emoticons experienced a positive personal effect every time they included them.
As you can see, emoticons can bring a brand face-to-face with greater success.
Face the latest trends in social media. Contact MDG today at 561-338-7797, or visit www.mdgsolutions.com.
MDG, a full-service advertising agency with offices in Boca Raton and New York, NY, is one of Florida's top branding firms. MDG's capabilities include print advertising, direct mail marketing, branding, logo design, creative, digital marketing, media buying and planning, radio and TV advertising, Web design and development, online video advertising, infographic development, email marketing, content marketing, inbound marketing, lead generation, social media marketing, and SEO. For the latest trends in advertising and branding, contact MDG today at 561-338-7797 or visit www.mdgsolutions.com.