8 Branding Tactics Marketers Can Learn from Literary Legend Mark Twain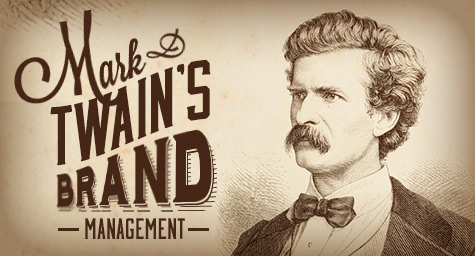 Author Samuel Clemens turned his literary alias Mark Twain into an icon by skillfully applying the branding and marketing tactics of the day, along with devising some strategies never imagined. His genius lay in his solid grasp of the character as a stand-alone brand and his clever use of marketing methods. For a look at how Twain's favorite phrases defined branding at its best, MarketingProfs.com listed the top eight examples.
1. "Many a small thing has been made large by the right kind of advertising." –Twain's titles were originally sold by advanced subscription via the well-prepared pitches of his door-to-door sales team. These savvy salesmen were literally walking advertisements that created desire and prestige for the books by promoting their lavish illustrations and custom bindings. The special features made these early editions more expensive than copies later sold in stores, but proved that direct marketing was well worth it.
2. "The human race has one really effective weapon, and that is laughter." – Laughter was Twain's way of skewering powerful people. His pen was his weapon and he used it to express his strong opinions, but all of his jabs were veiled in humor. He knew that his views would make an impact if they could first make people smile. As a result, Twain set the standard for using amusement to inspire agreement and action.
3. "Sell yourself, not your content." – Twain was known for selling himself before his work. His personality evolved over the course of his publications and he incorporated this new wry persona into marketing his books, even trademarking his name as a separate enterprise. He wisely maintained the same marketing persona and it established him name as a trusted brand.
4. "I have been through some terrible things in my life, some of which actually happened." – Twain's personal interest in risky new ventures led to some successes but many more failures, yet his willingness to take risks kept his name in the news. Some of his failed projects even inspired later successful stories and helped define his brand identity.
5. "I have never let my schooling interfere with my education." – Twain's formal schooling ended at age 12, but his subsequent job and travel opportunities proved to be a much better education. His early travel experiences and unique perspective on the world went on to become his trademark. He further fueled his education by frequently talking with readers where he picked up ideas while promoting his brand.
6. "All you need is ignorance and confidence and the success is sure." – Twain toyed with a variety of writing styles and his work was published in both major magazines and tiny tabloids. His secret was having the ignorance not to settle on a single style, along with the confidence to believe that his talent could span all genres. His unwavering drive to publicize his work increased both his fame and brand name.
7. "We are always more anxious to be distinguished for a talent which we do not possess than to be praised for the fifteen which we do possess." – While Twain's interest in inventions could have defined his career, he realized that his writing talents would take him much farther. He took the time to market his inventions, but knew his time was better spent in marketing his literary brand.
8. "The difference between the right word and the nearly right word is the same as the difference between lightning and a lightning bug." ­– Twain had a gift for using vernacular speech in his writing to very good effect. He actually agonized over every word and punctuation mark to produce the desired reaction in readers. This knack for choosing just the right words, and using them in just the right way, became the key to sustaining his brand.
Twain was well ahead of his time in his ability to market his work while marketing himself as the definitive brand. He produced a steady stream of quality content and used laughter to drive loyalty. Though his heyday was more than 100 years ago, he still had the last word on modern marketing.
Implement an integrated brand strategy and maximize your marketing budget. Contact MDG, a branding agency, today at 561-338-7797 or visit www.mdgsolutions.com.
MDG is a full-service advertising agency and one of Florida's top creative ad agencies. With offices in Boca Raton, FL and New York, NY, MDG's core capabilities include branding, logo design, digital marketing, print advertising, mobile marketing, email marketing, media planning and buying, TV and radio, outdoor, newspaper, video marketing, Web design and development, infographic development, content marketing, social media marketing, and search engine optimization (SEO). To stay on top of the latest trends in marketing and advertising, contact MDG today at 561-338-7797. To see how evoking nostalgia in the name of promotion enabled some well-known companies to get ahead by looking back, read, "The 7 Savvy Brands Using Nostalgia to Win Over Consumers."