A Look at How Email Marketing is Alive and Well [Infographic]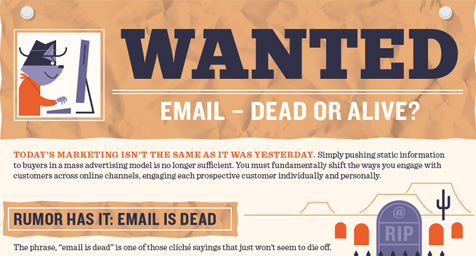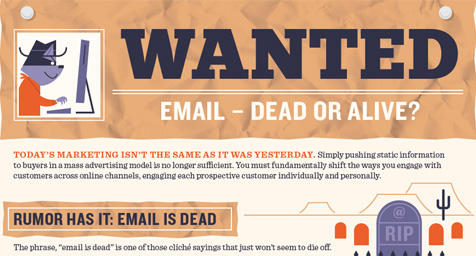 Marketers are always looking for the latest platform, process, and practice, so the quest for the novel and new often makes tried-and-true methods seem like "old news." Once the favorite of digital marketers and widely considered the technology of tomorrow, email marketing is now competing with the global acceptance of social media, online video, blogging, and diverse digital channels. But even with the growth of the digital realm, email remains the fastest and most direct way to reach those coveted consumers. To show how email is alive and kicking, Marketo.com produced and posted a very intriguing infographic. It explains how email marketing is not just surviving, but is actually thriving and evolving to meet the needs of contemporary consumers.
First, the infographic asserts that marketing today is unlike any we've ever known. Gone is the mass-market marketing approach of old, and in its place is the need to engage with consumers in an individual and personal way.
[jump]
Then, the graphic shows why the rumor that "email is dead" refuses to die by revealing how that phrase returns more than 1.5 million Google search results. Even though the cliché has a certain cachet, the truth is that email is regularly used by 94% of online Americans over age 12 and that 58% of adults check their email first thing every morning. With its vast popularity, it's no surprise that 64% of companies plan to increase their email marketing budgets this year.
The infographic illustrates that, in addition to being the chosen communication channel of Millennials, 77% of all consumers prefer getting permission-based marketing messages via email. It's also earned the favor of businesses whose email efforts generate almost twice the return of other channels.
It's clear that email isn't dead and is actually taking on a whole new life as it evolves to meet the demands of digital audiences. As a result, marketers have had to change their previous email strategies and make their messages more conversational, relevant, and trustworthy in an effort to effectively engage consumers.
To see how email is still larger than life, check out this informative infographic.

Brought to you by Email Marketing Software from Marketo
Stay current on the evolution of email marketing. Contact MDG today at 561-338-7797.
MDG is a full-service advertising agency and one of Florida's top creative ad agencies. With offices in Boca Raton, FL and New York, NY, MDG's core capabilities include branding, logo design, digital marketing, print advertising, mobile marketing, email marketing, media planning and buying, TV and radio, outdoor, newspaper, video marketing, Web design and development, content marketing, social media marketing, and SEO. To stay on top of the latest trends in email marketing, contact MDG today at 561-338-7797 or visit www.mdgsolutions.com. Thanks to mobile access and triggering automation, email open rates are higher than ever. To learn more, take a look at "Mobile and Triggering Automation Lead to Highest Email Opens."