A Look Inside StumbleUpon's Paid Discovery [Infographic]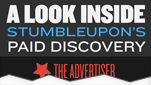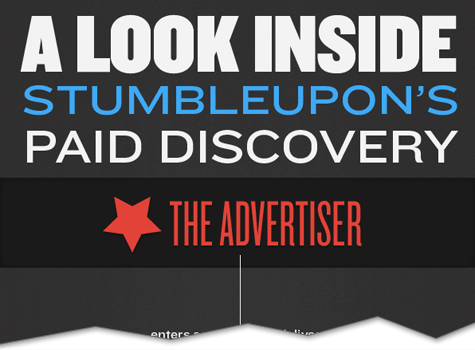 StumbleUpon has gained great popularity as a service for finding new and interesting Web pages, videos, and photos on over 500 topics that are recommended by others with similar interests. The service boasts more than 25 million users who are extraordinarily engaged, devoted, and likely to spend countless hours exploring the sticky site. While StumbleUpon's value as an informative online resource is clear, its usefulness as a marketing tool is finally being realized by the more than 75,000 advertisers affiliated with the service. To demonstrate its many marketing benefits, StumbleUpon.com and Visual.ly created this infographic. It shows some stunning statistics, such as that 80% of all ad ratings from users are positive and that the service delivers 10 clicks for every one click generated by other advertising platforms. It also illustrates how paid discovery provided over 17 billion seconds of brand engagement last year, with that figure poised to soar each year. For a peek at how StumbleUpon can work to an advertiser's advantage, check out the following infographic.

Check out MDG's infographic design: It's All About The Images and Should You Build a Mobile App or Mobile Website?
Check out our infographic videos: A Marketer's Guide to Pinterest , The ROI of Social Media, and Social vs Search Smackdown: A Battle of Internet Marketing Titans. To learn more about the power of infographics, contact MDG today at 561-338-7797 or visit www.mdgsolutions.com.
MDG, a full-service Florida advertising agency with offices in Boca Raton and New York, NY, specializes in developing targeted Internet marketing solutions, exceptional creative executions and solid branding and media buying strategies that give clients a competitive advantage.
Our core capabilities include print advertising, branding, logo design, creative, digital marketing, media planning and buying, TV and radio advertising, video marketing, customer relationship management, inbound marketing programs, Web design and development, email marketing, social media marketing, infographic design, and SEO. View MDG's creative marketing portfolio.
Infographic by StumbleUpon and Visual.ly.