A Marketer's Guide to Pinterest [Video]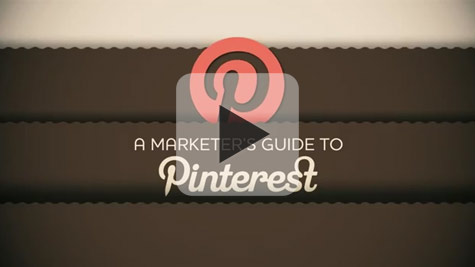 All eyes are on Pinterest, the social network that lets users collect and share images found on the Web by "pinning" them on virtual pinboards. The images span a variety of categories, from fashion, crafts, cooking, décor, fitness, and more. Users can follow the pinboards of friends and brands for inspiration and "repin" the images onto their own pinboards. Today, Pinterest is quickly becoming the fastest-growing social media site based on its huge popularity with women, as well as its unlimited potential as a marketing tool for businesses. "Pins" help companies promote their products, develop their brand personalities, drive tremendous referral traffic to their websites, and gain exposure among the Pinterest community. Now, MDG has produced an engaging video highlighting the facts, figures, and findings from its popular "Pin It To Win It" infographic.
The video details the social site's demographics, growth, and potential to drive abundant traffic to company websites. Pinterest is especially popular with the most highly coveted markets—about 60 percent are female and 80 percent are in the 25 to 54 age demographic. Plus, Pinterest drives more referral traffic than Google+, LinkedIn, and YouTube combined.
The video goes on to cover the brands, both large and small, on board the pinboard phenomenon, such as Whole Foods, Etsy, West Elm, and Real Simple. These companies reflect the cooking, décor, and crafts interests that are prevalent among the Pinterest audience.
In addition, the video helps marketers navigate Pinterest's features and terminology by demonstrating the "pin," "repinning," and "board." It also shows how companies can leverage Pinterest for maximum response and referral traffic, whether by improving their image quality or promoting more than just a product line.
Want to learn how to leverage the power of Pinterest in your social media strategy? Contact MDG at 561-338-7797 or visit www.mdgsolutions.com.
Follow us on Pinterest.
Check out MDG's infographic: A Marketer's Guide to Pinterest and our video The ROI of Social Media.

MDG, a full-service Florida advertising agency with offices in Boca Raton and New York, NY, specializes in developing targeted Internet marketing solutions, exceptional creative executions and solid branding and media buying strategies that give clients a competitive advantage. 
Our core capabilities include print advertising, branding, logo design, creative, digital marketing, media planning and buying, TV and radio advertising, video marketing, customer relationship management, inbound marketing programs, Web design and development, email marketing, social media marketing, infographic design, and SEO. View MDG's creative marketing portfolio.