A Marketing Must-Have for the Holidays: Retargeting on Facebook's News Feed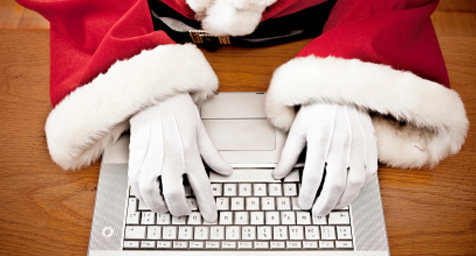 Retargeting has become the new buzzword as marketers discover the phenomenal value of reaching those 98% of consumers who don't convert on their first visit to a website. Recently, Facebook added a new twist that pushes this marketing must-have into a whole new realm of effectiveness. In fact, a recent article in business2community.com suggests that, this holiday season… retargeting in Facebook's News Feed "should be a focus of every marketer's holiday strategy."
Since its launch last May, retargeting on the news feed section of Facebook has quickly become the go-to resource for marketers hoping to engage consumers. First, there's that impossible-to-
miss location in the center of the news feed. Even better, the news feed offers access to the 17% of online users who can only be reached through Facebook Exchange (FBX).  FBX is the real-time auction that offers this space to advertisers. It gathers customer intent data from people's interaction on websites outside Facebook. It then enables these advertisers to retarget Facebook ads to potential customers who previously browsed their sites.
In addition to reaching an otherwise unreachable target, and landing prime real estate on Facebook's News Feed, there's also the enticing prospect of engaging viewers through the traditional Facebook like, share, and comment buttons. Once you factor in the opportunity to create online buzz among Facebook's 1.15 billion active users, you have an ideal formula for increasing exposure to your ads.
Here are three tips for making the most of this welcome holiday gift to marketers:
1. Don't be shy. Facebook News Feed offers you the opportunity to put your special promotions in front of billions of users each month. Entice them with bonus offers, seasonal goods, and sales items.
2. Don't limit your efforts by targeting only those who have visited your site in the past 30 days. Go back as far as two months or more to capture those prospects whose interest may now be renewed during the holiday shopping season.
3. Get people talking. Expand your reach by using Facebook features to encourage likes, shares, and comments. These built-in features offer a great way to start a discussion about product features and benefits.
Implement an effective retargeting strategy for the holiday season. Contact MDG today at 561-338-7797.
MDG, a full-service advertising agency with offices in Boca Raton and New York, NY, is one of Florida's top creative ad agencies. Our core capabilities include print advertising, branding, logo design, creative, digital marketing, media planning and buying, radio and TV advertising, Web design and development, infographic development, online video advertising, email marketing, social media marketing, and SEO. To learn more about reaping the results, return, and rewards of retargeting, take a look at MDG's fact-filled infographic, "A Marketer's Guide to Retargeting on Facebook."