Activia Ad Starring Shakira Shakes Up Viral Video History to Become Most-Shared Commercial Ever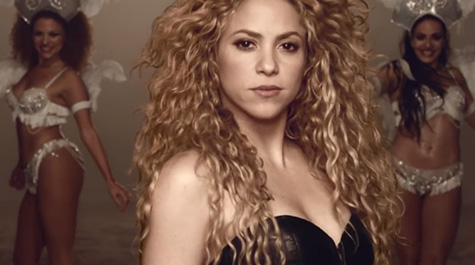 By mixing Shakira's World Cup anthem with their cups of yogurt, Activia's new "La, La, La" ad has taken the viral video title for the most-shared ad of all time. The video ad serves as both a commercial for Activia and a music video for Shakira's official World Cup anthem. This follows the growing trend of trackvertising, in which a brand partners with an artist to co-release a music video in order to provide exposure for both the brand and the musician. The online video ad's viral success can be attributed to the popularity of Shakira, who just became the first person to reach 100 million Facebook "likes." Thanks to Shakira's star status and social media support, Activia's cup runneth over as the online video has gained acclaim as the most-shared ad in history. The Wall Street Journal covered the coup.
Since its launch two months ago, the "La, La, La" ad has been shared 5.375 million times across Facebook, Twitter, and various blogs, according to data from Unruly. The spot took this viral video victory away from Volkswagen's "Force" ad, which has accrued 5.372 million shares since its release.
In addition to promoting both Activia yogurt and Shakira's song, the commercial was also released as part of a humanitarian partnership with the World Food Programme. Altogether, the ad has fed everyone's need for success and support.
Discover how online video advertising can get people buzzing about your brand. Contact MDG.
MDG is a full-service advertising agency and one of Florida's top branding firms. With offices in Boca Raton and New York City, MDG's core capabilities include creative, branding, logo design, print advertising, digital marketing, mobile marketing, email marketing, media planning and buying, TV and radio, outdoor advertising, newspaper, online video advertising, Web design and development, content marketing, lead generation, mobile marketing, social media marketing, and SEO. To discover the latest trends in branding and advertising, contact MDG.