Ads on Maps and Navigation Apps: What Brands Need to Know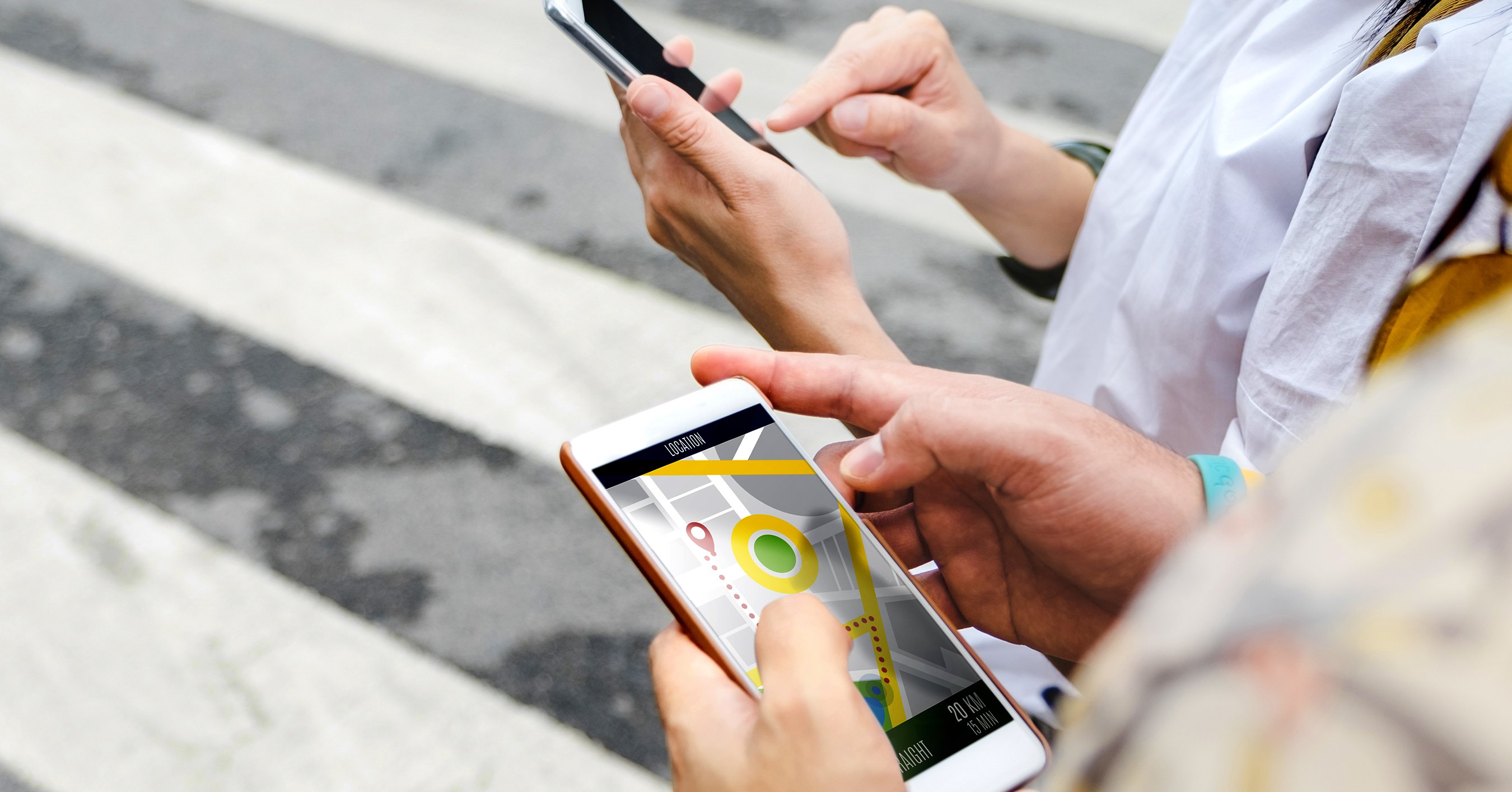 Maps and navigation apps currently sit at the perfect marketing crossroads: they are increasingly prized by consumers who own smartphones (now more than 77% of all Americans) and fit perfectly with the trend of digital behavior becoming more localized.
Not surprisingly, then, both the platforms themselves and brands have begun to realize that these apps have the potential to be powerful advertising channels.
What exactly is the scale of this opportunity? How popular are maps and navigation apps? Which platforms are the most utilized? What are the ad formats available to marketers currently? How is maps and navigation-based advertising expected to evolve?
Recently, eMarketer explored these questions in an in-depth report. The researchers looked at data from a wide-range of sources to determine the current state of the market, and interviewed top experts in the field to understand what it might look like in coming years.
What did they find? Here's what marketers need to know about advertising opportunities on maps and navigation apps:
Maps and Navigation Apps Are Massively Popular
The core reason why maps and navigation apps are an exciting advertising opportunity is that they are massively popular with smartphone owners.
According to eMarketer data cited in the report, more than two-thirds (67%) of smartphone owners use a maps app at least once a month. This is a significantly higher share than those that use a weather app (45%), sports app (21%), or dating app (15%) each month.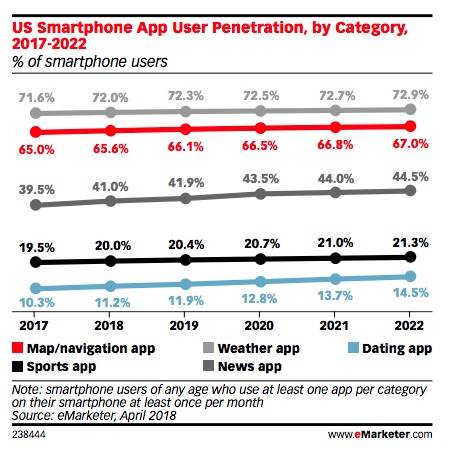 This immense popularity combined with the frequency at which map apps are used — users increasingly turn to them any time they want to go to or find a spot — means that they enable brands to reach local consumers consistently and at scale.
Google Apps Are the Clear Leaders in the Space
Which platforms currently dominate the maps and navigation app space?
According to Verto Analytics data, as cited by eMarketer, Google Maps is the leader by far, with a 72% share of monthly unique visitors. Waze, which is owned by Google, ranks second (12% share). Apple Maps ranks third (11%), and MapQuest ranks fourth (10%).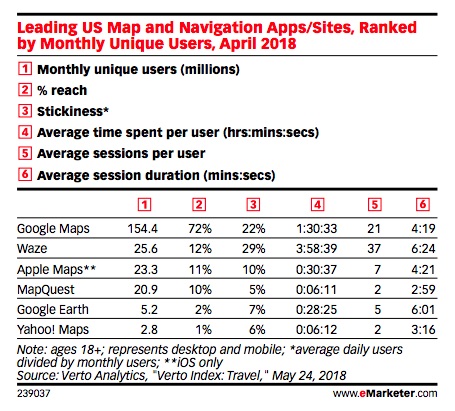 According to Creative Strategies data, as cited by eMarketer, Google Maps is more popular than Apple Maps even with iOS users: 45% say they prefer the Google product over the Apple product.
Moreover, according to comScore data as cited by eMarketer, Google Maps is the fifth-most opened app on smartphones, far ahead of any other maps and navigation app.
This doesn't mean that other platforms should be ignored completely, but it does indicate that at least for now most marketers should probably begin their maps advertising efforts with Google.
Ad Opportunities on Maps Apps Are Already Significant
So, how can brands currently advertise on maps and navigation apps?
Google Maps has a number of different formats, including:
Local Search Ads: Units which appear on Google.com and Google Maps results when a user makes a related query (i.e., "restaurants nearby").
Place Page Ads: Units which appear after a user has clicked on a specific location listing that appears on a local search query on Google.com or Google Maps.
Promoted Places: Branded icons which appear within Google Maps when a user is browsing the map interface.
Waze has similar offerings, such as Branded Pins and search ads, as well as a few additional opportunities, including:
Takeovers: Half-screen ads that are displayed when a car is not moving.
Arrows: Icons that point to nearby businesses out of the scope of the current map.
How popular are these ad units? According to Merkle data, as cited by eMarketer, some 6% of Google mobile search clicks for brand queries take place within Google Maps.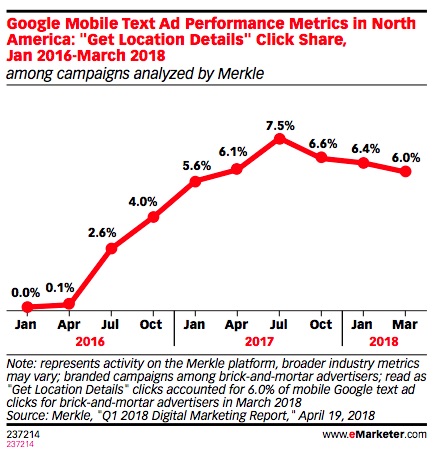 Given the scale of Google search, 6% of mobile clicks for brand terms occurring within Maps is significant. Still, this number indicates that there is plenty of room for growth.
Expect Maps Apps to Become Much More Advertiser-Friendly
The initial problem with marketing on maps apps was that most users were simply using them to look for directions from point A to point B, so there were limited opportunities to deliver ads.
The platforms are tackling this problem by incorporating elements borrowed from local search services, such as Yelp's listings for businesses, and social networks, such as Snapchat's interactive Snap Map showing user content from various locations.
In other words, maps apps are increasingly becoming platforms for discovery, not just navigation. This can be seen clearly in Google Maps recently redesigned Explore experience, which makes it much easier for users to learn about businesses, events, and activities.
This shift towards discovery has major implications for advertisers: as users increasingly use maps apps to research local businesses, the opportunities for advertising should increase significantly.
Location-Based Ad Opportunities Aren't Confined to Maps Apps
Finally, it's important to note that maps apps aren't the only opportunity for delivering location-based ads, nor are they the only apps that utilize maps.
Increasingly, other platforms such as social networks are incorporating location-based ads and map interfaces into their mobile products, blurring the line between what is a map/navigation app and what isn't.
In particular, Facebook has been aggressive in courting local advertisers with its products. One example of how it is doing this is that its ads can incorporate a map as part of a carousel of images, enabling users to click-through and get driving directions to the advertiser's location.
This is just the tip of the iceberg. In the near future, it's likely that location-based ads and maps interfaces will expand beyond even smartphones themselves and into areas such as navigational systems built directly into vehicles by manufacturers.
Ultimately, it is unclear exactly how things will evolve in the coming years. What emerges from the research is that maps and navigation advertising is still in its infancy and evolving quickly. One thing that is clear is that this ad channel is set to grow rapidly and that it is likely to present ever-more powerful marketing opportunities for brands looking to reach local consumers.
Learn how to harness the power of  advertising on maps and navigation apps. Contact MDG today at 561-338-7797.
MDG, a full-service advertising agency with offices in Boca Raton and New York, NY, is one of Florida's top branding firms. MDG's marketing capabilities include print advertising, direct mail marketing, branding, logo design, creative, media buying and planning, radio and TV advertising, outdoor, newspaper, digital marketing, website design and development, online video advertising, infographic design and development, email marketing, video marketing, mobile marketing, content marketing, social media marketing, paid search marketing, and SEO. To learn about the latest trends in advertising and branding, contact MDG today at 561-338-7797 or visit www.mdgsolutions.com.