MDG Helps Allin Interactive Push Its New Hospitality Marketing Technology with the Push of a Button [Video]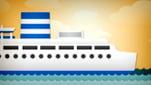 MDG recently branded and created an animated video that promotes Allin Interactive's innovative new hospitality content distribution system. Allin Interactive is the market leader in advanced interactive content distribution platforms for the hospitality industry, especially cruise lines, and they're starting to gain ground among resorts and long-stay hotels. While most would think that their long-standing leadership status would be an advantage, it's actually started to affect the brand's business as hospitality companies seek solutions from newer startups to help distinguish themselves from the competition in more modern ways. As a result, Allin has enhanced their offering to include more digital features, integrating contemporary functionality with the reliability of the Allin reputation. To help Allin assert their superiority, MDG produced an engaging and enlightening video that promotes this advanced new content distribution system.
The platform allows consumers to personalize and digitally tag the content they find most relevant and interesting on their digital television, mobile device, or digital signage during their cruise or stay to enhance their overall experience with the touch of a button, which changes color as they interact with it.
"We designed the logo as a button and named it Markit, since it enables consumers to easily "mark" the content that interests them and also lets hospitality brands later "market" to these consumers based on their personal preferences," said Michael Del Gigante, MDG's president and executive creative director.
In addition, the button lets consumers easily book excursions, make dining or spa reservations, and purchase tickets to on-premise activities, such as evening theatre. Once this personalized content has been supplied, cruise lines and other travel companies can use the data to improve their hospitality marketing efforts since it allows them to better market to consumers with targeted information most relevant to them.
For a look at how MDG helped Allin present their updated software via the visual power of video, and to see all of MDG's videos, visit  MDG's YouTube channel.
To integrate video into your hospitality marketing strategy, contact MDG today at 561-338-7797 or visit www.mdgsolutions.com.
MDG, a full-service advertising agency with offices in Boca Raton and New York, NY, is one of Florida's top content marketing agencies. Our 360° approach uses just the right mix of traditional and digital marketing to reach your advertising goals. While some industries may fare better in print and others online, we strive to create a balanced approach, where traditional, digital, and social media marketing efforts support each other and your message is tailored to the medium. Our core capabilities include branding, logo design, creative, digital marketing, infographic development, integrated media plans, print advertising, radio and TV advertising, video development, Web design and development, email marketing, content marketing, social media marketing, and SEO. To learn more about the latest trends in hospitality marketing and advertising, contact MDG today at 561-338-7797 or visit www.mdgsolutions.com.