An Exhilarating Experience Was Had By All, Courtesy Of MDG & Tesla Motors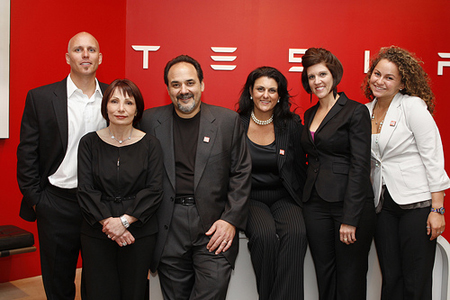 MDG and Tesla Motors recently hosted an exciting and informative event in New York City with an evening focused on staying ahead of the curve and outperforming the competition. The night featured thrilling ride-a-longs in the Tesla Roadster plus insightful information provided by MDG's luxury marketing experts on the most powerful ways to make a luxury brand stand up, stand out and succeed in today's post-recession market. Highlights included:
Up-to-date overview on trends and realities of our current marketplace
Snapshot of the new "luxury" consumer
How to utilize digital efforts and maintain brand equity
The role, if any, that social media should play in your marketing efforts
Advice on how to implement digital changes and rev up your brand
Guests mingled and enjoyed cocktails provided by Tierras Tequila and food by Great Performances, while the Tesla Motors team provided an exclusive look under the "hood," including:
A demonstration of a 2010 Tesla Roadster
Tours of New York's newly opened – and only – state-of-the-art electric vehicle service center
We would like to thank everyone who contributed their energy and drive toward making this such a successful and worthwhile event!

Interested in working with MDG?
MDG of Boca Raton, FL and New York, NY is an award-winning full-service agency specializing in the luxury market. Our core capabilities include strategic planning, brand development, creative, digital marketing, media planning and buying, public relations, Web design and development, and SEO.
For more information about MDG, visit our website <https://www.mdgsolutions.com/>. For a private consultation, email us at [email protected] or call (917) 969-5370.