Apple Sued by Man Over Porn at the Core of His Divorce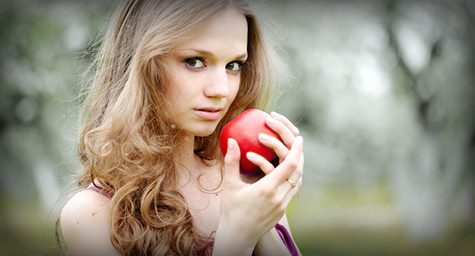 It turns out that an apple a day won't keep the divorce away. In fact, one man is claiming that an Apple actually caused the end of his marriage. A self-described porn addict is suing the global technology company for allegedly turning him on to cyber porn and getting him so addicted to the explicit videos that his wife filed for divorce. TheRegister.com reported on why Apple is being blamed for bringing the "forbidden fruit" of pornography between a man and his marriage.
Tennessee man Chris Sevier is accusing Apple of failing to install a blue movie filter on its latest digital devices. Mr. Sevier alleges that the lack of a filter allowed online pornography to invade and destroy his life when he accidentally misspelled "Facebook" in the URL bar and was mistakenly directed to a cyber porn website. He says that this unfortunate typo triggered an addiction to pornography that consumed his life and ruined his relationship.
According to the filing, "The Plaintiff began to prefer the cyber beauties over his wife, which caused his marriage to fail." The filing goes on to claim that this wife's decision to leave him was the subsequent consequence of Apple's practice of selling its devices without activating their safe mode. "No one at the Apple Store warned him that looking at pornographic images and videos could cause addictions, to include arousal addiction, or that the device could be the gateway to accessing content that could cause a rewiring of his brain, which led to the demise of his family, unemployment, and unwanted changes in lifestyle."
As a result, Mr. Sevier wants Apple to ensure that other customers don't suffer the same fate by being automatically allowed to watch online pornography. He is seeking damages from the tech giant for his inability to work due to his depression over the divorce.
Adding insult to injury, the filing makes the additional claim that Apple is not only breaking up marriages, but also breaking up the small business community by putting 'mom-and-pop' porn shops out of business. It doesn't appear that Mr. Sevier is seeking damages on their behalf.
This sensitive issue currently awaits resolution, but it clearly shows the persuasion and pervasion of the Web in our lives. Hopefully, the case will soon come to full fruition.
MDG is a full-service advertising agency and one of Florida's top creative ad agencies. With offices in Boca Raton, FL and New York, NY, MDG's core capabilities include branding, logo design, digital marketing, print advertising, mobile marketing, email marketing, media planning and buying, TV and radio, outdoor, newspaper, video marketing, Web design and development, content marketing, mobile marketing, social media marketing, and SEO. To stay on top of the latest trends in marketing and advertising, contact MDG today at 561-338-7797. To see examples of how brands have handled online reputation crises, take a look at MDG's infographic, "Have You Seen Your Online Reputation?"