Get Schooled on How Mobile and Social Affect Back-to-School Shopping [Infographic]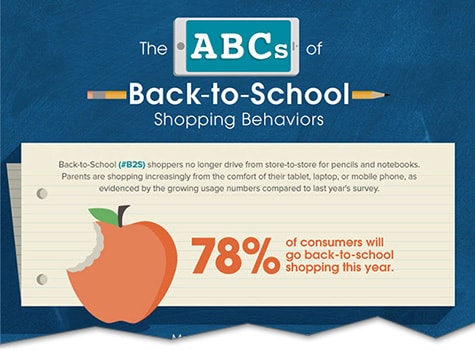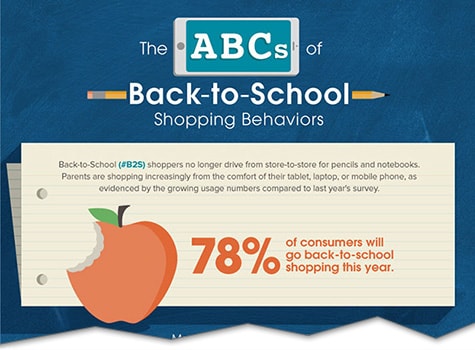 To get kids ready to hit the books, parents are hitting the stores. But while 90% of shoppers will visit retail locations, 45% will opt to shop online and visit via mobile devices. And even when shoppers buy in-store, one-third will use their mobile devices to compare selections and savings. In addition to shopping on mobile devices, parents will share the products and deals they find on numerous social media networks. In fact, 82% will post what they purchase on Facebook, while 40% will share via text. All of these facts and more were found in a very intelligent infographic created by Radium One. To learn more on how back-to-shoppers are taking a digital course, Adweek.com supplied highlights from the graphic to help retail marketing experts ace this shopping season.
[jump]
Retail Marketing Lessons Worth Learning
While shopping in retail locations:
36% of shoppers will use their mobile devices to get digital coupons
30% of shoppers will access product reviews and research
29% will comparison shop on their mobile devices
22% will purchase items online
To digitally share their buys:
82% will use Facebook
40% will send text messages
28% will use Instagram, Twitter, and email
To digitally spread the word on discounts and deals:
47% will use Facebook
35% will opt for email
32% will send a text
Back-to-school buying is based on the following:
78% on back-to-school sales
59% from special promotions
45% due to free shipping offers
For more of what makes the grade with back-to-school shoppers, study this informative infographic.

Infographic by RadiumOne.
Discover strategies for successful retail marketing. Contact MDG today at 561-338-7797 or visit www.mdgsolutions.com.
MDG is a full-service advertising agency and one of Florida's top branding firms. With offices in Boca Raton and New York City, MDG's core capabilities include branding, logo design, print advertising, digital marketing, mobile marketing, email marketing, media planning and buying, TV and radio, outdoor advertising, newspaper, video marketing, website design and development, native advertising, content marketing, mobile marketing, social media marketing, and SEO. To discover the latest trends in branding and advertising, contact MDG today at 561-338-7797.