Banking Study Shows How Consumers are Invested in their Mobile Devices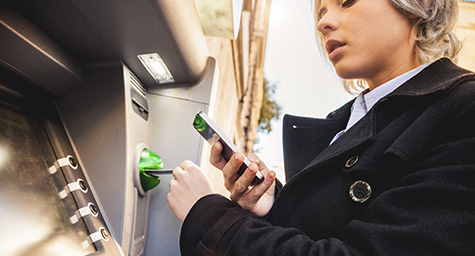 Today, more and more consumers are spending their time banking on mobile devices. To discover people's perceptions about mobile and in-branch banking, Bank of America recently surveyed consumers' banking behaviors. They revealed the results in the Bank of America Trends in Consumer Mobility Report. MediaPost.com featured highlights from the report to show whether people view their smartphones as a smarter way to bank.
How Much Mobile Devices are Valued
According to the report, mobile connectivity is vital to consumers and matters as much as their cars and deodorant. And half of consumers say that they wouldn't survive a single day without their smartphones. Tap into these other findings:
91% of overall respondents said their mobile devices were very important, even more critical than TV and coffee.
96% of 18-24 year-olds viewed their smartphones as essential, even more important than their toothbrush and deodorant.
89% of adults check their smartphones numerous times a day.
38% never disconnect from their mobile devices.
36% constantly check their mobile devices.
Consumers are Banking on Both Mobile and Branch Banking
The report showed that while mobile banking and online financial services are growing in popularity, personal visits to bank branches are still important to many consumers. Their banking behaviors included:
62% of respondents have tried mobile banking
84% said that they visited a bank branch at least once in the last six months.
47% do the majority of the baking via mobile or online services.
23% handle most of their banking directly at a branch.
More Consumers are Checking Out Mobile Check Deposit
An increasing number of consumers are enjoying the convenience of mobile check deposit. This allows them to deposit their checks at any time and from any place. It's become so popular that it's one of Bank of America's fastest-growing digital services, with an average of 170,000 checks sent via mobile every day. Check out these findings from the report:
58% of respondents have used mobile check deposit.
38% use mobile check deposit frequently.
35% have not used the service because they're uncertain of how it works or unfamiliar with how to use it.
21% have not used the service because they prefer to deposit their checks in person at a branch.
27% don't have the need to deposit checks.
"Mobile phones have changed the way we live our daily lives, and that extends to our finances," said Marc Warshawsky, senior vice president and mobile solutions executive at Bank of America. "Bank of America now has more than 15 million active mobile banking users who access their accounts on a mobile device over 165 million times per month."
While mobile banking is clearly on the rise, branch visits still matter to many. Banks and credit unions should cater to both mobile and branch banking customers and offer convenient services to earn greater interest.
Bank on the latest in financial and credit union marketing. Contact MDG today at 561-338-7797, or visit www.mdgsolutions.com.
MDG, a full-service advertising agency with offices in Boca Raton and New York, NY, is one of Florida's top branding firms. MDG's capabilities include print advertising, direct mail marketing, branding, logo design, creative, digital marketing, media buying and planning, radio and TV advertising, Web design and development, online video advertising, infographic development, email marketing, content marketing, inbound marketing, lead generation, social media marketing, and SEO. For the latest trends in advertising and branding, contact MDG today at 561-338-7797 or visit www.mdgsolutions.com.