Banks and Credit Unions are Banking on Digital Marketing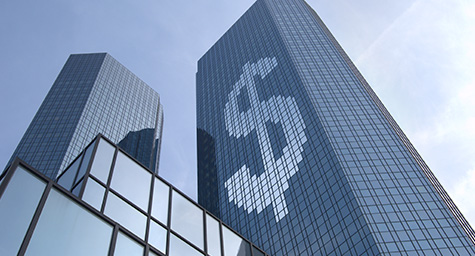 Financial marketing experts will be investing more of their marketing budgets in paid digital advertising over the next five years. A recent report from eMarketer revealed that digital advertising trends will redefine how the banking industry markets its products and services for many years to come. Digital is already making an impact, with digital ad spending set to increase 14.5% over last year to surpass $7 billion. Expect banks and credit unions to continue shifting more of their marketing budgets toward online and mobile channels. And by 2019, the U.S. financial industry should be spending more than $10 billion a year on digital advertising. TheFinancialBrand.com shared which digital advertising trends will pay off the most.
Digital Advertising Promoted to a Priority
The banking industry is already cashing in on digital advertising. According to Kantar Media research, the industry's desktop display and paid search advertising increased by a substantial 20.4% in 2014. This impressive growth should continue.
Paid Search Continues to Pay Off
Commanding $3.4 billion of the U.S. financial industry's total digital ad spend this year, paid search advertising will be the dominant format of paid media for financial marketers. Following closely will be paid digital display, which will garner $3.02 billion of the industry's ad spending this year. Many marketers attribute the popularity of paid search to consumer preference for the channel as a way to research products and services from financial firms and insurance companies.
Digital Video is On a Roll
Digital video on both desktop and mobile is proving to be a top trend, with financial marketers set to spend $755 million on video ads this year. Most of these ads will be short pre-roll formats, but there is growing momentum for longer videos that engage audiences with stories tied to branded content sponsorships.
Mobile Moves to Higher Importance
In addition to being a mainstay in consumers' daily lives, mobile has emerged as a convenient way to access financial accounts and services. As a result, eMarketer projected that bank and credit union marketing professionals would be increasing their investments in all types of mobile initiatives, including mobile search, mobile display, mobile video, and programmatic buying of multiple mobile media. Financial institutions are expected spend half of the industry's total digital ad investment solely on mobile advertising in 2015, which is will be an increase of more than half the mobile outlay of 2014.
Social Media is Gaining Buzz in Budgets
The finance, insurance, banking, and credit union industries are expected to continue investing in social media marketing over the next five years, according to eMarketer. And research from Duke University's Fuqua School of Business revealed that financial marketers are allocating around 3% more of their marketing budgets to social media in 2015 than last year.
With digital advertising expected to earn more of the banking industry's interest and investment, credit union marketing specialists should follow these trends to reap the greatest returns.
Pay attention to what matters in credit union marketing. Contact MDG today at 561-338-7797, or visit www.mdgsolutions.com.
MDG, a full-service advertising agency with offices in Boca Raton and New York, NY, is one of Florida's top branding firms. MDG's capabilities include print advertising, direct mail marketing, branding, logo design, creative, digital marketing, media buying and planning, radio and TV advertising, Web design and development, online video advertising, infographic development, email marketing, content marketing, inbound marketing, lead generation, social media marketing, and SEO. For the latest trends in advertising and branding, contact MDG today at 561-338-7797 or visit www.mdgsolutions.com.