Barbie Plays to Fans with @BarbieStyle Instagram Account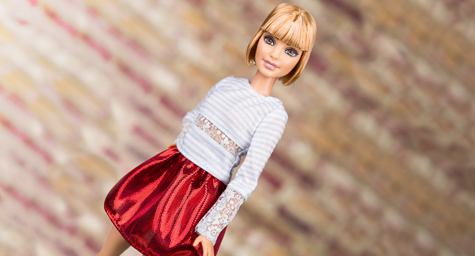 Many people think Barbie is just a fashionable figure for little girls, so who would have figured that Barbie would grow up to be a social media sensation with her own @BarbieStyle Instagram account? No, we're not toying with your emotions. Barbie has become a paid fashion blogger and major social media influencer. It's actually the perfect role for the childhood doll that influenced millions of little girls' styles, as well as our image of the ideal woman, with her high-fashion outfits and wide variety of looks. But now Barbie is taking on the social media world with her @BarbieStyle Instagram account and enjoying great success. WWD.com shared more on Barbie's new Instagram image.
One look at the @BarbieStyle Instagram account shows thousands of images of the doll dressed up in stylish outfits and perfectly posed at the world's most fashionable events. But more than a virtual scrapbook of images, @BarbieStyle features a first-person account from Barbie about each of her settings, along with additional images of her circle of friends and her boyfriend.
The response to Barbie as a social media figure has been overwhelmingly positive. She has attained such a huge following that she's become a paid fashion blogger sharing news on the major fashion and beauty brands that sponsor her social content. She has earned a highly engaged fan following of mostly women, ages 18 to 34, along with those seeking some nostalgia for their Barbie-filled childhoods. Her followers love the breathtaking imagery and real-life aspirational situations that Barbie is perfectly posed in.
The @BarbieStyle account has drawn 1.5 million Instagram followers, who love to see the doll posing along with celebrities and socialites at the most fashionable events in Paris, Milan, New York, San Francisco, and other jet-set cities. Barbie has even attended major art and cultural events, from the Golden Globes and New York Fashion Week, to Coachella and Art Basel Miami Beach.
Barbie's posts have earned a total of more than 40 million likes, with each post receiving an average of 40,000 likes and 500 comments. Her most popular posts have been of Barbie at the Forbes Women's Summit and for the announcement of her Fashionista line through a partnership with Target, which featured images of 30 glamorous styles with different body types and skin tones.
The @BarbieStyle account took two years to come to fruition and actually began as a small side project. It was inspired by the continued fascination of Barbie by grown women who played with the doll as little girls. This led to the idea of carrying on the love of Barbie by continuing to share her image on the global stage of Instagram.
Soon after, a team of senior designers was assembled to produce custom outfits, scout fashionable locations, build sets to scale, and scout stylish locations. They also collaborated with in-house marketers and digital specialists, as well as publicity firm KCD on an editorial content calendar and prospective brand partnerships.
The result is a glamorous, exclusive, behind-the-scenes peek into the stylish world of Barbie as she travels around the world to the most fashionable locales in her iconic stylish fashions.
See the big picture of what's happening in social media marketing. Contact MDG.
MDG, a full-service advertising agency with offices in Boca Raton and New York, NY, is one of Florida's top branding firms. MDG's capabilities include print advertising, direct mail marketing, branding, logo design, creative, media buying and planning, radio and TV advertising, outdoor, newspaper, digital marketing, website design and development, online video advertising, infographic development, email marketing, video marketing, mobile marketing, content marketing, social media marketing, paid search marketing, and SEO. To learn about the latest trends in advertising and branding, contact MDG.