Travel Myths Debunked [Infographic]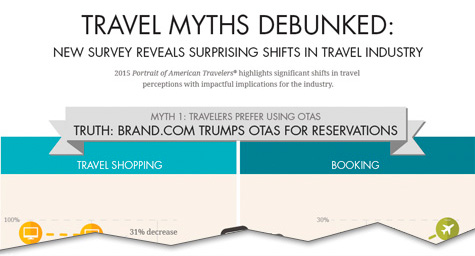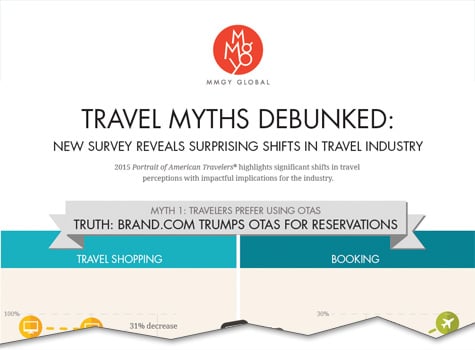 If you think affluent travelers rely on friends for travel tips or that Millennials only take far-off vacations, think again. These are just two of the tired travel myths that must be rejected and corrected. These fallacies were found in the 2015 Portrait of American Travelers® report by MMGY Global. It revealed the major shifts in travel today that challenge persistent perceptions. The report showed that affluents trust travel reviews from strangers more than friends, and that 55% of Millennials will stay home this year instead of travel. The company featured the main myths in an eye-opening infographic, which was posted on MMGYGlobal.com, to help marketers arrive at the truth in travel.
[jump]
Truth #1: Today's Travelers Like to Book with Travel Brands Instead of OTAs
More than 50% of travelers prefer to reserve their rooms directly through the travel brand. They believe that brands will provide better prices and a more convenient booking experience. When it comes to researching travel, online travel agents (OTAs) remain slightly more popular, but their dominance has decreased by 26% in the last year.
Truth #2: Millennials Crave Cruises Today
Forget the falsehood that cruises are only for older adults. Today, 51% of both Millennials and mature adults are interested in cruises. Cruises are perceived as more affordable vacations, with appeals to cost-conscious Millennials.
Truth #3: Millennials Want to Stay at Home Instead of Go Away
Ignore the impression that Millennials only favor faraway vacations. This year, more than half of this audience plans to stay home, while only 43% of Millennial families plan to take vacations.
Truth #4: Affluent Travels Value the Opinions of Strangers More Than Friends
While travel tips from family and friends used to matter more to this market, the times and trends have changed and now affluent travelers tend to trust online reviews from strangers more.
Truth #5: More Than Millennials Are Driving the Sharing Economy
While 80% of Millennials are advancing today's collaborative economy, three-quarters of both Baby Boomers and GenXers are also sharing resources.
To improve your impressions on travel today, check out the informative infographic.

Infographic by MMGY Global.
Stay in touch with what's happening in travel marketing. Contact MDG today at 561-338-7797 or visit www.mdgsolutions.com.
MDG, a full-service advertising agency with offices in Boca Raton and New York, NY, is one of Florida's top hospitality marketing companies and branding firms. MDG's core capabilities include advertising, branding, logo design, creative, infographic development, digital marketing, creative media planning and buying, radio and TV advertising, Web design and development, email marketing, content marketing, social media marketing, and SEO. To stay on top of the latest trends in hospitality marketing and advertising, contact MDG today at 561-338-7797.