Brands to Be More Human in 2014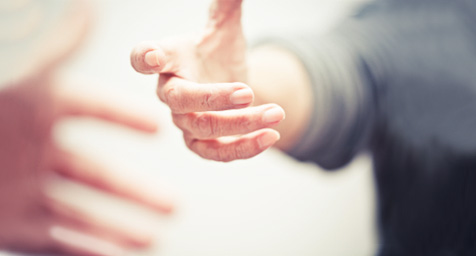 While the nature of branding is tactical and practical, it seems that the best approach for 2014 is to simply be more human. Today, more and more companies are seeing that just thinking and acting like customers is the way to make them like you. To show why a  human touch can mean so much in the coming year, AdAge.com explained why brands need to nurture their human nature.
Unfortunately, consumers' trust in companies has greatly declined in the last few years. The only way to improve that impression is for brands to act more like people. But how does that translate to business as usual? By trading apathy for empathy and taking an interest in customers' needs.
It seems that now more than ever, compassion has become a commodity and companies' branding efforts need to show their softer sides in order to stay competitive.
According to recent research, today's most successful brands listen to the world around them and are open to social influence. They build their business around consumers' needs while striving to interact with their customers and community. And when they talk to these consumers, they also try to talk like them to form a rapport and relationship. This is increasingly seen in social media, which lets brands take on a personal voice and express their human nature.
Now brands are bringing this human touch into their advertising campaigns to let customers know that they're valued. Large institutions like TD Bank and Liberty Mutual are building branding platforms on being human. And JetBlue's latest campaign exhibits how much the carrier cares, which is captured in its clever name, Air on the Side of Humanity. The company was driven to assert its compassion to distinguish itself from competitors.
"We invented humanity in air travel," said Marty St. George, JetBlue's SVP–marketing and commercial. "It's important to look at our ads and make sure they show our core DNA and say, 'only JetBlue can say that.'"
In addition to being more friendly than formal, a key component of being human is the ability to admit mistakes. TD Bank has made this a major part of their branding platform. They're promoting this trait through their microsite, bankhumanagain.com. The site explains that while they try to be perfect, they're only human, but they'll do what it takes to correct their mistakes and keep the customer satisfied. And that's a branding message that people can bank on.
Get a better understanding of branding. Contact MDG today at 561-338-7797 or visit www.mdgsolutions.com.
MDG, a full-service advertising agency with offices in Boca Raton and New York, NY, is one of Florida's top branding firms. MDG's core capabilities include print advertising, branding, logo design, creative, digital marketing, media planning and buying, radio and TV advertising, Web design and development, online video advertising, email marketing, content marketing, social media marketing, and SEO. For the latest trends in branding and advertising, contact MDG today at 561-338-7797 or visit www.mdgsolutions.com.