By the Numbers: Facebook vs The United States [Infographic]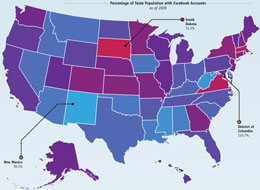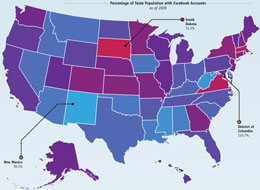 Muhammad Saleem is a social media consultant and a top-ranked community member on multiple social news sites. Follow him on Twitter for more social media insights.

Facebook's official company statistics outline the breakdown of the sites over 400 million active users. While the site points out about 70% of Facebook users are outside the United States, it doesn't dive deeper into the U.S. numbers.
To find out more about the average American Facebook user and how he or she compares to the average American, we dug a little further. After crunching the numbers and comparing the data, this is what we found.
Click on chart to enlarge

­Social media is on the rise.
The adoption of social media is rising exponentially in the United States. Today, one-third of the U.S. population is using Facebook and Twitter to keep friends, colleagues—even complete strangers—updated on their lives. The proliferation of social technology has permanently influenced the direction of communication technology, especially within the age 18 to 25 demographic— the only segment of the U.S. population more obsessed with telling people what they're doing rather than focusing on what they're actually doing by social acceptance, brand lust, and peer pressure. It's no surprise that traditional media marketers hail Facebook as a "walled garden" of consumer insight. Just think: there are 116,010,760 people (of whom nearly 2 out of 5 are between 18 and 25) sharing their experiences and feelings, declaring exactly what they like, don't like, care about, don't care about and, most important, which products, services, and jobs they WANT. Imagine the value of this insight to companies wanting to know exactly what their target demographic is thinking.
Charlie Ellis is the SEO and web analytics specialist at MDG. His ability to articulate powerful marketing messages with authority complements his ability to simplify technical SEO skills into actionable insights. He has contributed to advanced SEO panels at SES, PubCon, SMX East, and IMSB.
MDG, a full-service South Florida advertising agency, provides organic search engine optimization, link building, competitive analysis, digital brand development, and social media initiatives that give our clients a competitive advantage. For more information, call 561-338-7797, email us.