Catvertising – People Want Cat Videos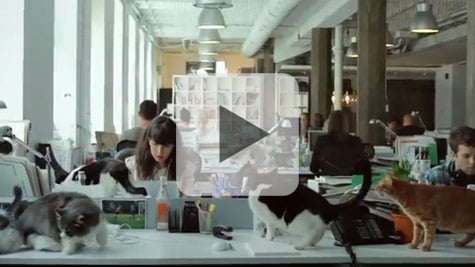 People love their pets, so it's no surprise in this digital age that cat videos have been among the most popular YouTube submissions since the online video platform began. To capture and engage this audience of feline fans, Purina has created an awards-style contest called "The Friskies"  for the best online cat video of the year. The winning entry will receive $15,000 and donations of cat food will be given to feline charities. MediaPost.com covered the details of Purina's video promotion for its Friskies brand, which is a purr-fect synergy between branding and online video.
Purina has incorporated online videos into their marketing before, yet this new initiative leverages the popularity of both cat-centric videos and the overall online video platform into an integrated social media promotion. Purina has also included a charitable component. For each entry, vote, share, or "like" that an online video receives, Friskies will donate five extra cans of cat food to feline charities beyond its initial 125,000-can donation, up to 250,000 cans.
With its various video, social, and charitable elements, "The Friskies" should be the cat's meow among the huge animal-loving audience.
To discover how online video can improve your brand's marketing results, contact MDG.
MDG, a full-service Florida advertising firm with offices in Boca Raton and New York, NY, specializes in developing targeted Internet marketing solutions, exceptional creative executions and solid branding and media buying strategies that give clients a competitive advantage. Our core capabilities include branding, logo design, creative, digital advertising, print advertising, media planning and buying, radio and TV advertising, online video marketing, website design and development, email marketing, social media marketing, and SEO.
Read more at MediaPost.com