A Celebratory Look at How Pantone Has Colored the Last 50 Years [Infographic]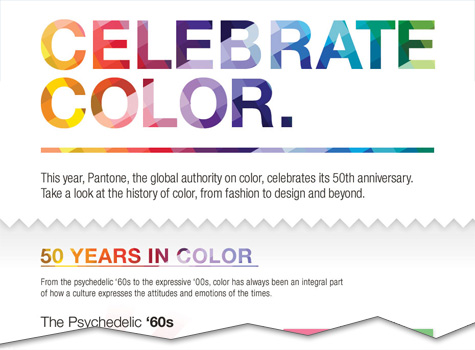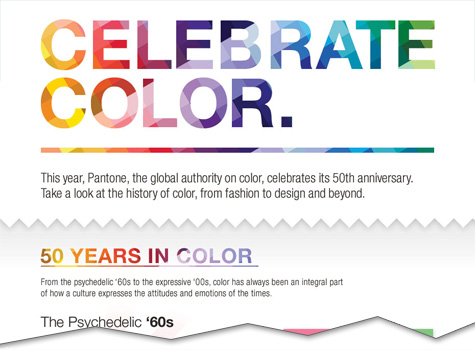 Pantone is celebrating its 50th anniversary this year. The company has risen to fame as the global authority on color. To mark this milestone, Pantone designed a bright and brilliant infographic that offers a colorful look back at how Pantone has captured the tones of the times.
The infographic begins by displaying and defining the color palette of each of the last five decades. It starts with the six shocking shades of the psychedelic '60s, followed by the natural neutrals of the eco-conscious '70s, and the upbeat brights of the lively '80s. It then moves on the subtle shades of the sophisticated '90s, and the global hues of the modern millennium.
The graphic goes on to explain Pantone's role in choosing the Color of the Year. It cites the way they scour the world for hints of the tints of the times, then displays the special shades selected for each of the past 13 years. From the soothing cerulean that topped 2000 to the jewel-like emerald defining today, Pantone is amazingly skilled at discovering the colors that distinguish the day.
It then cites how red, blue, and green were the top shades in social media mentions last year. Red for NASA's mission to Mars, blue for presidential politics, and green for the environment.
Finally, the graphic gets down to business by showing how brands choose and use color to create their identities. Since color affects up to 85 percent of consumer purchasing decisions, it's no wonder that brands have strategically selected their palettes to make the desired impression. From the sophistication of Prada's black to the security of Samsung's blue and sleekness of Apple's gray, color can powerfully convey a brand's true colors.

Discover how marketing can maximize your brand's impact. Contact MDG today at 561-338-7797 or visit www.mdgsolutions.com.
MDG, with offices in Boca Raton and New York, NY, is a full-service advertising agency and one of Florida's top creative ad agencies. MDG's core capabilities include print advertising, branding, logo design, creative, digital marketing, creative media planning and buying, radio and TV advertising, Web design and development, content marketing, email marketing, social media marketing, and SEO. To stay on top of the latest trends in marketing and advertising, contact MDG today at 561-338-7797. To discover why typefaces are as important to brands as color palettes, see "How Typefaces Influence Perception and Persuasion."