Chandon Tastes Sparkling Success with Millennials Through Instagram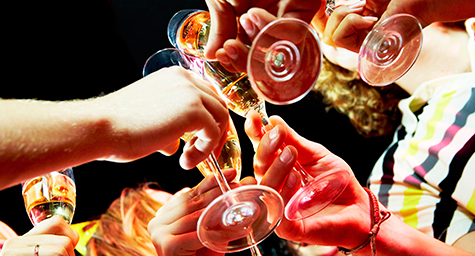 Chandon is bubbling with excitement with how Instagram has helped the brand engage the Millennial market. The popular photo-sharing site has enabled the sparkling wine maker to make its mark on this market. While the company maintains accounts on other social media platforms, Instagram outperforms them all and has made Chandon the talk and the toast of this coveted younger audience. Digiday.com offered a taste of why Instagram has become Chandon's perfect social pairing.
Popping the Cork on Instagram
Today, research shows that Millennials are thirsty for new alcoholic options. According to L2 reports, only 27% of Millennials currently prefer beer more than other alcoholic drinks, which is a 33% decline since 2012. This opens up the market for wine and other spirits.
Chandon's prior social media efforts left them with little reason to celebrate. The brand first tried using Pinterest around two years ago, but struggled to gain engagement and momentum from the platform's young users. While they still maintain their Pinterest presence, they learned that Millennials love Instagram, especially the female Millennials who make up their core market. This led Chandon to set its sights on Instagram and focus their attention on the photo-sharing platform.
Celebrating Chandon's American Heritage
Since Chandon is made in Napa instead of the Champagne region of France, it can't call itself champagne. Rather than show their similarities, the brand celebrates its American spirit.
It created patriotic striped bottles last year as part of a limited edition design to convey their American nature. Chandon also designed their regular bottles to stand out in Instagram photos by making them fun and colorful with witty, playful phrases.
And while Champagne and other sparkling wine makers focus their social efforts on the end-of-year holiday season, Chandon takes an American approach. In addition to increasing its marketing around American heavy-drinking holidays like the 4th of July, the brand also tries to position itself as a way to celebrate every day.
Pouring an Affordable, Accessible Alternative
Another way Chandon is appealing to Millennials is by making its bottles lower priced and more available than Champagne. With Millennials just starting to establish themselves, Chandon's price and accessibility make it much easier to swallow.
On Instagram, Chandon is able to convey its bubbly, American spirit and resonate with Millennials who are thirsting for something new.
See what's new in social media marketing. Contact MDG today at 561-338-7797 or visit www.mdgsolutions.com.
MDG, a full-service advertising agency with offices in Boca Raton and New York, NY, is one of Florida's top branding firms. MDG's capabilities include print advertising, direct mail marketing, branding, logo design, creative, digital marketing, media buying and planning, radio and TV advertising, Web design and development, online video advertising, email marketing, content marketing, social media marketing, and SEO. To learn about the latest trends in advertising and branding, contact MDG today at 561-338-7797 or visit www.mdgsolutions.com.