Check In On the Digital Hotel Marketing Trends for 2014 [Infographic]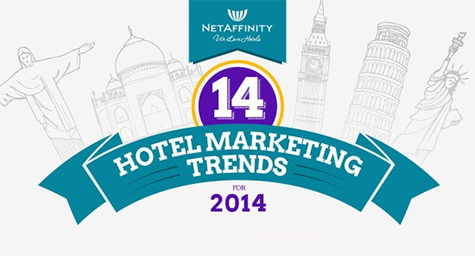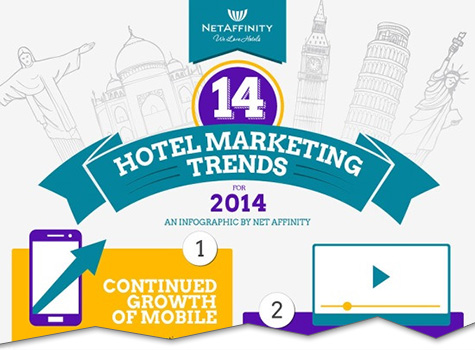 Just like travelers themselves, the hospitality industry is always on the move and continually trying to explore new territory. With so much competition and the industry's move in a digital direction, hotel marketing experts need to constantly invent intriguing experiences and leverage technology to stay current and competitive. To help hospitality marketers be better prepared to attract and accommodate guests, take a look at this infographic from NetAffinity.com that packs in the top digital marketing trends for hotels in 2014. From the ongoing growth of mobile to the value of social media marketing and the rise of geo-targeting, StateOfDigital.com provided a better picture of these travel trends.
The infographic opens by stating that mobile is now a mainstay, so expect more mobile bookings throughout 2014. For further proof of its prevalence, industry insiders forecast that half of all direct online bookings will be made on mobile devices by 2017.
The graphic goes on to show that video is quickly becoming a go-to resource for travelers, with 81% of online travelers viewing videos before booking and buying travel last year.
It also touches on the trend toward customized remarketing, which is important because it enables marketers to bring back the 96% of Web visitors who leave a site without converting.
And with search engines continuing to favor social media sites in search results, hotel marketers must leverage social media marketing to increase their website traffic.
Plus, geo-targeting is expected to experience phenomenal growth this year, so now is time for hotel marketers to focus on this targeting tactic.
Hotel marketing is evolving at a very rapid rate, but taking the time to track the trends can make it much easier to stay ahead of the competition.

Infographic by Net Affinity.
Check in to check out the latest hotel marketing trends. Contact MDG today at 561-338-7797 or visit www.mdgsolutions.com.
MDG, a full-service advertising agency with offices in Boca Raton and New York, NY, is one of Florida's top hotel marketing companies and branding firms. MDG's core capabilities include advertising, branding, logo design, creative, infographic development, digital marketing, creative media planning and buying, radio and TV advertising, Web design and development, email marketing, content marketing, social media marketing, and SEO. To stay on top of the latest trends in hotel marketing and advertising, contact MDG today at 561-338-7797.