Chevy Celebrates 100 Years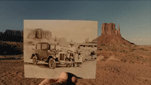 As Chevrolet approaches its 100th year, the American automaker created a TV spot that tied its century of all-American values with the country's national pastime of baseball, making its debut during the World Series. The New York Egoist recently featured the 60-second spot and discussed the details of its nostalgic message.
"The 'Then and Now' spot celebrates Chevrolet's role in the American journey, and I couldn't think of a better setting for its world debut than the World Series," said Chris Perry, vice president, Global Chevrolet Marketing and Strategy.
In the ads, photos from the past involving Chevy cars are held up against scenery from the present day. The photos appear to offer a snapshot of events that happened long ago—in that very same location—to create a visual connection of yesterday meeting today. The spot features numerous scenes on a variety of American backgrounds, with the photos capturing classic American images from throughout the last century. The song "America The Beautiful" plays in the background. The ads have a sentimental tone, with the soundtrack and visuals creating an aura of national pride.
The commercial was developed by Chevy's agency, Goodby, Silverstein & Partners, with Park Pictures and Lance Acord. Their goal was to show that Chevy is an eternal brand that is inextricably tied to the past, present, and future of Americans.
To learn how advertising can capture and convey the essence of your brand, contact MDG today.
MDG, a full-service Florida advertising agency with offices in Boca Raton and New York, NY, specializes in developing targeted Internet marketing solutions, exceptional creative executions and solid branding and media buying strategies that give clients a competitive advantage. Our core capabilities include print advertising, branding, logo design, creative, digital marketing, media planning and buying, TV and radio advertising, customer relationship management, loyalty programs, public relations, Web design and development, email marketing, social media marketing and SEO. View MDG's creative marketing portfolio.