Chipotle Creates Buzz with Another Acclaimed Animated Film and New Online Game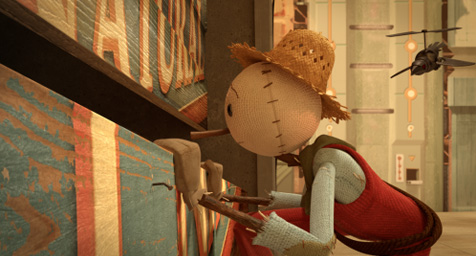 Chipotle Mexican Grill has served up another viral video, "The Scarecrow." As Tim Nudd of Adweek points out, "it's another grand statement from the restaurant chain."
The branded video, three-plus minutes in length, has been viewed more than 6.8 million times and the accompanying online game app for the iPhone and iPad has been downloaded hundreds of thousands of times.
In a behind-the-scenes video, Chipotle's chief marketing officer, Mark Crumpacker said, "We tried to tell a story that explains to people how the food they eat is raised…the story of the elaborate façade that's been created by the industrial food producers in the world."
Moonbot Studios created the film and app. They are the same company that won the Academy Award for Best Animated Short in 2012 for the14-minute film, "The Fantastic Flying Books of Mr. Morris Lessmore."
Dark and haunting and seen through the eyes of a sad scarecrow, the film shows a dystopian civilization where imaginary Crow Food Incorporated reigns. It's a monolithic corporation where you find cows in confinement, assembly lines of processed beef, and chickens being injected with chemicals.
The soundtrack features Fiona Apple performing a cover of the song "Pure Imagination" from the 1971 movie, Willy Wonka and the Chocolate Factory. Meshed with the film's dark undertones, Fiona Apple ironically sings, "what we'll see will defy explanation."
The scarecrow returns to his farm defeated, but an uplifting turning point comes when he picks vegetables from his farm, brings them to the big city in his rusty pickup, and prepares fresh meals much to the delight of the city folk.
According to the team at Moonbot Studios, the online game helps viewers understand the symbols, conflicts, and tension, elevating their understanding and experience. It challenges you to traverse the City of Plenty to rescue confined animals, bring crops back to fields, and serve farm-fresh food in PlentyFull Plaza, while dodging the threatening Crowbots.
There are four worlds and levels, each with its own mini game. If you score at least three out of five stars in each of the games, you earn a coupon for free food at Chipotle.
You know something has become part of the culture when people have created their own spoofs and spinoffs. One was produced and posted by the website Funny or Die, complete with a parody of the "Pure Imagination" song.
Previous Chipotle ads and branded videos have included excellent covers performed by Karen O and Willie Nelson. According to USA Today, Chipotle will make another attempt at going viral when it releases four dark comedies online aimed at Big Food. Each production will be about the length of a TV show.
To leverage the benefits of branded video and other non-traditional advertising, contact MDG today at 561-338-7797 or visit www.mdgsolutions.com.
MDG, a full-service advertising agency with offices in Boca Raton and New York, NY, is one of Florida's top creative ad agencies. Our 360° integrated approach uses just the right mix of traditional and digital marketing to reach your advertising goals. MDG's core capabilities include print advertising, branding, logo design, creative, digital marketing, media planning and buying, radio and TV advertising, Web design and development, online video advertising, email marketing, social media marketing, and SEO. To stay on top of the latest trends in YouTube and video advertising, contact MDG today at 561-338-7797 or visit www.mdgsolutions.com. To discover more about the influence and impact of a branded video, see "How to Choose the Best Genre for Your Branded Videos."