Chipotle Treats Diners to Halloween Promotion About Dangers of Food Additives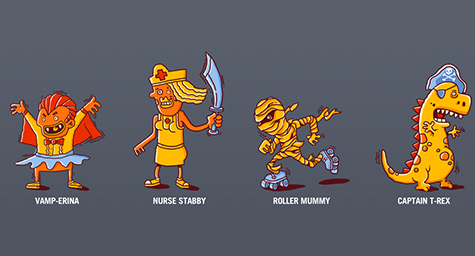 Chipotle Mexican Grill is running a monster of a Halloween fundraiser that treats diners to discounts while alerting consumers about unnecessary food additives. The event is called the 2015 Boorito and it has become a Halloween tradition for the Mexican food chain. For the scary-good event, Chipotle is offering a discounted $3 burrito to customers who visit Chipotle restaurants in costume on October 31 after 5 p.m. Up to $1 million of the proceeds from the day will go toward supporting the Chipotle Cultivate Foundation. But this year, Chipotle is asking customers to add an unnecessary element to their costumes in order to scare up attention about unnecessary additives in food, which the brand is strongly against. QSRmagazine.com posted more on how Chipotle is using its Halloween fundraiser to shock customers about the dangers of food additives.
Twisting Tradition to Bring Benefits Out of the Shadows
"Chipotle has celebrated Halloween with Boorito since very early in its history, and while the details of the promotion have evolved over the years, Boorito has remained one of our most iconic and well-loved promotions," said Chris Arnold, communications director for Chipotle.
For this year's twist on tradition, Chipotle wants customers to add an unnecessary part to their costume, such as a tutu on a cowboy outfit. They believe that this twist will alert customers to the company's founding mission to serve the highest-quality ingredients, instead of using the unnecessary additives and preservatives found in the food of many other quick-service restaurants.
Facing the Fear of Food Additives
Recently, there has been a wave of consumer fright over the highly processed ingredients, artificial flavors and colors, sweeteners, and other unnecessary food additives seen throughout the quick-service restaurant industry.
But Chipotle came to fame from its focus on higher-quality ingredients and "Food with Integrity" vision. In fact, the chain's menu only includes 68 ingredients that are raised or grown with respect for farmers, animals, the environment, and consumer health. This is in stark contrast to the countless ingredients, preservatives, artificial flavorings, and stabilizers typically used in used in typical fast food. Then, Chipotle prepares its fine ingredients with classic cooking techniques to preserve their natural and nutritional value.
Today, Chipotle continues to lead the industry by already removing genetically modified organisms (GMOs) and several additives.
Now, several major quick-service restaurant brands like Papa John's, Panera Bread, and Taco Bell are following their example and have also committed to removing them from menu items over the next few years.
Thrilling Consumers with Special Promotions
Chipotle's latest Halloween promotion is only the latest of a number of entertainment-driven marketing campaigns that the chain has used to raise consumer awareness about its natural mission.
With consumers' increasing fear of food additives, Chipotle is hoping that its 2015 Boorito promotion provides a monster of sales and support.
Get a taste of how the quick-service restaurant industry is responding to diner demands. Contact MDG today at 561-338-7797 or visit www.mdgsolutions.com.
MDG, a full-service advertising agency with offices in Boca Raton and New York, NY, is one of Florida's top branding firms. MDG's capabilities include print advertising, direct mail marketing, branding, logo design, creative, digital marketing, media buying and planning, radio and TV advertising, website design and development, online video advertising, infographic development, email marketing, mobile marketing, content marketing, social media marketing, paid search marketing, and SEO. To learn about the latest trends in advertising and branding, contact MDG today at 561-338-7797 or visit www.mdgsolutions.com.