Classic American Baseball Icon Scores With Social Media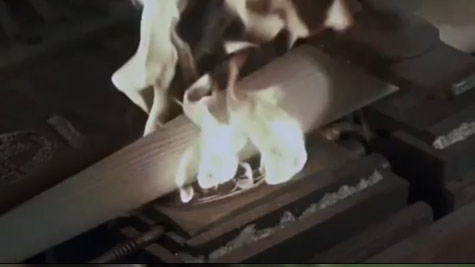 A classic baseball brand is getting a contemporary marketing update in order to engage a new audience of young ball players and their parents. The H&B brand Louisville Slugger is an iconic American baseball bat that has managed to hold an impressive 50 percent of the $178 million U.S. bat market. Unfortunately, newer brands promising enhanced performance have started stealing the brand's younger target market. In an effort to attract these young players and gain a leadership position in the marketplace, the brand has launched a social media campaign designed to increase awareness and appeal for the historic brand in a thoroughly modern way. DirectMarketingNews.com explained how the brand is playing ball.
"Even icons need to be refreshed," said Kyle Schlegel, VP of Global Marketing at Hillerich & Bradsby, who had previously leveraged social media to breathe new life into the Old Spice brand. This time around, Mr. Schlegel's media budget has been slashed from millions of dollars to less than $50,000, with most of it allotted to Twitter.
This new social media campaign called "#Leave Your Mark" was timed to coincide with the introduction of a new Slugger logo and the new MLB Prime pro-level wooden bat. While Twitter was chosen as the primary social channel, H&B also decided to use Facebook, Instagram and Pinterest to challenge young players to share how they hope to leave their marks on the great game of baseball. Slugger prefers using a variety of social channels because their target markets of boy baseball players and girl softball players use the mediums differently.
The brand has a special approach for appealing to other key influencers like parents, coaches and league administrators who are more concerned in how baseball builds character. This strategy involves forming partnerships with leagues on the field level and creating videos for coaches about treating players with respect.
The brand has already launched videos on all of those social channels. These videos display the craftsmanship involved in creating the fabled bats, along with employees reciting the brand's new manifesto. They proudly declare, "We equipped Babe Ruth and he redefined greatness. We outfitted Derek Jeter and he redefined clutch. Those are their marks, but who will you inspire?"
During the first two days of the campaign, video viewers were directed to a microsite that asked them to download and print a "#Leave Your Mark" note card where they could write about a person who had left a mark on their lives. Then, respondents were asked to photograph themselves with the card and post it on Twitter or Instagram. The campaign received 2,000 posts on Twitter alone in those first few days and the brand's social media following has grown from a mere 25,000 to almost 250,000 followers, and counting.
"It's early, but we're excited about the numbers we're seeing in the social sphere," said Mr. Schlegel.  "We think we've struck a chord."
To discover the latest ways to use social media to make an impact for your brand, contact MDG today at 561-338-7797 or visit www.mdgsolutions.com.
MDG, a full-service Florida advertising agency, with offices in Boca Raton and New York, NY, specializes in developing targeted Internet marketing solutions, exceptional creative executions and solid branding and media buying strategies that give clients a competitive advantage. Our core capabilities include branding, logo design, creative, digital marketing, print advertising, media planning and buying, TV and radio, public relations, Web design and development, email marketing, social media marketing and SEO.
Read more at DMNews.