CMOs Tapping into Social Data for Consumer Insight [Social Media Marketing]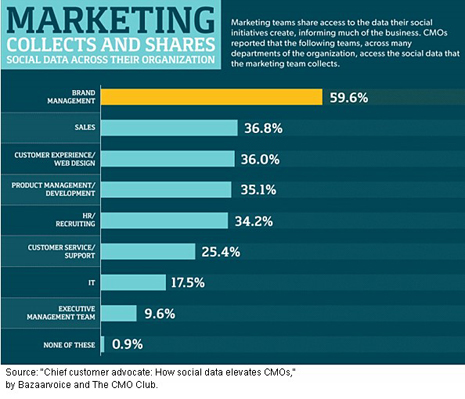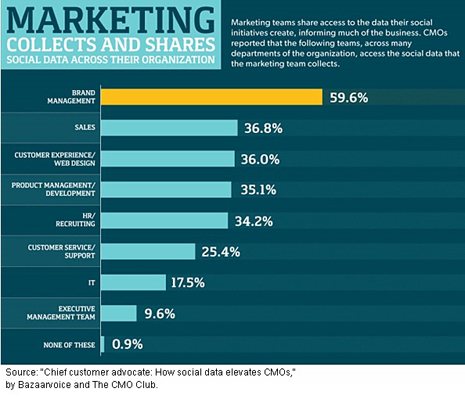 Social media data continues to have an enormous influence on today's business decisions and trends. In fact, 89.4 percent of CMOs reported using this data related to customer usage of social media to make some of their business decisions, with 21.3 percent of CMOs saying such social data impacted a full 20 percent of their business choices. These are just a few of the findings from a recent report by Bazaarvoice and The CMO Club titled "Chief Customer Advocate: How Social Data Elevates CMOs." MarketingProfs.com provided more insight from the revealing report.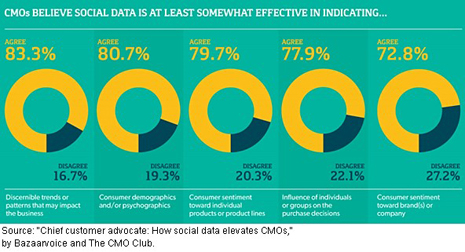 The report showed that approximately 80 percent of CMOs considered social data to be an accurate indicator of potential business trends, as well as a measure of consumer demographics, a gauge of general consumer sentiment toward products and a source of purchasing influence. It also revealed that 47.3 percent of CMOs have even used social data to predict sales and overall campaign success.
Given its growing importance, it's not surprising that a whopping 97.3 percent of CMOs have shared their discoveries from social data with their fellow C-level executives on an annual basis and two-thirds of CMOs reported discussing their findings monthly. More than half of CMOs shared such social data with their brand management colleagues, followed by approximately 36 percent that imparted their social insights on their sales associates, Web design crews, and product development teams.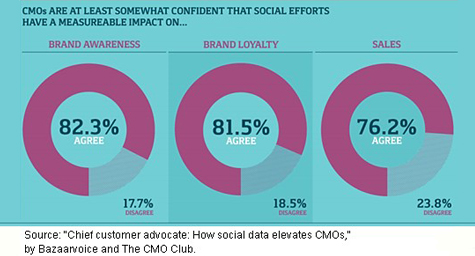 Interestingly, more than 80 percent of CMOs said that social data had a tangible affect on brand awareness and loyalty, with three-quarters of respondents citing its impact on sales. Clearly, social data is influencing how CMOs are developing their social media marketing plans.
To learn more about the influence of social data on your social media marketing strategy, contact MDG today at 561-338-7797 or visit www.mdgsolutions.com.
MDG, a full-service Florida advertising firm with offices in Boca Raton and New York, NY, specializes in developing targeted Internet marketing solutions, exceptional creative executions and solid branding and media buying strategies that give clients a competitive advantage. Our core capabilities include branding, logo design, creative, digital marketing, print advertising, direct mail marketing, media planning and buying, TV and radio, public relations, Web design and development, email marketing, social media marketing and SEO.
Read more at MarketingProfs.com.