Coca-Cola Spreads Happiness Via Video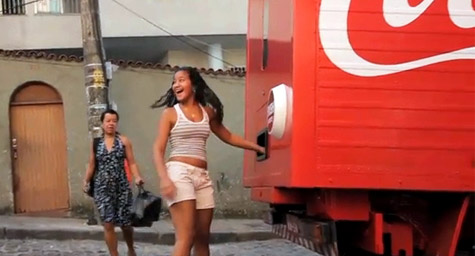 Last year, Coke produced its first viral video featuring a "Happiness Machine" that dispensed goodies on a U.S. college campus. This was followed by a stream of videos highlighting happiness moments around the world. All 25 of these Coke-created happiness videos can be seen on Coke's YouTube channel and Facebook page under the "Where will Happiness Strike Next?" global locator feature. This hub makes it fast and easy for visitors to share or tweet about the videos, and even suggest locations for upcoming happiness promotions. With Coke's 22.6 million Facebook fans, it's no wonder that the original U.S. Happiness Machine video generated 645,000 views in its first week and currently has more than 3 million views, not counting the thousands of views for videos from events in the U.K., Japan, India, Brazil, Philippines, Hungary, China and Egypt.
According to MediaPost.com, global Coke executives were so excited by the success of the U.S. Happiness Machine video that they were eager to adopt the concept in their own countries. Coke's upbeat happiness videos have included the following imaginative themes around the world:
A "Happiness Store" where taking a Coke from a cooler turns the convenience store into a disco
"Live" Coke machines running through a busy street and a beach
A "Transformer" character hiding under a Coke machine in a mall
Candid scenes of the Happiness Machine on college campuses all over the world
A supermarket where purchases were paid for by Coke during Ramadan
The latest twist on the theme is a "Happiness Truck," a Coke delivery truck that has been converted into a mobile vending machine that dispenses free Coke and other surprising goodies.
The next stop for the "Happiness Machine" is unknown, but Coke believes that the videos are truly resonating with people and keeping Coke on everyone's lips.
MDG, a full-service Florida advertising agency, with offices in Boca Raton and New York, NY, specializes in developing targeted Internet marketing solutions, exceptional creative executions and solid branding and media buying strategies that give clients a competitive advantage.
Our core capabilities include print advertising, branding, logo design , creative, digital marketing, media planning and buying, TV and radio, public relations, Web design and development, email marketing, social media marketing and SEO. To view MDG's portfolio, click here.